What to do in Madrid?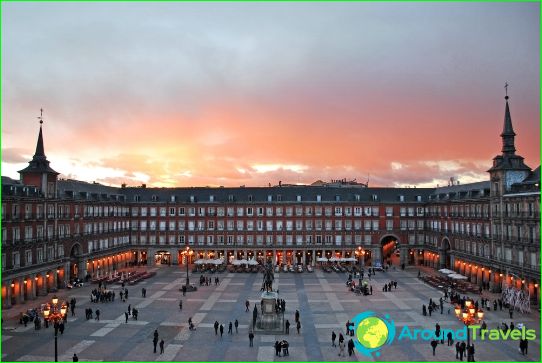 Madrid is the Spanish capital, where you can walk along narrow streets during the day, making stops in cozy cafes and restaurants, and in the evening - hang out in nightclubs in which life is in full swing.
What to do in Madrid?

Go for a walk to the Plaza Mayor;
Visit the Prado Museum to admire the paintings of Velazquez, Bosch, El Greco, Goya;
Visit the flamenco theater;
Take a walk through the parks of Madrid (Casa de Campo is ideal for picnics, and the Retiro is ideal for boat trips);
Visit the Royal Palace and Reina Sofia Museum.
What to do in Madrid?
Getting to know Madrid should start with a walk along the city streets, for example, walking along Gran Vía, you can look into shops and souvenir shops, watch the performances of street artists. Turning into Puerta del Sol, you can stand at kilometer zero.
You will have the opportunity to admire Spanish architecture in Piazza España, which is famous for its green spaces and the monument to Don Quixote and his squire Sancho Panza.
You should definitely visit the Casa de Campo park, which has clean lakes, an amusement park, an aquarium and a zoo..
Those who come to the Madrid Casino will be able to admire national treasures - sculptures and paintings, a neo-Gothic library, antiques made of glass.
Madrid will delight true shopaholics with seasonal sales (January 7-March 6, July 1-August 31) - at this time, here you can buy equipment and fashion items with great discounts (up to 90%). The main shopping centers are the areas of Salamanca, Arguels, Fuencarral, Cuatro Caminos, Barquillo.
Children should be delighted with a trip to the children's entertainment center "Pumbaa", the Planetarium, visiting the astronomical hall of which they can go on an exciting journey into space, as well as the Park "Faunia", where you can admire the theatrical light and music performance of seals.
Active tourists should visit sports clubs and winter entertainment centers. So, you can enjoy the speed and driving along steep bends in the Carlos Sainz karting center, and water sports in the Alberche Kayak club. And lovers of snowboarding and alpine skiing will be able to practice their favorite sport in the center "Madrid Show Zone", which is open all year round..
Arriving in Madrid, connoisseurs of beauty will be able to spend time in numerous museums, young people and amusement lovers - in parks with extreme attractions, fans of a vibrant nightlife - at discos and nightclubs.
Photos of where to go in Madrid