Tours to Madrid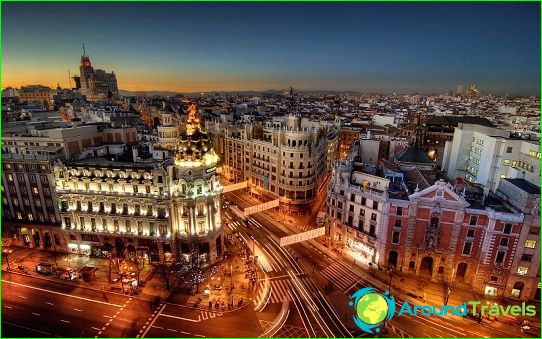 The coat of arms of the Spanish capital depicts a bear with a strawberry tree. These symbols of the city are also immortalized in the sculptures on its main square. Tour participants in Madrid can also visit one of the most interesting museums of world importance, learn to dance flamenco, feel the charm of observing a siesta and discover the wines of Spain.
History with geography
The city is located at an altitude of more than 600 meters above sea level, and the natural attractions here are the Guadarrama Mountains. Madrid was founded by the Mauritanians, who laid a military fortification here at the beginning of the 10th century, but according to the inhabitants themselves, their city was founded by the ancient hero Oknius long before the arrival of immigrants from North Africa..
The climate in the capital of Spain is continental, and the altitude is conducive to colder winters than on the seashore. The thermometer in January often reaches minus marks, while snow in Madrid is a very common phenomenon.
In summer, the heat can be +30, and with minimal rainfall, a real drought sets in in the city. That is why the most favorable time for tours to Madrid is spring and autumn..
Briefly about the important

Going on tours to Madrid, travelers often choose planes as a means of transportation. The airport in the Spanish capital is called Barajas and is located in the northeast of the city. The most convenient way to get to its terminals is via the pink line of the Madrid metro. Trains connect the airport with the main train station of Atocha, and bright yellow buses deliver around the clock to travelers and residents of Madrid..
Getting around on a Madrid tour is easiest and cheapest by metro trains. The subway routes are complemented by the tram network and city electric trains. Road transport can experience some problems during rush hours due to traffic jams on motorways.
The capital of Spain is considered one of the most beautiful cities not only in the Old World, but also in the world. The most expensive shops and restaurants are located on Alcala Street, which stretches for ten kilometers from the center to the northeast. In addition to shopping centers and cafes on Alcala, there are also the most important sights of the capital of Spain..
Founded in 1785, the Prado Museum is one of the greatest in the world. The Prado building itself is an example of late classicism, and its exposition boasts the most complete collections of works by the talented and famous Bosch and El Greco, Velazquez and Goya.
Photos