Holidays in Valencia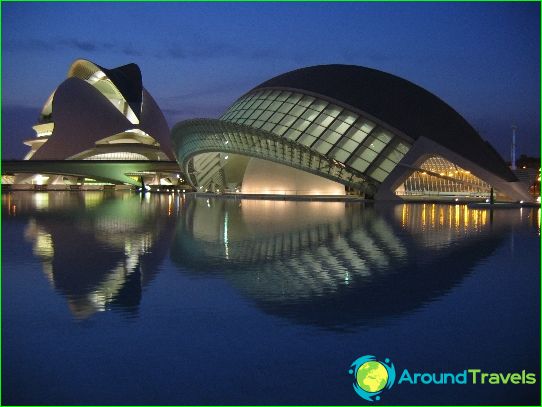 Holidays in Valencia allows guests of the resort to see gothic buildings and high-tech buildings, admire excellent landscapes, sunbathe on clean beaches, visit local entertainment centers and amusement parks.
The main activities in Valencia

Sightseeing: on an excursion you will stroll through the City Assembly Square, see the complex of buildings in the futuristic style "City of Science and Arts", the watchtowers of Serranos, the bullfighting arena, visit the Lonja de la Seda silk exchange and visit the Royal Gardens. For those who wish, excursions to Lake Albufera are organized - you can sail on the lake surface by boat, as well as visit fishing villages to see the life of ordinary Spanish villagers. At the end of such a trip, you will be treated to dinner on the shore of the lake (the treats are national dishes).
Beachfront: vacationers should take a closer look at El Saler beach (in summer there are excellent conditions for families with children, and in spring - for windsurfers) - after bathing in salt water, vacationers will be able to rinse in the shower, and active recreation supporters can rent swimming and sports equipment ... It is also worth coming here in the evening - bars and restaurants are open around the clock in the beach area. Another good place to relax is Playa de la Malvarosa beach: there is a playground for children, and a recreation area for disabled people..
Active: active tourists can play golf or tennis, go diving, go sailing, climb mountain slopes, go for a ride on a sports plane.
Event-driven: a trip to Valencia can be matched to the Las Fallas celebrations, accompanied by costumed processions, the burning of giant papier-mâché dolls, pyrotechnic shows (March), and dance competitions (April-May). In June, you can come to the Corpus Christi holiday - at this time you can visit the costume parade, in which the Bigheads and the Gigantes dolls take part.
Prices for tours to Valencia
The recommended time for a vacation in Valencia is April-October. You should be prepared to increase prices for tours in May-September, during the New Year and Christmas holidays and in February, when the Winter Carnival is held in Valencia. If your goal is to cut your vacation expenses a little, you can come to Valencia in November-December.
On a note!
If you need to exchange currency, it is best to do so at a bank, but keep in mind that they are open from 08:30 to 14:00. Exchange offices are open around the clock, but the exchange rate there is unprofitable..
Smoking in public places is prohibited: if you smoke, pay attention to designated smoking areas.
On the advice of experienced travelers from Valencia, it is worth bringing olive oil, wine and sherry, lace products, ceramics and leather goods, figurines of bulls and bullfighters, accessories for hairstyles.
Vacation photos in Valencia