Valencia metro: diagram, photo, description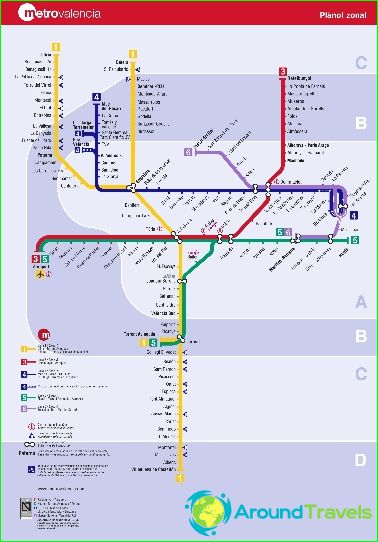 The Spanish city of Valencia has a combined tram and metro network. It is the second longest after the Madrid metro and transports up to 70 million people annually. The total length of Valencia metro lines is almost 144 km, and the number of stations - 171 - makes the Valencia metro system the fourth in the country.
Valencia's underground metro lines are just 24 km away from its six routes. 31 stations are laid underground, the rest are on the surface. The authorities plan to design and build three more metro lines.
The subway became the successor to the old suburban rail network. It was built in the century before last and reconstructed in the 80s of the past. Today the Valencia metro consists of three metro lines and two tram lines. The latter are numbered 4 and 6 and are marked on the diagrams in blue and lilac colors..
Valencia's subway and ground stops are located in different zones. The price of the ticket also depends on their location. There are four zones in total, but the city itself is almost entirely included in zone A. The airport is located in zone D. Passengers leaving the city by plane or arriving there by air will have to use the "red" line connecting the airport with Rafelbunyol and crossing the city from the west to the east. and then north. Suburban stations are zones C and D. There may be stops at the request of passengers..
Valencia metro opening hours
The Valencia metro starts at 5.00 and carries passengers until midnight. Depending on the line and the desired station, there may be some changes to this schedule, which should be borne in mind also on holidays and weekends..
Valencia metro tickets
The fare depends on the distance the passenger has to travel. For payment, you have to purchase a plastic card, replenished, if necessary, in cash. A one-way ticket must be used no later than half an hour after purchase, and the most advantageous option for traveling on the Valencia metro is to buy a pass for 10 trips. This ticket can be transferred to other family members or friends. Children under 10 years old can travel for free when accompanied by an adult. Each adult passenger has the right to carry two children under 10 years old free of charge..
Photos of Valencia metro