Tours to Valencia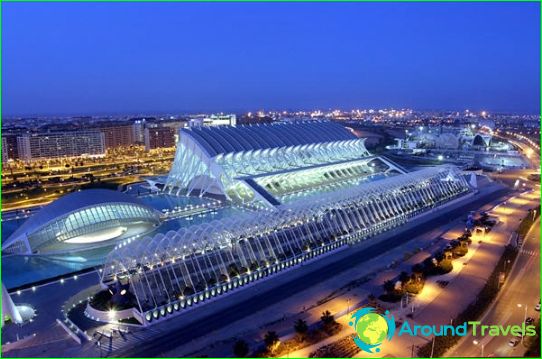 The real Spain with its dizzying rhythms, smells, colors and emotions is the ancient and forever young Valencia. Located on the eastern coast of the Iberian Peninsula, it is the country's third largest city and one of the most popular tourist resorts in the Mediterranean. For those who have booked tours to Valencia, a sea of ​​positives is guaranteed for every minute spent here.
History with geography
Valencia was founded by the ubiquitous Romans in the 2nd century BC. Then, in the best traditions of the early European Middle Ages, the city passed from hand to hand and went to the Visigoths, the Moors, and finally the Spaniards. Different cultures and religions have intertwined in Valencia into a single motley tangle, thanks to which Orthodox churches and Muslim mosques, irrigation canals and Arab baths, impregnable fortresses and luxurious palaces were built and preserved here..
Briefly about the important

When booking tours to Valencia, you should pay attention to the weather in this tourist region. The climate in the city can be called tropical and Mediterranean. The hottest months are July and August, when the thermometers are relentlessly striving to cross the +30 mark. In winter, it is quite cool and the temperature values ​​do not go beyond +10. The most favorable and comfortable season for tours to Valencia to its famous beaches begins in May and lasts until the first weeks of November.
The lack of a direct flight from Moscow should not upset Russian tourists. You can go on a tour to Valencia with a connection to any of the European capitals.
From the international airport of the resort, the easiest way to get to the selected hotel is by bus or metro, which has numerous stations in all the most significant areas of the city..
Getting around Valencia is possible in a variety of ways. For the lazy, these are buses and car rental, for sports - bicycles..
From 14:00 to 17:00 the main part of the resort's establishments is closed for siesta. Tourists to Valencia quickly get used to this routine and also do not miss the opportunity to relax in the shade of cozy parks or in comfortable air-conditioned rooms in city hotels..
It was in Valencia that paella was invented, and therefore each restaurant or cafe has its own options for preparing a signature Spanish dish. No less popular is the Valencia Water drink, in which wine is mixed with orange juice.
Photos