Valencia viewpoints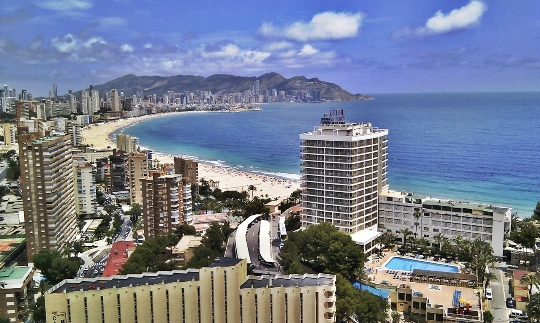 Vacationers who climb the observation decks of Valencia will be able to admire the Prince Felipe Science Museum (the building rests on five columns, the facade is completely glazed), Lonja de la Seda, Mestalla Stadium, Albufera Natural Park and other objects from a height..
Tower of Torre del Miguelete
Since the tower (its height is more than 60 m) is part of the Cathedral complex (4.5 euros / adult ticket, 3 euros / child ticket up to 12 years old), when getting acquainted with it, guests will be able to see the 15th century murals, Goya's works and paintings times of the Renaissance. As for one of the best viewing platforms, you can climb up a spiral staircase with 200 steps - from there you will have a wonderful panorama of the old Valencia. Important: you will find the entrance to the tower to the left of the main entrance to the cathedral (entry fee - 2 euros).
How to get there? Those who decide to use public transport services should pay attention to buses No. 11, 4, 70, 9, 28, 16, 4, 71, 8 (address: Calle de la Barchilla, 1).
Torres de Quart Towers
The facades of these twin towers Quart (Gothic style) do not have any decorations (with the exception of the lower part, finished with modest stucco molding), but tourists are given the opportunity to climb up a spiral staircase - to observation platforms (they are surrounded by powerful jagged peaks), where they will open in front of them panoramic views. In addition, if you wish, you can view the exhibition, which contains materials and exhibits dedicated to the history of the Quart Towers..
Useful information: on Monday-Saturday, the attraction is open for visits from 09:30 to 19:00, on Sunday and on holidays until 15:00; ticket price - 2 euros (free on Sundays and holidays).
How to get there? You can reach your destination by bus number 5 or 81 (address: Carrer De Guillem De Castro, 68).
Torres de Serrano towers
Lovers of panoramic views will be delighted with the opportunity to admire the Valencian beauties from the towers of these gates (from here, guests and residents of Valencia are notified of the beginning of the Fallas Spring Festival). In addition, it is recommended to visit the Maritime Museum here (its exposition is represented by marine finds). Entrance fee - 2 euros (on Sunday - free).
How to get there? To services of tourists - buses No. 95, 5, 28 (address: Plaza de Fueros 1).
Cabesera Park
Here you can take a leisurely stroll along the winding paths and alleys, ride a rented swan-shaped boat on a pond, and climb a panoramic hill with magnificent views of Valencia and the Turia gardens..
Address: Avenida Pio Baroja.
Ferris wheel
The breathtaking views of Valencia can be seen from a bird's eye view on the 70-meter Ferris Wheel (consisting of 42 cabins) in the port of Real Juan Carlos. Ticket price - 6-10 euros (the price depends on the day and time of visit; the attraction is open from noon to 21:00).
Photos