Valencia in 1 day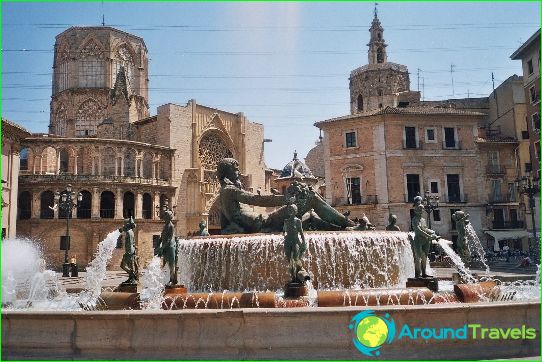 Spanish Valencia is located on the shores of the Mediterranean Sea at the confluence of the Turia River. The city was founded by the Romans more than a hundred years before the new era, and therefore the history of Valencia is rich and varied. There are plenty of ancient temples, beautiful towers and fanciful bell towers here. It may not be possible to carry out the project "All Valencia in 1 Day", but everyone is quite capable of seeing its most important architectural masterpieces..
In the footsteps of the Holy Grail
Valencia Cathedral looks huge. It was built on the site of a mosque in the 13th century, when the city fell to the Spaniards, and its octagonal bell tower is visible far beyond the old quarters. This tower is called Miguelete and soars almost 70 meters above the main city square. The bell on Torre del Miguelet was consecrated at the beginning of the 15th century, and today its melodic ringing still counts down every hour for residents and visitors of Valencia. In addition to providing magnificent views from the observation deck of the bell tower, Valencia Cathedral can take any visitor back a couple of millennia in one day. The fact is that a bowl is kept here, which, according to the official version of the Catholic Church, is considered the Holy Grail. You can personally verify this by visiting the temple and looking into its chapel..
Museums and galleries
After admiring the interiors of the cathedral, it is best to go for a walk through the museums of Valencia. The city offers a whole list of exhibitions in different directions. Within one day in Valencia, the most relevant and interesting may seem:
Exposition of the City Museum of Fine Arts.
Exhibition at the Marty Museum of Ceramics.
Wealth of the War Museum and its collection of weapons.
Masterpieces of ancient painting at the Patriarch Museum.
Interiors and facades of the famous Valencian Lonja de la Seda. This building was built in the late 15th - early 16th centuries, and previously housed the Silk Exchange. The largest transactions of that time were made here, and the building itself is on the honorary World Heritage List. A striking example of the late Gothic architectural style, the Valencia Silk Exchange is under the auspices of UNESCO.
Spanish cuisine
The best local culinary delights are another reason to visit Valencia for a day. The highlight of any restaurant program is paella. Aromatic and tasty, it is served here in a variety of forms, and it is Valencia that is considered the birthplace of the paella recipe. If a visit to Valencia for 1 day coincided with March 19, when the celebration of St. Joseph's Day is raging in the city, there is a chance to taste a special dish prepared in the square on open braziers.
Photos