Spanish cuisine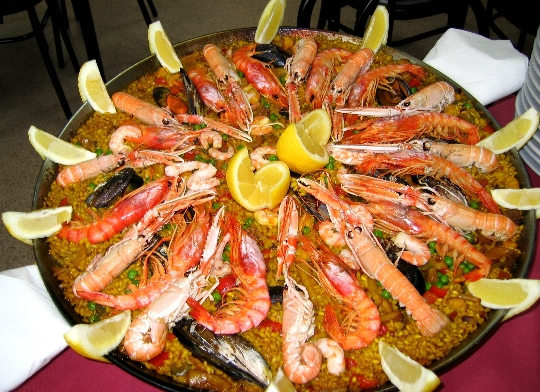 Spanish cuisine is fresh, tasty and varied dishes with 17 flavors, equal to 17 Spanish regions.
National cuisine of Spain
The basis of the national Spanish cuisine is made up of vegetables, olive oil, herbs, garlic, sage, red peppers. Spanish cuisine is characterized by the following feature: some dishes are grilled, others are stewed in wine, and still others are baked in sheep's cheese. In the north of the country, fish dishes are held in high esteem - "marmitako" (mackerel with potatoes), "pulpo-a-feira" (boiled octopus), "changurro" (assorted crabs and shellfish); in the central part of Spain - "cosido" (rich soup), Iberico jamon, serrano, delantero and other types of jamon; in the south - gazpacho and sweet turrons.
Popular Spanish dishes:
"gazpacho" (a dish in the form of cold tomato soup);
"paella" (a dish with rice and seafood);
"tortilla" (omelet with eggs and potatoes);
"chanfaina" (chicken fillet stewed with herbs, dry wine and pepper);
"navarro-cochifrito" (spicy lamb stew).
Where to taste the national cuisine?
When visiting local food outlets, consider the following: if the menu says "IVA" opposite the price, it means that VAT (7%) will be added to your invoice, and the inscription "IVA include" will indicate that VAT has already been added to the cost of the dish. Travelers, for whom the cost of food is of fundamental importance, need to take into account one more important nuance: by consuming a dish at the counter, you will pay 15% less for an order, and if you decide to dine in the open air - 5-10% more. Do you want to save money? Look for establishments that offer set meals (they have a special menu - Menudeldia).
In Madrid, you can look into the "Posada de la villa" (order in this tavern "cosido madrileno" - a lamb that is cooked on a spit on an open fire, as well as a collection of red or white wine), in Barcelona - in "Salamanca" (here you waiting for fish, meat and seafood delicacies), in Granada - in the restaurant "La Oliva" (here you can order Andalusian cuisine and choose your favorite drink from a rich wine list).
Cooking courses in Spain
In Barcelona, ​​the Barcelona Cooking course teaches you how to cook seafood paella, Catalan cream, gazpacho, bread with tomato and garlic, chicken with shrimp and crab. And for example, in Madrid you will be offered to take a culinary express course on making a tortilla or cosido in Madrid.
Spain can be visited during the celebrations of the Sweet Fruit Festival (Fraga, August), the Tapos and Pintxos Festival (Valladolid, November), the Tapas Festival (Salou, May), the Snail Festival (Lleida Province, May).
Photos