Airport in Denver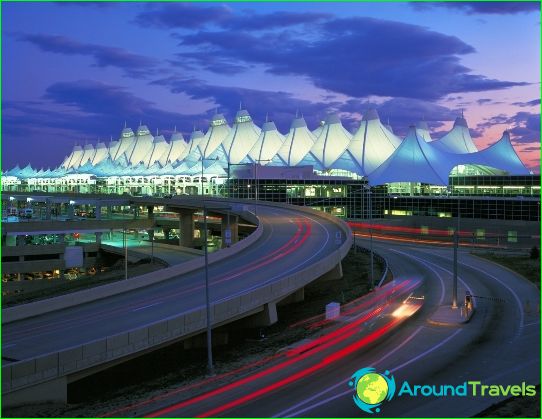 The airport in Denver is the largest in terms of area in the United States. It is located about 40 kilometers from the city center. The airport is 140 square kilometers, the largest in the United States and second in the world. In addition, the airport is one of the ten largest in the United States in terms of passenger turnover. More than 52 million passengers are served here annually. By the number of serviced take-offs and landings, the airport ranks fifth - more than 600 thousand.
The Denver airport has six runways, one of which is the longest in the United States at 4,877 meters. The remaining five runways are 3658 meters long..
Denver Airport was opened relatively recently, in 1995. Over its almost twenty-year history, it has been able to achieve significant results. The huge area of ​​the airport allows you to freely expand its infrastructure without affecting the current buildings. Six additional runways can be commissioned at the airport, as well as a new passenger terminal.
Terminal
Denver Airport currently has 3 passenger terminals. The buildings are built in the form of rocky mountains - this is one of the sights of the city. The terminals are of course equipped with the latest technology. There are over 130 boarding gates.
Services
Denver Airport offers all the services that guests need on the road. Here you will find many cafes and restaurants ready to feed hungry passengers.
A large area of ​​shops where you can buy various goods - cosmetics, perfumes, toys, gifts and souvenirs, food, drinks, etc..
For passengers with children, there is a mother and child room, as well as special play areas for children are equipped on the territory of the terminals.
The airport provides a set of standard services such as ATMs, post office, VIP-lounge, Internet, currency exchange, etc..
Transport
There are several ways to get from the airport to the city. The cheapest option is metro and buses..
In addition, you can use the services of numerous taxis.
Alternatively, you can offer a rented car, tenant companies work in the territory of the terminals.
Photos Denver airport