Streets of Los Angeles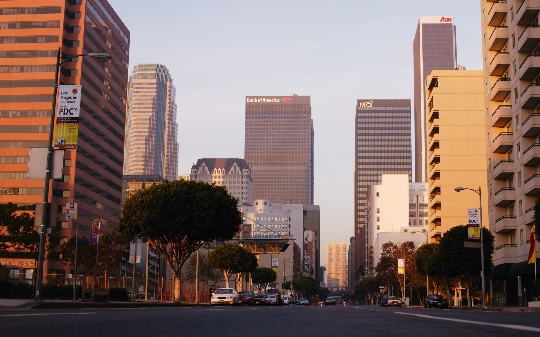 The city of world importance - Los Angeles, ranks second in the United States in terms of the number of people who live in it. It is second only to New York. The streets of Los Angeles do not have ancient structures and ancient landmarks. They are famous for their skyscrapers and entertainment. The city's economy is based on tourism, entertainment and trade.
Main streets
The center of the city of angels is the beautiful La Plaza, where the tallest buildings are located. In the evening, incredible lighting effects are created here. Tourists are eager to get to the Hollywood area to see the Walk of Fame. This is one of the most popular places in the city..
Hollywood Boulevard Alley is lined with paving slabs with five-pointed stars. The names of the most famous people from the world of show business and the film industry are immortalized here. The second name of the alley is Boulevard of Stars.
The city's main streets include the vibrant Sunset Boulevard, part of which is the Sunset Strip, the center of nightlife. The boulevard is associated with glamor and is considered a model of Hollywood culture. It connects the main part of the city with the posh neighborhoods of movie stars. Such neighborhoods include Beverly Hills; Malibu or Brentwood; Bel Air. Sunset Boulevard begins near Olver Street (downtown) and runs west to the Pacific Ocean. Its length exceeds 34 km.
A very famous street in Los Angeles is Rodeo Drive, a shopping area in Beverly Hills. Luxurious boutiques of Tiffany, Armani, Cartier and others are located here. Rodeo Drive occupies three blocks, where there are a lot of expensive shops, and goes further south and north.
A popular landmark of the city is the Chinese Theater, the area in front of which is covered with golden nameplates. There are shops next to the theater offering products related to the film industry. It also houses the Kodak Theater, which has been operating since 2001..
What places deserve attention
Through the central part of Los Angeles stretches Wilshire Boulevard, covered with skyscrapers. It takes 24 km. The part of the boulevard that runs through the very center of the city is designated the Golden Mile. There are entertainment venues here: restaurants, boutiques, clubs, theaters. The boulevard is known for its constant traffic jams. Traffic on this street stops at rush hour.
North of the main part of Los Angeles, you can find a corner of nature. This is Griffith Park, home to California oaks and other plants. Old streets have also been preserved in the city. For example, the Mexican street Oliver Street, which is in the center.
Los Angeles street photos