Things to do in Miami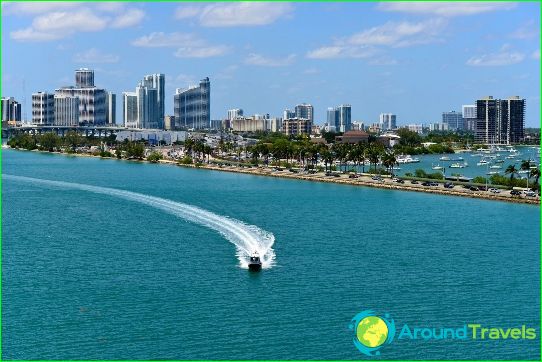 Entertainment in Miami is aimed at active tourists who want to spend time in trendy nightclubs, sports and entertainment centers.
Amusement parks in Miami
"Jungle Island": in this theme park you will meet alligators, ligers (a hybrid of a lion and a tigress), exotic birds and rare plants, relax on the private La Playa beach (at the services of visitors - playgrounds, swimming pools, water slides, inflatable jumps , bar with soft drinks), see performances of trained parrots.
"Lion Country Safari": a trip to this safari park can be an unforgettable adventure - here you can admire lions, elephants, giraffes, zebras and other animals, moving around its territory in electric vehicles.
What entertainment in Miami?
Fans of nightlife should be advised to look into the "Mansion Club": at your service - dance floors with various musical styles, bars, VIP-zones, concerts of famous DJs, theme parties, performances of acrobat dancers ...
A visit to the Everglades National Park should be included in your list of entertainment programs on vacation: you can navigate through its territory on foot, by car or bicycle, and in swampy areas - by boat (if you wish, you can admire the splendor of the wild nature from a helicopter). Here you will be offered to look into an Indian village (the Indians will show a unique show "Fighting an Alligator") and a crocodile farm.
It would not be superfluous to pay a visit to the "Miami Science Museum" - here you can look into the Observatory (admire the constellations and distant galaxies from a telescope), the Planetarium (watch laser shows and a science fiction film) and fly in a wind tunnel.
Entertainment for kids in Miami
It is advisable to take children to the "Miami Children's Museum" - a mini-town where they will be able to admire miniature models of cruise ships, shops, banks, try their hand at such professions as a sailor, firefighter, director or TV star (at their service - a small TV studio ), spend time at the climbing wall (wearing climbing equipment, those who wish can conquer a 9-meter rock).
Your child will receive a lot of impressions if you give him the opportunity to visit the "Miami Seaquarium" - he will be able not only to see marine life, but also shows with their participation, as well as thematic exhibitions with animals. In addition, here you can visit the exhibition of endangered and protected animals (manatees, sea cows).
In Miami - the city of entertainment, you will find beaches equipped with everything necessary for water sports, picturesque parks with a variety of flora and fauna, a zoo, a Tropical Garden.
Photos