Prices in Miami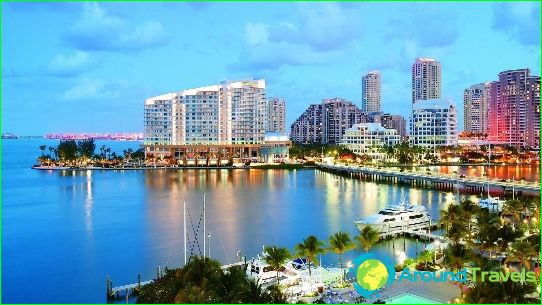 The main resort in Florida is Miami. The tourism industry is well developed there. Miami Beach has over 25 miles of excellent sandy beaches. Holidays at this resort attracts people from all over the world. Therefore, high prices in Miami should not surprise tourists..
Accommodation at the resort
In Miami, you can rent a villa, house or apartment. Short and long term rentals are possible here. In the first version, the apartment is rented out for a week or a couple of months. The prices for long-term and short-term rent are very different. For a year, an apartment is rented here for $ 3000. A similar apartment for six months will cost $ 4500 per month. Some houses only allow long term rentals. Apartments can be found in Sunny Isles, Downtown or Miami Beach. A house for rent can be rented, as a rule, for at least a year. Luxury villas and mansions in Miami Beach cost 5-10 thousand dollars a week. Some of them cost $ 20,000 a day. The cost here depends on the degree of luxury.
Excursions in Miami
Vacationers in Florida do not get bored: tour operators present many interesting excursions and entertainment. You can get a bird's eye view of Miami during a private jet tour that costs $ 650. A private tour from Miami to the NASA Space Center will cost $ 430. The Lion Safari excursion is very popular. It lasts 6 hours and costs from $ 290. You can see the sights of Miami Beach (25 km along the ocean) during a sightseeing tour, the price of which is $ 220.
A sightseeing tour over Miami is unusual. Tourists travel by air by helicopter. It's expensive, but well worth it. An hour flight costs $ 250. Vacationers can visit the safari park on their own, without a guide. There are wild animals and attractions for children. For an entrance ticket to the park you have to pay $ 30.
Transport
The Metrobus bus network operates in Miami. It consists of many routes with over 900 buses. Among them there are round-the-clock routes. You have to pay about $ 1.5 for travel. There is a subway in Miami, the stations of which are designated "Metrorail". The metro is overhead. The fare is $ 2. This is one of the most convenient means of getting around the city. On the territory of the resort there is Metromuver, which is an analogue of the overground metro. This transport system offers passengers travel around Downtown in automated trailers. The most convenient form of transport is a car. Renting a car is expensive - $ 80-90 per day.
Photos