How long is the flight from Miami to Moscow?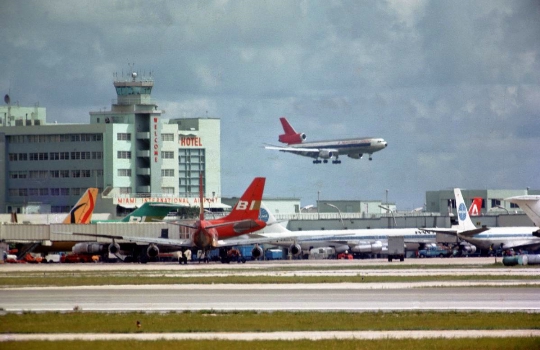 In Miami, you could see a Renaissance-style palace - Villa Vizcaya, Coral Castle, dolphins, killer whales, manatees, sea lions in huge pools in the local Oceanarium, visit the Space Center, Monkey Jungle Reserve, inhabited by monkeys, National Park " Everglades and Parrot Jungle, a Miami Beach cruise to Millionaire Island? And now you are going to fly home?
How long is the direct flight from Miami to Moscow?
Moscow and the main resort of Florida are 9200 km away from each other, which means that you will spend about 11 hours in flight.
For example, with Aeroflot and Delta Airlines you will spend 11 hours 10 minutes in flight.
It should be noted that direct flights on this route are carried out by Transaero (once a week) and Aeroflot (3 times a week).
A relatively cheap flight ticket Miami-Moscow can be purchased for 27,300 rubles in January, April and February (the most expensive tickets are sold in December and summer months).
As for tickets for connecting flights, they are sold for an average of 25,600 rubles..
Flight Miami-Moscow with transfers
Connections are usually made in Paris, New York, Rome and other cities..
Those planning to transfer to another plane in Paris ("Air France") should prepare for the fact that their return home will take 15 hours, in Madrid ("Iberia") - 21.5 hours, in London ("British Airlines") - 16.5 hours, in Milan and New York ("Delta Airlines") - almost 22 hours.
If you fly to the Russian capital with Virgin Atlantic via London, you will find yourself at home 19 hours after the start of the flight..
Choosing an airline
The following airlines carrying their passengers on Airbus A 330, McDonnell Douglas MD 88, Airbus A 380-800, Boeing 767-400 and other planes will help you get to the Russian capital:
- American Airlines;
- "KLM";
- Virgin America;
- "Jet Blue";
- Aeroflot.
You can fly to Moscow from Miami International Airport (MIA) - it is 13 km away from the center of Miami (buses No. 57, 133, 37, 236 are at your service).
Here you can sit in the superior waiting room or one of the catering establishments (travelers are offered to order drinks and meals from a varied menu), spend time in the spa-salon or internet cafe, use ATMs or exchange office services.
Things to do on the plane?
The extended flight allows passengers to sleep and read. Plus, you will have plenty of time to decide who to bless with gifts from Miami in the form of Guess, DKNY, Calvin Klein branded apparel and footwear, Urban Decay cosmetics, Tiffany jewelry, American flag, various sweets, rum.
Photos