Holidays in Miami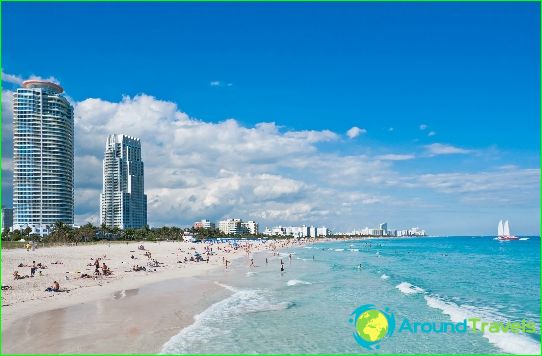 Holidays in Miami are chic shops, white sand beaches, a variety of entertainment, beautiful nature, numerous clubs and bars.
The main activities in Miami

Excursion: on one of the excursions you will visit the Central part of Miami, where international banks and offices of many companies are concentrated; in the South (there are many art deco buildings here, and in the Coconut Grove area - there are many nightclubs, restaurants and bohemian shops), as well as the North (bohemia and artists district) and Western (expatriate district) parts of the city. On excursions you will see Villa Vizcaya, Versace mansion, Coral Castle, University of Miami, Freedom Tower, visit the Science Museum, Police Museum, Museum of Modern Art.
Beach: sandy beaches of Miami Beach are perfect for recreation, equipped with cafes, showers, toilets, life towers, and a beach equipment rental point. South Beach is great for swimming topless (however, it is not a nude beach), sunbathing, morning jogging along the Atlantic coast. It is worth taking a closer look at Lummus Park Beach - the beach has restaurants and bars, a rental point, volleyball and football grounds. And on the beach Sunny Isles Beach there are conditions for playing tennis and volleyball (there are equipped grounds), water sports. And children here can spend time in the play area. In addition, for a boat trip, you can rent a boat or boat, as well as go fishing..
Active: those who wish can go diving (in addition to the rich underwater world, here you can see sunken ships and sunken American tanks), yachting, surfing, playing golf, flying in a hot air balloon.
Family: parents can take their children to the Oceanarium (here you can watch the performances of trained killer whales, dolphins, sea lions, as well as watch fur seals, turtles and cows); a zoo (exotic representatives of the world fauna live here); Jungle Island (here you can visit the exhibition of exotic plants and animals, relax on the La Playa beach with playgrounds, water slides, inflatable jumps).
Prices for tours in Miami
Miami is not a budget vacation spot: the cost of vouchers here in any season is practically the same. A slight drop in prices (10-20%) for tours to Miami is observed in the summer months, when rain and hurricanes are likely here. And more expensive trips to Miami are sold in spring and autumn..
On a note!
Going on vacation in Miami with a credit card, you can pay anything you want. But keep in mind that cash will come in handy in open markets, restaurants and shops located far from the city center..
It is more convenient to travel around the city by bus, so it is advisable to buy a 7-Day Visitor Passport.
Memorable gifts from Miami can be souvenirs depicting the Statue of Liberty, alcoholic beverages (rum, whiskey), branded clothing, Tiffany jewelry, Urban Decay cosmetics..
Vacation photos in Miami