Water parks in Miami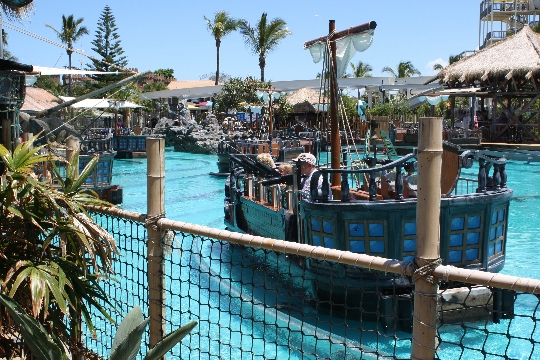 Fun, sun and water parks await you and your kids in Miami.
Water parks in Miami

The Castaway Islands Water Park is equipped with 2 water areas: one for toddlers and older children, and the other for adults. There are waterfalls, sandy lagoons, sections with buckets that fill with water and then pour out on visitors, slides for guests of all ages, a swimming pool with an artificial current, a bungee, and also conditions for sunbathing and organizing a picnic..
Grapeland Water Park is decorated with colorful monuments and statues, and it has a Captain's Lagoon (the water in this pool has different depths, which means that all family members can find a comfortable zone for themselves; its maximum depth is 1.8 m) , "Buccaneer River Ride" (this slow river is best floated on an inflatable ring, "meeting" waterfalls and other surprises on the way), "Pirate's Plunge" (visitors are invited to climb the stairs to slide down the steep slide into the pool) , "Crazy Creek" (12-meter curved tunnel with moving elements), "Big Thunger" (20-meter funnel, after spinning in a whirlpool, "carries out" everyone who dares to experience this attraction into a mysterious tunnel). In addition, "Grapeland Water Park" will delight guests with a giant bucket, which is gradually filled with water, and before being overturned by a powerful stream, notifies them with a sound signal. On average, the cost of visiting water parks for adults costs $ 15, and for children (2-13 years old) - $ 8.
Water activities in Miami
Heading to Miami, you can pre-book a room in a hotel that has a pool - in the "Hyatt Regency Miami", "Hampton Inn & Suites by Hilton Miami" and others.
The attention of vacationers in Miami deserves the "Miami Seaquarium" - performances with dolphins, sea cows, killer whales are shown here. In addition, visitors to the aquarium will meet fish, reptiles, mammals, sea turtles, listen to information about these animals and be present at their feeding. The cost of admission is quite high: adult tickets cost $ 40, and children (3-9 years old) - $ 30.
For the sake of a beach holiday, it is recommended to move to the beaches of Miami Beach - South Pointe (popular with surfers and other water sports enthusiasts), Haulover (despite the fact that it is nudist, there are areas for sunbathing in swimsuits, and this beach great for surfing) or Sunny Isles Beach (volleyball and tennis courts are available).
Interested in diving? Enjoy the dive sites you find between Miami Dade and Key Biscayne (artificial coral reefs).
Photos