Miami Zoo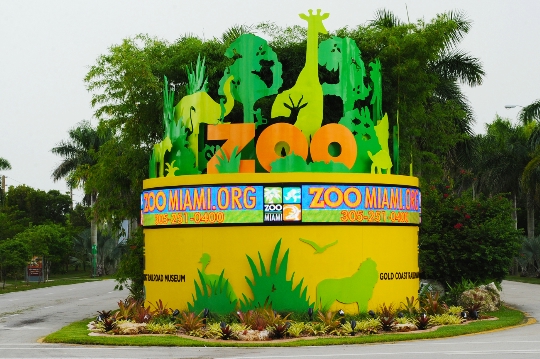 The only tropical zoo in the United States first opened to visitors in 1948. Then he was located in Crandon Park and had at his disposal several dozen acres of land. Thirty years later, the animals moved to a new location, and today the Miami Zoo has become one of the largest in the country. The number of its inhabitants has long exceeded 3000, and the species represented here will be enough for a large zoological encyclopedia.
Miami-Dade Zoological Park and Gardens
The current name of the Miami Zoo is a symbol of renaissance. After the devastating 1992 hurricane, many pavilions and their inhabitants were seriously damaged, and the park suffered colossal material damage. The restoration took several years, and the work done can be called colossal - more than seven thousand trees were planted in the park alone..
Pride and achievement
500 species of animals represent the fauna of various countries, climatic zones and continents at the Miami Zoo. Already at the main entrance, visitors are greeted by a lake with a waterfall, where flamingos and pelicans live, and in various pavilions one can comfortably observe such rare animals as white tigers, Sumatra orangutans or Komodo dragons. For a small fee, in the African pavilion, visitors feed the giraffes, and the little ones communicate with pets in the mini-zoo.
How to get there?
The address of the zoo is 1, Zoo Boulevard 12400 SW 152 Street Miami, FL 33177. Free parking is provided for visitors with private cars. It is also not difficult to get here by public transport - CORAL REEF MAX buses regularly leave from the Dadeland South metro station to the park..
Helpful information
Opening hours of the Miami Zoo:
On weekdays, the park is open from 10.00 to 17.00. Ticket offices are open until 15.30.
On weekends and holidays, you can visit the zoo from 09.30 to 17.30. Ticket offices are open until 16.00.
Special timetables are provided for Thanksgiving (09.30 am to 3.30 pm), Christmas (noon to 5.30 pm) and January 1st (9.30 am to 5.30 pm).
Mini-zoo for children is open from 10.00 to 16.00 on weekdays and from 10.00 to 17.00 on holidays and weekends.
Entrance ticket price:

Adult ticket price for visitors 13 years and older - $ 19.95
For a child from 3 to 12 years old - $ 15.95.
Children under two years old can visit the park for free.
Guests over 65 years old will pay 25% less entrance fee if they have proof of age with a photo.
Local tax of 7% must be added to the price. Groups of 10 or more people are eligible for discounts from 10% to 25%.
Services and contacts
The Miami Zoo regularly hosts many themed entertainment activities for children and their parents. Here you can celebrate a birthday or just have a family outdoor picnic.
All details can be easily clarified on the official website of the park - www.zoomiami.org or by phone +305 251 0400.
Photos of Miami Zoo