Beaches in New York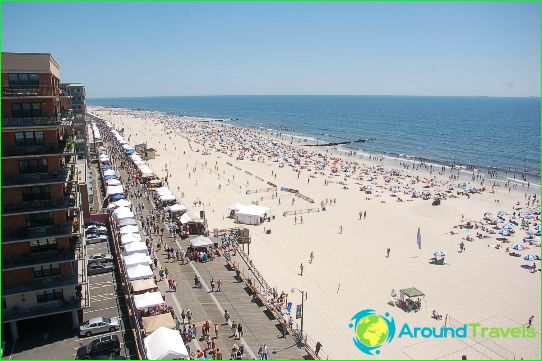 New Yorkers often escape from the hustle and bustle of a bustling metropolis, looking for escape on the beach. The pleasant sound of waves and the rustle of sand briefly distracts from everyday problems. Arriving vacationers combine a visit to the cultural capital with a quick rest on a local beach, after which they remain very satisfied. So, what can please the beaches of New York and why you should choose them for a seasonal vacation?
Features of the work of the beaches of New York
You can have a good rest both on the beaches of New York and in its vicinity. It is noteworthy that absolutely all beaches are open for free visits, and you can just stay there forever. However, visitors to the beach can swim only at the time strictly allotted for this - from 10 to 18 hours, when there are lifeguards on the beach. Remembrance Day (last weekend in May) is considered to be the beginning of the beach season, and Labor Day is considered to end (the first Sunday in September)..
List of the most popular beaches
The best sandy beaches in New York are nestled in some of the world's best beaches. These beaches are the most famous and popular among city dwellers and visitors from other countries:
Rockaway Beach, Queens - One of the most famous surfing beaches in New York City;
Coney Island, Brooklyn is not only a nice and very picturesque beach, but also a great place for local sightseeing; children and just thrill-seekers can ride on the rides, of which there are a decent number, and if they are very lucky, vacationers can also see the annual Mermaid Parade;
Orchard Beach, Bronx - a beach whose territory stretches for almost two kilometers of coast; wonderful playgrounds have been built for children, and fans of active beach recreation will be able to play volleyball, basketball or handball; the beach has a cozy and very pretty promenade, where young couples often stroll;
Jacob Riis Park, Queens - a beach known as one of the cleanest in New York; lovers of topless sunbathing here can do it without a twinge of conscience, and no one will reprimand them; there are showers and several outlets with souvenirs and snacks;
Great Kills Park, Staten Island - a beach that consists of four parts, each of which is somewhat different from the others; suitable for those who like not too crowded places with a minimum of amenities and joys of civilization.
Popularity is a sign of high quality
In the state of New York itself, there are more than 80 beaches, so the number of tourists is only increasing every year. Local sunbathers are not too pretentious, so the lack of a lot of amenities bothers them a little. Despite this, the beaches are regularly cleaned, beach equipment is constantly updated, and lifeguards are vigilant about the safety of vacationers..
Photos of the beaches of New York