History of New York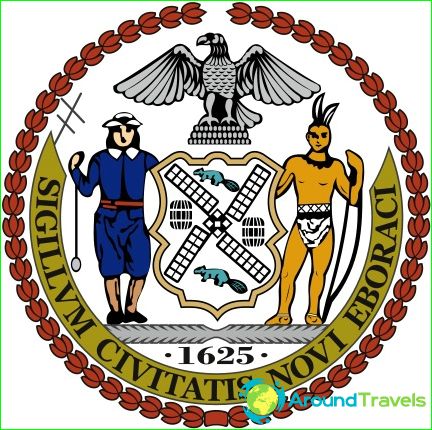 New York stamp
New York is the most populous city in the United States and one of the most populous metropolitan areas in the world. The city is located on the shores of the Atlantic Ocean in the state of the same name. As the world's largest harbor, New York is made up of five boroughs: the Bronx, Brooklyn, Manhattan, Queens and Staten Island, which were merged into one city in 1898. New York was founded at the beginning of the seventeenth century, until 1664 it was called New Amsterdam.
Once upon a time, tribes of Indians lived on the territory of modern New York. The first European inhabitants appeared here in 1624, when a Dutch fur company was founded in New Amsterdam. In 1664, Governor Stuyvesant gave New Amsterdam to the British in exchange for the Suriname colony. The Duke of York immediately renamed the city New York.
In 1776, Brooklyn was the site of the largest battle for US independence - the Battle of London Island, in which the Americans were defeated. The city became a British military and political base. Only seven years later, the Americans took possession of New York again..
In the nineteenth century, due to the huge influx of immigrants, the size of New York City expanded rapidly. During this period, an architectural plan for the development of the city was created. In 1835, New York became the largest city in the United States.
Since the twentieth century, New York has become the world's most important financial and industrial center. In the 30s, several skyscrapers were built in the city, it became the first metropolis in the world to exceed the 10 million mark of the population..
The return of World War veterans and New York's wartime intactness sparked a post-war economic boom and the growth of large residential areas. New York, with its Wall Street and UN headquarters, has taken the dominant economic and political position in the world.
Many areas and attractions of New York are well known today, the city is visited by about 55 million tourists a year. It is the most photographed city in the world. Times Square is one of the busiest intersections in the world and the largest hub for the global entertainment industry. Some of the city's most famous landmarks are the Statue of Liberty, Broadway theaters, Central Park, the Metropolitan Museum of Art, Rockefeller Center, Fifth Avenue, the Empire State Building and many, many others..
Pictures of New York
New York stamp
New Amsterdam in 1664
Broadway in 1840
The Brooklyn Bridge
Statue of Liberty
Broadway
Manhattan