Streets of New York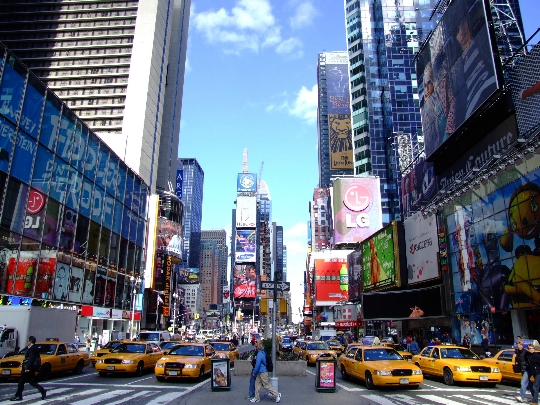 The central streets of New York became famous all over the world. Against the background of other streets, they stand out for their original architectural projects and high-profile events that periodically take place there. The streets of the city are laid out in accordance with the planning, drawing the space along strictly marked lines. In New York City, 207 streets run horizontally and 11 Avenues run vertically. Movement in the west-east direction takes place on even numbered streets. The winding streets are only found in the Greenwich Village area. Places in the spirit of old Europe are preserved in Soho.
Main streets of New York
In the heart of Manhattan, Fifth Avenue is a popular destination for shopaholics. There is an intensive trade in branded and fashionable goods. Luxurious boutiques, exclusive shops, restaurants and cafes - you will find it all on Fifth Avenue. Among the boutiques there are Prada, Versace, Lois Vuitton and others. The beginning of the street in question is Washington Square, and the ending is 143 Street. Fifth Avenue is connected with such landmarks of New York as St. Patrick's Cathedral, City Public Library, Rockefeller Center, etc..
A famous place in the city is the Museum Mile, located between 82nd and 105th streets. Popular institutions operate here: the Museum of New York, the Metropolitan Museum of Art, the National Museum of Design, the Guggenheim Museum, etc..
The city's famous street is Madison Avenue, named after President Madison. The street starts from Manhattan. Then she goes to the Bronx. Madison Avenue is home to advertising company offices and high-end stores. The best boutiques and restaurants are located here. Madison Avenue is a kind of symbol of the city.
Interesting places of the city
The longest street is Broadway, which is 26 km long. In New York, there are four streets with this designation, but Broadway is usually understood as Manhattan, the one where the famous Theater District is located. Broadway runs through almost all urban areas, changing and providing tourists with interesting panoramas. This is the city's main thoroughfare, zigzagging through Manhattan and breaking the strict order of avenues and streets. This street was chosen by representatives of business, trade and theatrical figures. There are many boutiques, shopping centers, museums here. Broadway has Holy Trinity Cathedral and beautiful skyscrapers.
Wall Street is also famous all over the world. It is located in the financial district and evokes associations with business and wealth..
Photos of streets of New York