Independent travel to New York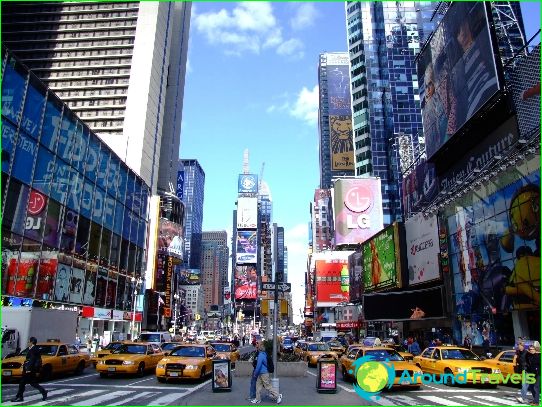 The first thing that comes to mind when mentioning New York is skyscrapers and the Statue of Liberty. It's also a city of great shopping and theater opportunities, authentic Little Italy restaurants, and some of the world's most famous museums. In New York, you can think of any excursion, and even an ordinary jog in Central Park can give you a meeting with Hollywood celebrities. In short, the Big Apple!
When to go to New York?
New York City is ideal for visiting any time of the year. It's just a matter of a visa and a plane ticket. Shopaholics flock here during big sales like Thanksgiving or Christmas, and Broadway musical buffs in the fall, when the new theater season kicks off. Photographers know that it is in autumn that Central Park is able to present the most amazing shots, and romantics prefer walking around the spring city, when the smell of coffee at every step is mixed with the scent of flowering trees..
How to get to New York?
The American airline Delta and the Russian Aeroflot often arrange ticket sales at very pleasant prices, as soon as you start tracking their special offers. You can also fly to Big Apple with European airlines with a connection in Europe. At most airports in the Old World, Russians do not need a visa for transit.
Housing issue
Hotels in New York is a huge number of very different hotels, in which both prices and conditions differ. The main criterion for the formation of a price tag per night is not only the number of options, but also the distance from the center. In order not to overpay, you should not look for housing in Manhattan. Quite decent accommodation options can be found in Brooklyn and the Bronx.
Argue about tastes
And New York is also the gastronomic capital of the world. Here you can find the most delicious Thai noodles and Japanese sushi, the most aromatic Mexican fajitos and Argentinean steaks. The Big Apple has its own cuisine and favorite dishes for every guest. Tables in trendy and pretentious restaurants in Manhattan should be booked in advance, in other establishments everything is democratic and simple.
Informative and fun
It is impossible to answer the question of what to see in New York. Walking along V Avenue or Broadway from start to finish is already quite a serious walking tour. And also a free ferry to the Statue of Liberty, special days when you can go to museums for symbolic money, and communication with squirrels and musicians in Central Park - this may already be enough to say to yourself: "New York is beautiful!".
Photos of the trip to New York