Where to go with children in New York?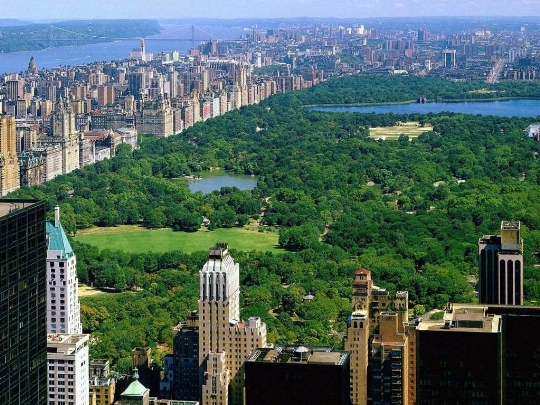 New York occupies a huge area, so there are a large number of famous objects within its boundaries. It will take a long time to see all the sights. This city is worthy of the attention of tourists in any season..
The most famous places in the city
The most attractive attraction is the Statue of Liberty. It is located on a separate island, so you need to get to it by ferry. There is always a lot of people in New York who want to see this grandiose building. To get on the ferry, tourists have to queue up. Once next to the statue, you can go inside and climb its levels to see the panorama that opens up around. There are souvenir shops with various themed goods near the statue..
An interesting place for family leisure activities is the largest zoo in the Bronx. There are no open-air cages and cages, and animals move freely around the territory. Living conditions for them are as close to natural as possible. You can get to the zoo by rail. The zoo is divided into zones: Butterfly Garden, Tiger Mountain, Night World, Bird World, Reptile World, etc. There is a separate area for children, where the youngest visitors can get acquainted with baby animals. An entrance ticket for an adult costs $ 20, for a child ticket - $ 16. Animal lovers can be advised to visit the oldest zoo in Staten Island.
The most famous art center in New York is the Mary Boone Gallery. The best artists and young talents exhibit their works there. For the largest collection of art, visit the Brooklyn Museum. It contains over 15 million unique items. The museum covers an area of ​​approximately 52 thousand square meters. m.
Popular objects in New York
An important religious monument is St. Patrick's Cathedral. This is the largest Catholic church in the United States, built in the neo-Gothic style. With children, you can walk along Park Avenue and 5th Avenue, which are located in Midtown. There are many interesting structures there. It is recommended to visit the Museum of Natural History, the Metropolitan and the Public Library of New York.
You can take the fun ride to Staten Island on the free ferry from the pier. If you walk along the banks of the Hudson River, you can get to the Brooklyn Bridge, which offers impressive landscapes.
Where to go with children in New York to relax in nature? If you don't want to leave town, head to Central Park. You can walk there all day, sitting in the shade of trees on the grass..
Photos