Airport in Washington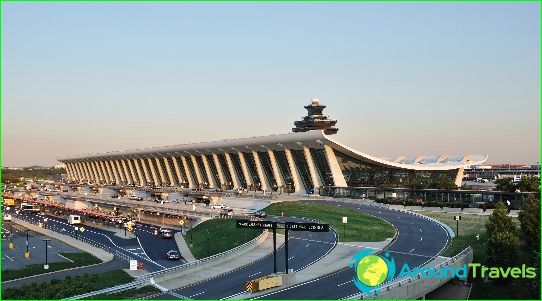 The US capital is served by three airports - Baltimore / Washington, airport. Ronald Reagan and the airport. Dulles.
Baltimore / Washington airport
Baltimore / Washington is an international airport located approximately 50 km North-East of the capital. You can also find the name - "Baltimore / Washington Marshall". This name is given in honor of the first African American Targut Marshall. The airport is in the top 50 of the world ranking in terms of the number of take-offs and landings.
Terminals
The airport has 5 terminals, 2 of which are practically combined into one.
Services
Baltimore / Washington Airport offers all the services you need on the road: shops, cafes, restaurants, etc. In addition, there are ATMs and luggage storage facilities on the territory of the terminals. There is a deluxe lounge for business class passengers.
Transport
The city can be reached in several ways:
 Buses - the price of the trip is about 5-6 dollars, and the travel time will be up to 35 minutes.
Electricians - price $ 8-9, travel time up to 12 minutes.
Taxi - price from 15 dollars.
Ronald Reagan airport
National airport with domestic flights. Ronald Reagan Airport is located 5 km from the city center.
Terminals
The airport has 3 terminals, between which a free shuttle bus runs.
Services
As in most airports, various services are offered to the passenger: shops, pharmacy, post office, ATMs, cafes and restaurants, etc. It is worth saying that the airport does not have luggage storage.
Transport
The easiest way to get from the airport to the city is by metro. There are also buses and taxis for passengers..
Airport them. Dulles
The airport is located 40 km from the city. Domestic (over 80) and international (over 40) flights depart from here. The largest airline that cooperates with this airport is United Airlines. Dulles airport accepts direct flights from Russia (from Sheremetyevo-2 and Domodedovo airports).
Services
The airport offers various services for its passengers: cafes and restaurants, ATMs and bank offices, luggage storage, Duty-free shops, etc..
Transport
You can get from the airport to the city by metro, bus or taxi.
Photos of Washington airport