Suburbs of Washington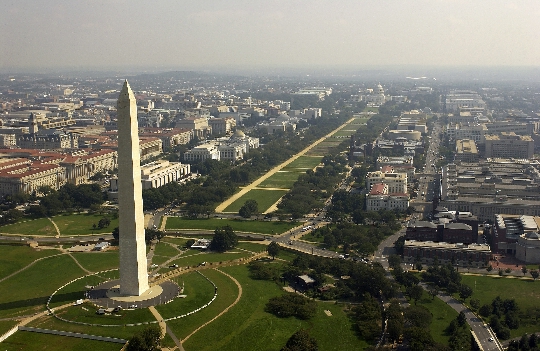 Administratively, the districts of Washington divide the US capital into four parts (it is worth noting that house numbers are counted from the Capitol). Areas of Washington DC include Georgetown, Foggy Bottom, Downtown Washington, Glover Park, Adams Morgan, Columbia Heights and others.
Description of the main areas

Dupont Circle: While walking around the area, guests can see houses from the early 19th century. Here guests will find a small park, suitable for relaxation from the hustle and bustle (there is a marble fountain in the center), and bars that keep their doors open to visitors until late. As for the cultural program, in this area you can go to the Phillips Collection museum and to inspect the Cathedral of St. Matthew (it has an octagonal dome, the height of which is 61 m; St. Matthew is depicted above the entrance, holding a handwritten Gospel).
Cleveland Park: families with children (there are playgrounds) and nature lovers (the area has plots with green lawns suitable for organizing barbecues) will be comfortable here. In addition, travelers should visit the National Zoo (for the convenience of orientation, it is advisable to get a map), where over 3500 animals live (in the research center animals such as the red wolf and the black-footed ferret are bred).
Capitol Hill: Guests will be invited to walk through the underground visitor center to enter the US Congress building, where they can visit historical exhibitions. The area is interesting because it hosts street fairs and from here you can easily get to any area.
By planning a tour of Washington, travelers will be able to visit Smithsonian Castle (has 19 museums and galleries), the White House (several halls are available for inspection - Green, Blue, Oriental), the National Air and Space Museum (historical aircraft and spacecraft are subject to inspection; museum fund has such exhibits as tube food for astronauts and Gagarin's certificate; here you can "become" a pilot by getting into the interactive Boeing cockpit) and other interesting places.
Where to stay for tourists
Travelers looking for a relaxed atmosphere on vacation can stay in Glover Park - not only the safest place in Washington, but also great for walking and dining in restaurants.
Do you plan to visit discos, where you can dance the night away, and shops selling handmade things? All this will be waiting for you in the Adams Morgan area. Young people interested in bars, music venues and restaurants are advised to pay attention to the Anacostia area.
Photos of Washington DC neighborhoods