Holidays in Tenerife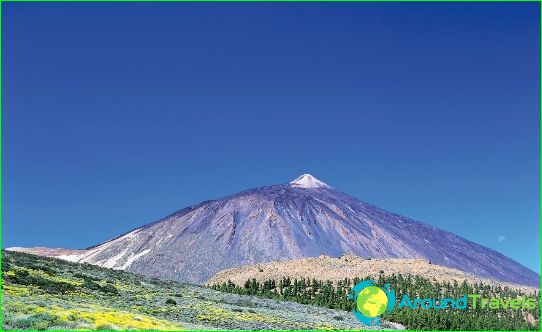 Holidays in Tenerife are popular among tourists who value excellent service and picturesque landscapes, as well as those who want to relax on colorful beaches and arrange an exciting adventure for themselves..
The main types of recreation in Tenerife

Sightseeing: as part of excursion tours, you can visit the National Park Las Cañadas del Teide, the hamque of San Miguel (here you can visit a grand feast, costumed knightly tournaments, concerts of famous performers), the Pueblo Chico miniature park, see the Pyramids of Guimar, the Church of the Immaculate Conception, Auditorio de Tenerife. For those who wish, trips to the ostrich farm or to the Masca gorge are organized - here tourists are given the opportunity to swim on an abandoned beach and visit the pirate village.
Beachfront: tourists can relax on the gold-sandy Las Teresitas beach (the sand was brought from the Sahara) - it is equipped with breakwaters, restaurants, standard amenities. Those wishing to soak up the black volcanic sand with healing properties can visit the Playa de la Arena beach. It is worth noting that this beach has been awarded the Blue Flag and is perfect for a relaxing holiday. The whole family can go to the Playa de la Pinta beach, as there are many attractions and children's playgrounds..
Active: all vacationers are advised to visit the entertainment complex "Loro Park", with a zoo, Botanical Garden, Aquarium, Orchidarium and various attractions. For active tourists, the resort has prepared such entertainment as go-kart racing, sailing on yachts and catamarans, ATVs and mountain bikes, surfing (the ideal place is the town of El Medano), diving (in the coastal waters you can meet turtles, rays, fish ramps , barracuda) and mountaineering.
Event-driven: arriving in Tenerife, you will be able to visit the Music Festival "De Musica de Canarias" (January), Carnaval "Mardi gras" (February), "Feast of the Cross" (May), Festival "Corpus christi" (June), Feast of Saint Juan (summer solstice).
Tour prices in Tenerife
June-October is considered the ideal time to relax in Tenerife. Tours in Tenerife are quite expensive, with the most expensive tours being sold in September-October and late December-early January. Despite the fact that there is no low season here (you can swim and relax in Tenerife all year round), a little cheaper tours can be purchased in March-April.
On a note!
You can pay for goods and services on vacation only in euros, and since the conversion is carried out at an unfavorable rate at local exchange offices and banks, it is advisable to exchange currency before traveling to the island..
It is better to drink bottled water, as tap water can make you feel unwell.
It is more convenient to travel around Tenerife by car, which can be rented with an international driver's license and credit card in one of the rental centers.
As a souvenir of your holiday in Tenerife, you can bring jewelry, castanets, Canarian Mojo sauce, olive oil, jamon, wine, ceramic and leather goods.
Photos of holidays in Tenerife