Water parks in Tenerife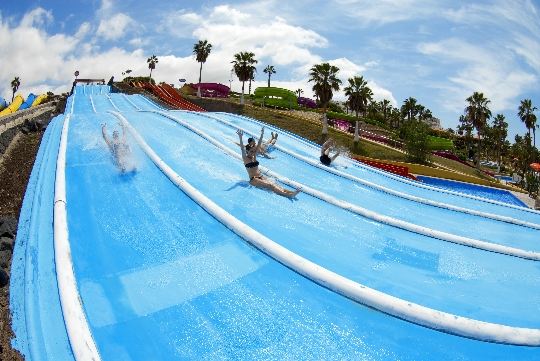 Water parks in Tenerife are the most favorite entertainments of tourists vacationing on the island.
Water parks in Tenerife
Aquapark "Aqualand" equipped with water attractions "Crazy race", "Super slalom", "Rapids", "Twister", 500 meter "Condo River" with a calm stream, pools of different depths with ocean water, shallow children's pools with a pirate ship and mini-slides, a souvenir shop, a photo salon, food establishments. Those who want to relax can do it by the pool, sitting on the trestle bed under an umbrella (they are available for rent). And since on the territory "Aqualand" the dolphinarium is located, guests will be able to attend the performances and admire the dolphins performing complex acrobatic acts, listen to a lecture on the life of dolphins and take pictures with them. Well, the children, for sure, will be delighted with the opportunity to ride a boat, which will be "to govern" Dolphin. The cost of additional services in the dolphinarium: swimming with a dolphin in a wetsuit - 100 euros, 1 photo - 20 euros, participation in 1 trick with a dolphin - 50 euros. Admission tickets for adults will cost 22.5 euros, and for children - 8 (up to 1.1 m) or 16 (1.1-1.4 m) euros. And for a double ticket, adults will pay 34 euros, and children - 12-24 euros.
Aquapark "Siam park" (architecture is made in Thai style) has 25 slides, among which stand out "Tower of power" (descent from a height of 28 m, assuming falling into a glass pipe - it goes through an aquarium with fish), "The giant" (attraction in the form "heads" - instead of a mustache, she has a pipe); Lost City (child "town" with waterfalls, water slopes, towers and bridges); swimming pools; lazy river; "Palace of the waves" (wave pool for surfers); "Sea Lion Island (a body of water with sea lions floating in it); "Floating Market" (houses stylized as a Thai village, where you can have a snack and get mementos); cafeterias and restaurants; rest huts "Private cabanas" with a bar, TV, shower and beach chairs (rented a hut designed for 4 people will receive a discount on eating out and using attractions without queuing - booking the hut costs 400 euros). Entrance fee - 33 euros / adults (double ticket - 56 euros), 22 euros / children (double ticket - 37.5 euros).
Water activities in Tenerife
Of the beaches in Tenerife, Playa delas Vistas (ideal for swimming; covered with yellow sand), Playa dela Arena (awarded the Blue Flag; covered with volcanic black sand; uncrowded and cozy), El Medano (ideal for surfers and windsurfers due to windy weather, almost round year; surf and kayak schools are open here, as well as a sports store).
Well, divers will be offered to inspect the sunken yacht El Meridien (diving depth - 30 m, suitable for experienced divers) or the fishing boat El Condesito (depth - 14-20 m, and in addition to the ship, you can meet moray eels, parrot fish and other marine life).
Photos