Airport in Tenerife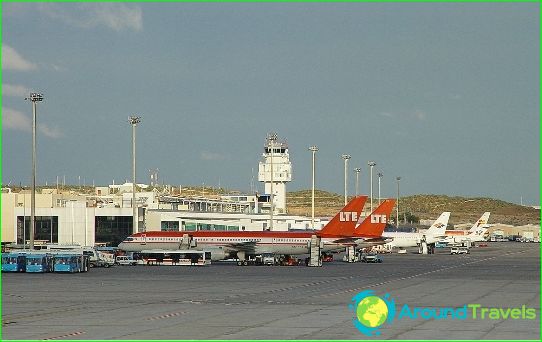 The largest island of the Canary Islands archipelago, Tenerife, has 2 airports - South and North. The main one is the Southern one, which is also the younger one. The northern airport receives fewer flights due to poor location, it does not work at night and is very often closed during the day.
Tenerife South Airport
This airport receives the main flow of passengers, including tourists from Russia. The airport was opened in 1978, the grand opening was held by the Queen of Spain Sofia, it was her name that the airport was called for a long time. The airport is located 60 km from Santa Cruz de Tenerife.
The airport has one terminal, its passenger turnover is about 8 million passengers per year.
Services
The airport in Tenerife South tries to make the stay of its passengers as comfortable as possible. There are cafes and restaurants, duty-free shops..
If necessary, you can use the services of post office, ATMs, currency exchange, medical center.
For passengers with children, there are playrooms, a mother and child room.
There is also parking at the airport.
registration
Check-in for domestic and international flights starts 1.5 and 2.5 hours in advance, respectively. End of check-in 40 minutes before departure.
Transport
There are regular bus services from the South Airport to the island's capital, as well as to some beach resorts and to the North Airport. The ticket price is about 2 euros.
In addition, passengers can use taxi services, while there is no need to order a taxi in advance. At the exit from the terminal, you can always find a free taxi driver. The fare depends on the destination. General fare: approximately € 1 per km outside the city and € 0.5 inside the city. It is also worth noting that the fare increases by 25% after 22:00.
Tenerife North Airport
The second airport in Tenerife - North is mainly used for flights between the islands. Sometimes this airport receives flights from America.
In general, it is in no way inferior to the airport described above. The main problem is not a good location, weather conditions often do not allow for high-quality work.
Photos Tenerife airport