Tenerife prices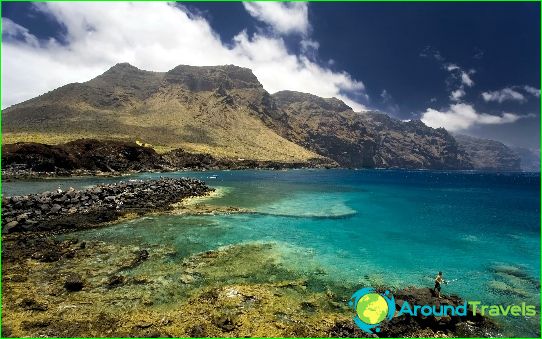 Tenerife is a major tourist destination in Spain. The cost of living in this resort is high. The costs are higher here than in many other European cities. Consider the average prices in Tenerife.
Cost of living
Renting an apartment is a more economical solution than staying at a hotel. Not far from the beach, you can rent a studio apartment for a week, paying 600 euros. Whereas a standard room in a 4 * hotel will cost 150 euros per day.
If you want to come for a long time, then it is worth considering all the possible costs. A small house for a family of 4 can be rented for 380-400 euros. This money does not include the waste collection service, which costs 70 euros. Also, electricity and water are paid separately - at least 100 euros. Gas is required to heat water and prepare food - about 150-200 euros. At least 120 euros per week will be spent on groceries. Lunch at the restaurant will cost at least 12 euros. Based on the above, it turns out that the cost of living on the island is quite high. You can rent a luxury apartment for the night for 200 euros.
Transport in Tenerife
The main form of public transport is the bus. The bus network covers the entire island. The largest carrier is the company «TITSA». The buses of this company are distinguished by their green color and logo. The fare depends on the distance and starts from 1 euro. You can get to the tourist center of Las Americas from the airport for 2.3 euros. Tourists who make many trips around the island purchase a transport card. It makes it possible to save up to 50% on travel expenses.
Food
There are a lot of cafes and restaurants in Tenerife offering various cuisine. In places where tourists gather, mainly European dishes are prepared. National cuisine can be tasted in areas where there are few holidaymakers. In a restaurant, lunch with a glass of wine costs 15-20 euros. If you order a set lunch, you can eat cheaper, for 9-12 euros. Eating in Chinese restaurants is considered the cheapest option. It is really possible to dine there for 5 euros. There are fast food restaurants on the island: Little Italy, McDonald's, Telepizza. Prices are affordable for middle-income tourists. There are not many luxury restaurants here.
The prices for food in supermarkets in Tenerife delight Russian tourists. Most of the products are cheaper than in domestic stores. For example, a liter of real wine in a box can be bought from 1 euro.
Tours
The resort has travel agencies offering Russian guides to Russians. The cost of excursion programs is low. For example, a sightseeing tour of the island costs 25 euros.
Photos