Canary Islands beaches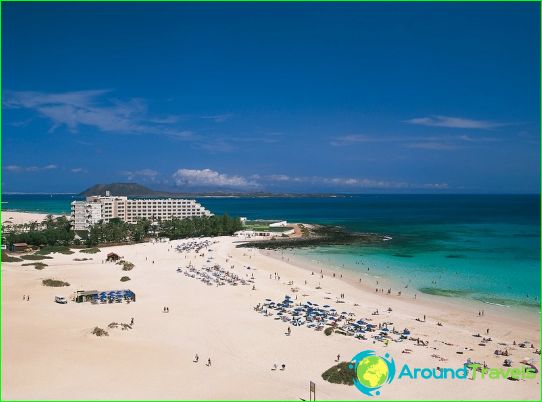 Ten years ago, the very mention of the Canary Islands meant chic, high cost and luxury. This is really an expensive vacation, but many Russians can afford it. Every year more and more tourists visit this paradise. It is especially pleasant to break out to the Canary Islands when the sky is bursting with rain outside the window of your home..
Sun, sand and constant fun - this is how you can describe the general mood and expectations of tourists in a few words. The beaches in the Canary Islands are mostly pebbly, but there are also sandy ones.
Tenerife. These beaches are world famous. Tourists from various countries come here to soak up the sun, be filled with unity with nature and just enjoy the excellent service. The most popular destination is Las Teresitas with golden fine sand. A more exotic beach thanks to the dark volcanic sand is Playa de Taganana. Las Americas is covered with sand of the same origin. These are the best sandy beaches in the Canary Islands. These also include the first-class coastal areas: Playa de Masca; Playa de San Juan; Callao Gordo; Playa de la Enramada; Playa de los Cristianos. These picturesque places captivate at first sight and beckon those leaving to return..
Fuerteventura On this island, almost half of the coastal zone is surrounded by beaches with golden and white sand. The length of such a unique place is about 20 km in length and more than a kilometer in width. Tourists are especially fond of Playa de Corralejo.
Gran Canaria. The south coast of the island, with its golden sands and glossy emerald waters, also attracts tourists. Couples with children come here to relax and those who want to get away from the hustle and bustle, devote time only to each other. This place pacifies the sound of the waves during the day and fills with passion at coastal parties at night..
Lanzarote. The beauty of Lanzarote's beaches lies in the smooth transition of sands of different shades into each other. These are not just magical tricks of nature, but also indescribable impressions for those who contemplated such a landscape. Tourists rush to capture the landscapes in the photo.
A kind of European quality mark «Blue flag» awarded to the best beaches in the Canary Islands. The beaches awarded with this award meet 32 ​​quality criteria, including safety and cleanliness of the environment, level of service, natural uniqueness and scenic beauty..
Photos of the beaches of the Canary Islands