Beaches in Guangzhou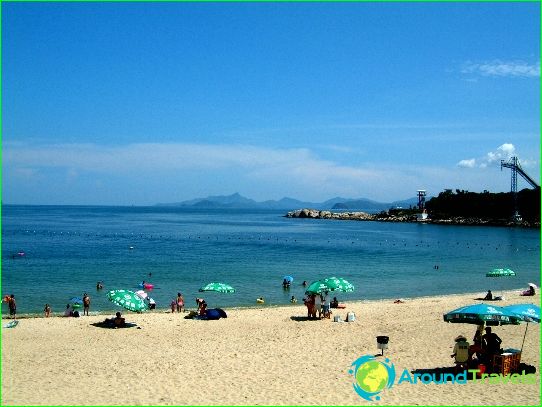 Let's make a reservation right away - you won't be able to find sea beaches in Guangzhou. Nevertheless, here, within the boundaries of the capital of the Chinese province of Guangdan, there is a beautifully equipped river beach. It was equipped on the banks of the Pearl River, which, however, they say that after showers the water in it leaves much to be desired - a lot of garbage gets there. But in this case, there are pools in which you can splash without fear for your health. Getting to the beach is easy and simple - the metro runs here. The area is called Liwan, and the station is Zhong Shan Ba, you need to get off through exit D. You can also get there by bus - there are nine routes. The beach is paid, more precisely - you have to pay for the entrance, and on the spot you can take umbrellas and sun loungers freely, take lockers for things and use showers and changing rooms.
But those who cannot imagine a beach holiday without the sea, with its salt water and big waves, will have to take a longer trip to the beaches of Dameisha or Xiaomeisha, which are known to all residents of Guangdan. Residents of the province love to go to these beaches in Shenzhen for the weekend during the summer. There are two ways to get from Guangzhou to the beaches:
By train and bus.
By two buses.
The voyage may take more than 3 hours, but as a result you will be greeted by the best sandy beaches of Guangzhou, or rather, not the city itself, but its environs.
Dameisha Beach
Dameisha Beach is located on the shores of Dapengwan Bay. The sand on this beach is fine, light golden in color. Near the sea, the color changes from blue to dark blue, depending on the season. The beach is successfully surrounded by a chain of picturesque green hills. Its beach length exceeds 1800, which made it possible to divide it into several special areas: swimming area, entertainment area, sports area and barbecue area. On the beach you can see sculptural groups expressing the thirst for a better life, manifested among the youth of the so-called «drifting generation» (1940-1980s, then it was not possible to find a stable job, and one could not even dream of good living conditions).
In addition to simple swimming, here you can go parachuting behind a boat, water skiing or motorboating. The best swimming period is from May to October inclusive.
Xiaomeisha Beach
A calmer beach is Xiaomeisha. This place is only a kilometer k from Dameish in a northerly direction. It is not so crowded and crowded, although the beach is only 1 km long. The beach is close to Shenzhen, which attracts water sports enthusiasts. In addition, here you can rent motor boats or fishing rods. Foreigners come here to surf, because after a typhoon, you can catch very good waves here. In the evenings, sometimes there are «Xiaomeish Nights». This is a free show featuring ethnic dances, magician performances and acrobatic shows. There is a dolphinarium not far from the beach.
Pictures of Guangzhou beaches