Guangzhou metro: map, description, photo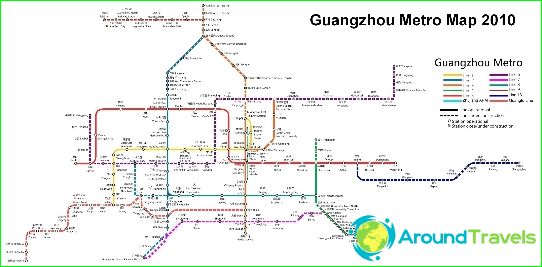 Guangzhou Metro Map
The Guangzhou Metro, the capital of Guangdong Province, is the fourth metro in China after Beijing, Tianjin and Shanghai. The first underground rapid transit projects in Guangzhou appeared in 1960. Over the course of two decades, the project was proposed five times for discussion, and each time it was abandoned due to financial and technical difficulties. Finally, in the 1980s, the project was accepted and construction began in 1993. Four years later, in 1997, five new line stations were put into operation.
As of December 2013, Guangzhou Metro has nine lines in operation, the main part of which serves the urban areas of the city, the other part serves the suburbs: Huadu, Baiyun, Panyu and Nansha districts. Guangfo Line connects Guangzhou with Foshan City.
Guangzhou Metro Opening Hours
The Guangzhou Metro operates daily from 6 am to 11.30 pm and carries an average of 5.6 million passengers per day. Thus, having carried 1,990,000,000 passengers in 2013, the Guangzhou Metro became the sixth busiest metro in the world after the Tokyo, Seoul, Moscow, Beijing and Shanghai subways. Guangzhou Metro has 164 stations, including 21 interchange hubs on lines with a total length of 260.5 km. Peak hours are on weekdays from 08:30 to 09:00 and from 18:00 to 19:00
The development of the Guangzhou metro network is scheduled for its second decade. Three new lines are to be built: Line 7, Line 9 and Line 13, line 6 and Line 8 expanded, the total length of the network is expected to exceed 600 km by 2020.
All subway cars, as well as stations, are equipped with air conditioning. Each station has up to 8 exits, and all of them are equipped with escalators. Mini-banks, vending kiosks and vending machines, bookstores, and fast food outlets operate in the lobbies and passages between stations. The carriages have monitors on which entertainment programs and news are broadcast. Train announcements are made in Chinese, Cantonese and English.
Guangzhou Metro tickets
Guangzhou Metro fares currently range from ¥ 2 (two stations) to ¥ 14 (longest journey). The fare is calculated by mileage: a journey shorter than 4 km costs ¥ 2, for every next 4 km ¥ 1 is charged. After 12 km for every 6 km. After 24 km, ¥ 1 is charged for every 8 km. Travel tokens can be purchased from vending machines or a rechargeable card can be purchased. At the entrance to the station, the token is applied to the validator, at the exit it is inserted into the slot of the turnstile.
Pictures of Guangzhou metro

Guangzhou Metro Map