Shanghai Observation Decks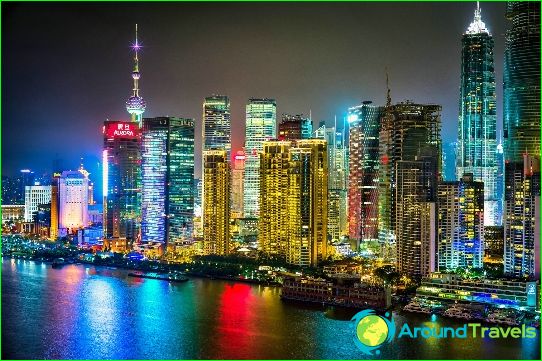 Shanghai observation decks will open up an unusual view of the French Quarter, Longhua Pagoda, St. Ignatius Cathedral, Confucius Temple and other objects for travelers who climbed there..
Shanghai World Financial Center
The building, more than 490 m high, has restaurants (87-93 floors; some establishments boast panoramic views); the best observation decks at 94, 97 (a visit to these sites will cost 120 yuan) and 100 floors (a visit to the site at a 472-meter height is 180 yuan).
How to get there? You can get to the center from the Lujiazui metro station (exit 6). Address: 100 Century Avenue, Pudong Area.
Jin Mao skyscraper
The 88-storey building, 420 m high, invites you to visit the observation deck at a 340-meter height (guests are delivered by an elevator that overcomes 9 m per second). If you wish, you can swim in the pool located on the 57th floor, get acquainted with Shanghai cuisine in a restaurant "Club jin mao" on the 86th floor, relax in the bar "Cloud 9" (drinks cost from 50 yuan) on the 87th floor (from here, there are no less spectacular views of Shanghai than from the observation deck).
After enjoying the panoramic views on the observation deck, guests are presented with a pearl as a gift at the exit (it is taken out of the oysters in front of the public). And for an additional fee, those who wish will make a beautiful pendant on a chain out of it.
Ticket price - 100 RMB (children get 50% discount).
How to get there? From Lujiazui metro station (line 2) or by buses No. 870, 82, 871, 85, 81.
TV Tower Oriental Pearl Tower
The building, which rises to 468 meters, houses a revolving restaurant at 267 meters (1 revolution in 1 hour; here guests are treated to Chinese, Japanese and European dishes according to the system "Buffet" + offer them to taste any of hundreds of varieties of Chinese tea), viewing platforms at 263 meters (cost - 150 yuan) and 360 meters (cost - 220 yuan), with a glass floor. From there you can see the Puduni Bund, the Yangzi River and other attractions. There are 6 elevators for guests (they can carry up to 30 people), among which there is a double-deck elevator that can accommodate up to 50 passengers.
How to get there? To services of travelers - buses No. 961, 81, 797.
Shanghai Tower
Despite the fact that the Shanghai Tower, more than 600 m high, has already been built until it is open to tourists, but soon it will give them the opportunity to admire Shanghai from a 550-meter height, where they will be delivered by a high-speed elevator (ascent at a speed of 18 m per second).
Address: Lujiazui Ring Road
Shanghai Happy Valley Amusement Park
Among the many attractions here, it will be interesting for guests to experience "Flying saucer" (analogue of our Ferris wheel) - having risen above the park, they will see it and the surrounding area.
Address: 888 Linhu Road; ticket price - 200 yuan / adults (full day); children 1.2-1.4 m - 100 yuan.
Photos