Where to eat in Beijing?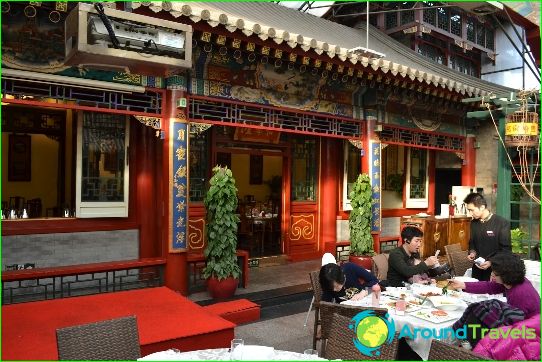 Traveling around the capital of China, you will probably be interested in information about where to eat in Beijing. The city is famous for its variety of places to relax and eat. In local establishments, you should definitely try Peking duck. It is usually served with pancakes, cucumber slices, onions, plum sauce.
Where to eat in Beijing cheap?
Delicious and cheap Chinese food is sold from street vendors. So, it is worth trying sweet pancakes, which are poured with sweet sauce and sprinkled with green onions. You should definitely walk along Wangfujing Street (Snack Street), where you will be offered a snack of beef, chicken, noodles, lamb, as well as exotic foods such as scorpions or silkworms. You can quickly and inexpensively have a bite to eat in fast food establishments - McDonalds, KFC, Pizza Hut.
Where to eat in Beijing delicious?

Peking Duck Private Kitchen: This restaurant specializes in the preparation of Peking duck (it is advisable to book a table and order food by a certain time so that you do not have to wait an hour for the duck to cook). In addition to the signature dish, the restaurant has sets of 2-3 dishes (rice, chicken, vegetables).
Din Tai Feng: Serves traditional Chinese food, including Chinese meat and vegetable dumplings.
Fangshan: This restaurant is the perfect place for those wishing to get to know the national cuisine better. Here you will be offered to try bean flour pies, rolls with various fillings, meat pies.
1001 Nights - This restaurant specializes in Middle Eastern cuisine. In addition to meat dishes and delicious desserts, you will find vegetarian dishes on the menu. Here you should definitely taste the roasted lamb with spices and kebabs with vegetables..
Huajia Yiyuan: in this place, visitors are offered to try Chinese cuisine (in addition to the signature dish - Peking duck, it is worth trying candied hawthorn on a branch). The restaurant has a courtyard where a national music and dance show is held every evening.

Beijing food tours
As part of a gastronomic city tour, you will visit the Imperial Winter Palace, get acquainted with the history of Chinese cuisine, and learn how to use Chinese chopsticks. And by visiting authentic restaurants, you will taste dishes of national cuisine.
There will be no problems with food in Beijing - there are many establishments here where you can get acquainted with Chinese cuisine (Lanzhou noodles, Sichuan roast in pots, Uyghur meat), as well as satisfy your hunger with European and international dishes.
Photos