South of China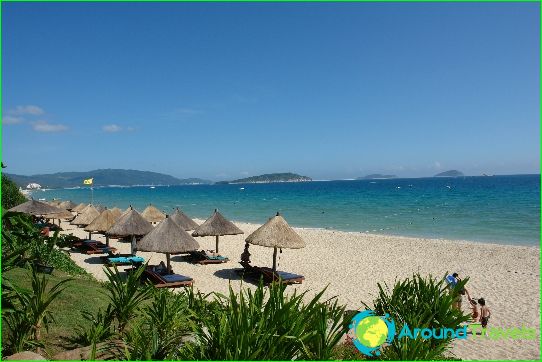 Going to the south of China, every vacationer will be able to:
- get to know the ancient civilization better;
- relax on the beaches and improve your health;
- take excursions to Monkey Island and the Snake Nursery.
Cities and resorts in the south of China
Guangzhou will delight cognitive tourists who can see the Zhenhai Tower, the statue of the Five Goats, walk through the Botanical Garden and Orchid Park.
Fans of entertainment should go to the Culture Park (here acrobats show enchanting performances and extreme shows) or the Night Zoo (at night animals take part in circus shows, and during the day they have a rest), on a night or day cruise along the Pearl River.
Those traveling to Guangzhou with children can visit the Ocean World and Chimelong Paradise (in addition to roller coasters or the Ferris wheel, you can see performances by street performers, visit a cinema, go for a boat ride on the lake).
Shenzhen welcomes its guests with natural parks and magnificent skyscrapers.
If your goal is shopping, in shopping centers, shops and markets in Shenzhen, you can get electronics, textiles, dried seafood (you can buy them on Seafood Street).
In Shenzhen, it is worth visiting the "Windows of the World" theme park - here you can admire reduced copies of the Egyptian pyramids, the Roman Colosseum, the Eiffel Tower, and admire the light show at night. If you wish, you can visit a similar park - "Magnificent China", where you can see Chinese sights in miniature (Terracotta Warriors, Great Wall of China).
Eco-tourists will be able to see the most beautiful orchids, huge pumpkins, trained parrots, colorful butterflies by visiting the OCT East eco-park.
If you want to admire paintings by talented artists or purchase these paintings at attractive prices, you can go to the "Artist's Village" (Dafen).
Islands of South China
Hainan is an island famous for sandy beaches, mineral and radon springs, ethnographic villages, a rich underwater world: beach, wellness (in local clinics you will be offered to undergo therapeutic and spa treatments), active (diving, rafting, golfing, all kinds of safari) rest.
For active tourists, ascents to the Ma An volcano are organized here (going up to the observation deck, you can look inside the crater).
As for beach lovers, they will be pleased with the presence of sandy and gently sloping beaches. So, you can relax in the Yalunwan Bay: at your service - a calm sea, wide beaches with white sand, the largest dive centers. Well, surfers should head for Dudunkai Bay..
In South China, vacationers will be able to conquer mountain peaks, admire modern skyscrapers, palm groves, relict forests, soak up the beaches, get acquainted with exotic oriental traditions ...
Pictures of the South of China