Where to eat in Sevastopol?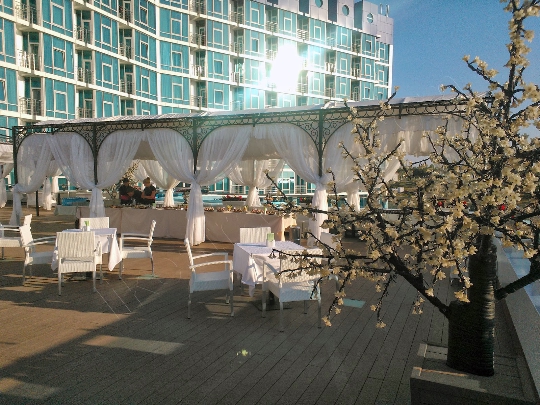 "Where to eat in Sevastopol?" Is an important question for travelers visiting this city. Here you can look, both in inexpensive cafes and canteens, as well as fashionable and restaurants with exotic cuisine..
Where to eat in Sevastopol inexpensively?
Inexpensive food awaits you in fast food establishments - McDonalds (American cuisine), "Euro Hata" (Russian, Ukrainian, European cuisine), "Potato house" (Mexican cuisine). When looking for budget places to grab a bite to eat, it's worth taking a closer look at canteens. "home kitchen", "Courtyard", "Lighthouse". If you are a lover of Ukrainian cuisine, you can try pancakes, dumplings, borscht with donuts in restaurants "Glechik", "Ukrainian Shinok", "Hut". If you wish, you can go to the dumplings - on average, soups here cost 40-55 rubles, dumplings - from 45 rubles / serving, side dishes - from 25 rubles, second courses - from 55 rubles.
Where to eat in Sevastopol delicious?
"Fisherman's hut": in this fish restaurant you can try several types of fish soup, dishes from flounder and katrana (Black Sea shark), as well as dishes with original names - "Horse mackerel", "Flounder queen", "Mullet full of scows".
"Paradise": This restaurant specializes in Crimean, Ukrainian and European cuisines. The institution has a summer area (there is an antique-style gazebo), karaoke, a balanced wine list. Here you can taste Crimean lamb stewed with vegetables and spices, saute of Black Sea mussels, black spaghetti with cuttlefish, tuna and avocado tartar.
"Kazbek": The menu of this restaurant is filled with Georgian cuisine. Here you can order a salad with vegetables and grilled veal (sweet mustard dressing), turkey satsivi, assorted Georgian cheeses, mushrooms baked with suluguni, bozbash soup, veal brains in a creamy saffron sauce.
"Balaclava": This restaurant offers all kinds of fish dishes. In addition, you can relax here in one of the stylized halls - "Wardroom", "Genoa" or "Scarlet Sails". Additional services of the institution: live music, theme parties.
Gastronomic excursions in Sevastopol
To learn how to cook various dishes, in Sevastopol you can attend master classes - you will be taught how to cook pasta, rolls, cream soups, Crimean cuisine with elements of molecular cuisine, vegetarian cuisine, as well as homemade cookies and sweets.
Sevastopol restaurants delight their visitors with a varied menu: there are establishments specializing only in fish dishes, and there are restaurants serving European and Slavic cuisine. In addition, exotic lovers will also like it here - in some restaurants they will be able to taste dishes from Latin America, Central Asia and the Caucasus..
Photos