Livadia beaches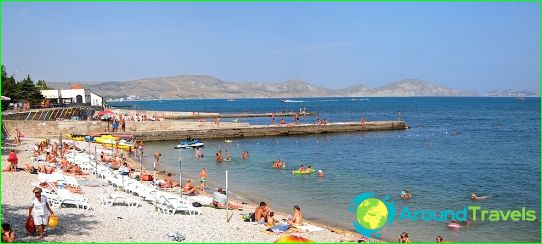 Livadia is a small resort town in the South Crimea, the population of which is only 2.5 thousand people. The tourist infrastructure of Livadia is quite well developed. For several decades there have been excellent boarding houses that receive dozens of tourists every year. Almost all beaches in Livadia belong to holiday houses.
All Livadia beaches are covered with small sea pebbles. The coastline is divided into small sections by long breakwaters. On the territory of the beaches there are cabins where vacationers can change clothes, stationary awnings that protect from the heat of the sun. During the holiday season, the beach areas are simply overcrowded, so finding a free space is sometimes quite difficult.
Most of the beach areas are the property of sanatoriums, but many are open to the public. To do this, you must purchase a special pass by paying a certain amount. Some of the village beaches are free, so there are much more tourists here. But when choosing a free beach, remember that the cleanliness here is not monitored too carefully..
There are two ways to get to all the beaches in the village. Or on foot, going down the mountain. The journey takes quite a long time. This problem can be solved by special elevators that deliver tourists directly to the beach. All of them belong to sanatoriums, so this service is free for vacationers. Other categories of citizens can ride such an elevator for a small fee..
Livadia beach (territory of the park complex)
You can get to this beach either on foot or by going down the elevator. The beach infrastructure is well developed. Vacationers will be offered to rent a boat here. If you prefer a more active pastime, you can rent, for example, jet skis, motorcycles or bicycles. There is a small but cozy bar on the beach..
This place is just a great choice for couples with young children. Small stones do not hurt the legs of babies, and they go into the water quite easily.
Dolphin Beach
The beach is located literally 10 minutes from the famous Yalta embankment, not far from the Primorskaya park zone. It has everything you need to have a great day. Bright sun, well-developed infrastructure and, of course, the clear waters of the Black Sea.
Pebble beach
Not far from the boarding house «Livadia» there is a small beach equipped with stationary sun loungers located under a large canopy.
The entrance to this beach is free, despite the fact that geographically it belongs to the boarding house. For the convenience of tourists, there are places for changing clothes. What is especially pleasing is that the cleanliness here is monitored very closely. An information office and a first-aid post are located directly on the beach. Here you can rent a boat or spend time with a glass of juice at a local cafe.
Photos of the beaches of Livadia