Crimea Tourism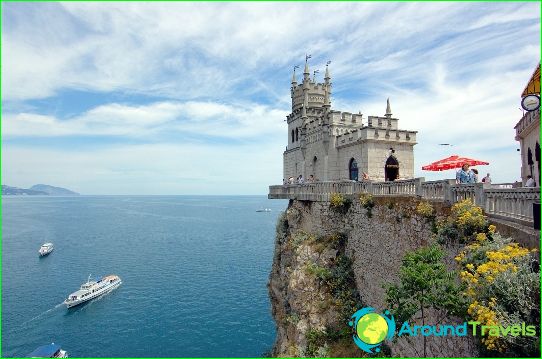 The beautiful peninsula, washed by the waters of the Azov and Black Seas, has been bearing the well-deserved title of a real health resort for many years. But it is not only relaxation and treatment that attracts guests from different parts of the world. Crimea has unparalleled nature, mountains and gorges, waterfalls, small but rapid rivers.
The economic component for many vacationers plays an important role, which is why they choose the Black Sea coast, knowing that tourism in Crimea will provide a decent level and affordable prices.
Variety of Crimean resorts
It is impossible to call any of the resorts the main, and all the rest are secondary, many of them claim to be a leader, each of these places is characterized by certain features related to the climate, geographical location, existing landscapes and tourist infrastructure.
Many travelers choose places of rest in Big Yalta, Big Alushta or Big Feodosia. The first resort is distinguished by a very high level of service, rich cultural heritage, accessible for tourists, and beautiful landscapes. Here are the famous cities and towns of Crimea - Alupka, Gurzuf, Mishor.
Big Alushta, perhaps, cannot boast of the presence of many unique monuments of history and culture. But on the local beaches it is quiet and calm; couples, mothers with children, and elderly people choose rest here. Unhurried walks, aromas of flowering trees, evening gatherings in the old courtyard or on the open veranda of the restaurant - contribute to complete relaxation.
Big Feodosia, which includes the resorts of Koktebel, Ordzhonikidze, in fact, Feodosia, pleases with amazing seascapes, rocks approaching the water, quiet bays and the wealth of the underwater world.
All-Union health resort
The times of the Soviet Union are long gone, and Crimea is still proud of the unique factors that contribute not only to recreation, but also to recovery and treatment. Everything here is aimed at restoring the health of an adult and a child. The climate itself is healing, the sun, air and sea baths taken strengthen the immune system. In Evpatoria, which is a balneological resort, they will help children and parents with problems of the spine, joints, and respiratory organs. Here mud and brine of estuaries, water from mineral and thermal springs are used for treatment..
Cultural tourism
Acquaintance with the Crimean sights can take more than one month, there are palaces famous throughout Europe, monuments of military history. Experienced travelers even make lists of unique places that cannot be missed when vacationing in Crimea. Among them are the Nikitsky Botanical Garden in Yalta, the ancient Chersonesos, the Swallow's Nest - a palace that seems to fly over the sea surface, palaces in Bakhchisarai and Livadia.
Photos