Tours to Havana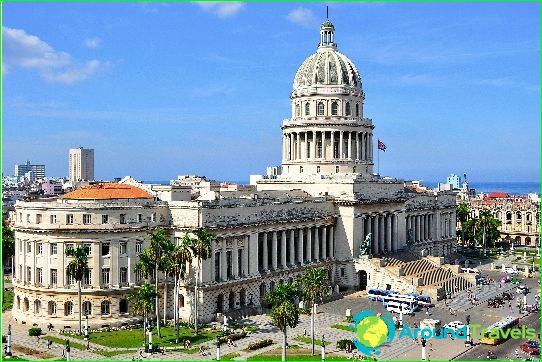 The capital of Liberty Island is located on the Atlantic coast. It was founded at the beginning of the 16th century, and today the city has preserved a unique architectural colonial style. Cozy squares and luxurious palaces, a real Capitol and old-fashioned fountains - walks around the Cuban capital will be remembered by all fans of a riot of colors, smiles of residents and the ubiquitous salsa that bursts out of the windows of houses and cars.
The city has an international airport, and therefore a tour to Havana usually begins with a direct flight from Moscow or a transit flight through one of the cities of Europe.
Briefly about the important
Cuba lies in a trade wind zone, in which the change of seasons exists only on the calendar. The influence of the ocean turns out to be quite strong both in winter and in summer, and therefore it is rather difficult to distinguish the wet and dry seasons. In August-September, tropical hurricanes come to the island, which is why the facades of some of the houses in Havana on the embankment look quite colorful.
When planning a tour to Cuba, it is important to remember that not many people speak English here, and therefore even a minimal knowledge of Spanish can be truly invaluable. However, among the Cubans who celebrated their 50th anniversary, there are often connoisseurs of the Russian language, because many of them had a chance to study in the USSR.
For settlements, tourists in Cuba are invited to exchange currency for convertible pesos. One peso is approximately equal to one euro, which is best to take to the island for exchange. The dollar is changing here at very unfavorable rates due to the multi-year embargo of the island by the United States..
In the lists of UNESCO
Going on a tour to Havana, travelers are interested in what to see in one of the most beautiful capitals in the world. The city has enough old buildings, and some of the Havana streets are world-class attractions in themselves. The Promenade Malecon, for example, is a meeting place and a promenade, and the Prado is a street dominated by the old Spanish architectural style..
There are several Havana landmarks on the UNESCO World Cultural Heritage Lists:
Cathedral Square with the Cathedral of St. Christopher of the 18th century. The building is called "music in stone", and its altars were made in Italy.
City Hall, built in 1792 in the neoclassical style.
La Fuersa fortress, built in the 16th century to protect the city from pirate attacks. It is the oldest fortress on the American continent.
Photos