Streets of Havana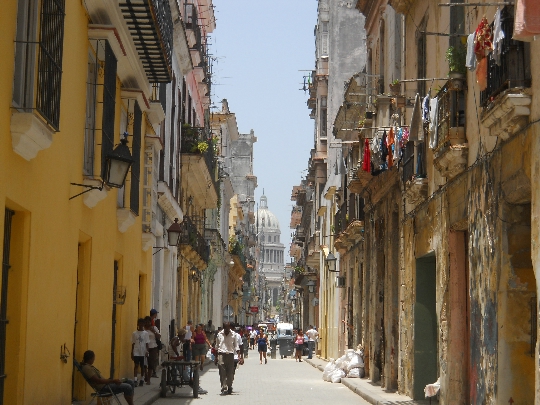 The capital of Cuba is Havana, a large and beautiful city with a population of over 2 million. It is an example of colonial architecture. The picturesque streets of Havana are a mixture of antiquity, socialism and dilapidation. Many of them have suffered from the effects of the sea. Buildings with cracked surfaces are ubiquitous. Restored buildings dating back to the Spanish colonial era are located in the old districts..
Historic Center - Havana Vieja
The most interesting objects are concentrated here: ancient streets and beautiful buildings. The architectural complexes were built in the 17th and 18th centuries. At that time, the Plaza de la Cathedral and Plaza de Armas appeared. The most beautiful building in the neoclassical style is El Templete. Severe fortresses adorn the approaches to the bay. These include La Cabana, El Moro, La Punta, La Fuerza.
Modern city
Central Havana is also an attractive destination for tourists. The border between it and the old part of the city is conditional and runs along the territory of the Central Park. In modern Havana, a completely different atmosphere has developed, which is not so interesting for tourists. The lively part of the city is Vedado. In this area, there are wide avenues with houses built in different architectural styles. The neoclassical trend here side by side with buildings in the spirit of the 50s. Vedado is the seat of the university and administrative institutions.
The central street here is Calle 23 or La Rampa. There are hotels, villas and beaches along this street. Nearby is the Revolution Square, decorated with an observation deck and a memorial to Jose Marti. In central Havana, the Capitol building, the Museum of the Revolution, etc..
Miramar
The Miramar area is one of the most prestigious places in Havana. It is built up with modern houses. Construction began here before the revolution. This place has long been chosen by the wealthy people of the Cuban capital. Embassies of different states are located in Miramar.
Malecon embankment
Malecon stretches for 7 km. It houses buildings from the early 20th century and modern houses. Most of the old buildings are in need of restoration. Many people walk on the embankment in the evenings. Near Malecón Street, Havana's central highway, called the Prado, starts. This boulevard is the main architectural monument of the Old Town. It is paved with marble slabs and built up with beautiful mansions.
Photos of the streets of Havana