Tbilisi metro: diagram, photo, description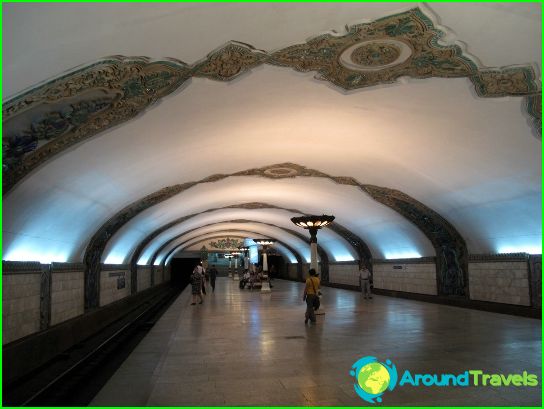 The system of underground railway lines in the capital of Georgia has existed since 1966. Tbilisi metro became the fourth in the former USSR, although the city at that time did not reach the status «millionaire». Today, the Tbilisi subway consists of two full-fledged lines, the total length of which exceeds 26 km, and 22 stations intended not only for entry-exit, but also for transferring passengers..
Being the second largest metro in the Transcaucasian countries after Baku, this urban transport in the capital of Georgia carries over 90 million passengers annually. A quarter of a million residents and visitors of the city use the underground services every day.
Akhmeteli-Varketilskaya metro line, marked in red on the diagram, was opened first in 1966. It is more than 19 km long and has 16 stations. It connected Didube and Rustaveli stations at the time of opening, but today its final stops are Akhmeteli and Barketili. «Red» the line crosses the city from north to southeast.
Saburtala line - green on the Tbilisi subway map. Its opening took place in September 1979. Today the length «green» The branch is almost seven kilometers long, and it connects the western part of the capital of Georgia with its center and Vokzalnaya Square. Six stations have been opened on the line, a section of tracks to the station is under construction «State University».
The plans of the Tbilisi authorities include the construction of the third metro line, which is tentatively called Rustaveli-Vazisubanskaya. Its length will be eight kilometers.
Trains running in the Tbilisi metro consist of three or four carriages. All signs, information signs and announcements in metro cars are made in Georgian and duplicated in English.
Tbilisi metro opening hours
The metro of the Georgian capital opens at 6 am and receives passengers until midnight on all days of the week. The interval of movement of trains quite satisfies the needs of the population: at rush hours they run with a frequency of 2.5 minutes, and at a later time, the train will have to wait no more than 12 minutes..
Tbilisi metro tickets
In 2010, the municipal transport company that operates the Tbilisi metro abolished the plastic tokens used to pay tolls. Now you can get on the train only by buying a plastic card at the ticket offices at the stations.
Photos of Tbilisi metro