New Year in Tbilisi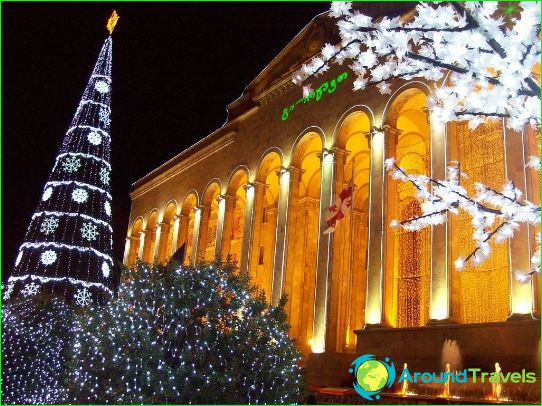 The Georgian capital is one of the most beautiful cities in the world. It spreads on mountain hills, and the oldest quarters hang in tiers over the Kura running below and its rocky shores. Celebrating the New Year in Tbilisi is the best reason to go to Georgia and feel its hospitable warmth, taste the best wines, enjoy the flavors of its magnificent cuisine and see historical monuments, each of which is included in the list of cultural heritage of humanity..
Sightseeing tour
You should start your acquaintance with New Year's Tbilisi from the historical center, located at the foot of the Holy Mountain. Each building here is a unique cultural monument, around which real life is in full swing. Famous to everyone from the famous old films, Tbilisi ancient temples seem at first glance gloomy and austere, but the living warmth of the ancient stone symbolizes the connection of times and the resilience of the people, who have suffered many trials. The most famous of the temples are the Metekhi Church of the 5th century and the Sioni Cathedral of the 6th century.
A Georgian souvenir bazaar is buzzing at the Clock Tower, built by Rezo Gabriadze, director of the Puppet Theater. Here you can buy paintings of local artists, handicrafts as a keepsake of the New Year in Tbilisi and become the proud owner of an airfield cap.
Photos of New Years celebration in Tbilisi