Car rental in Georgia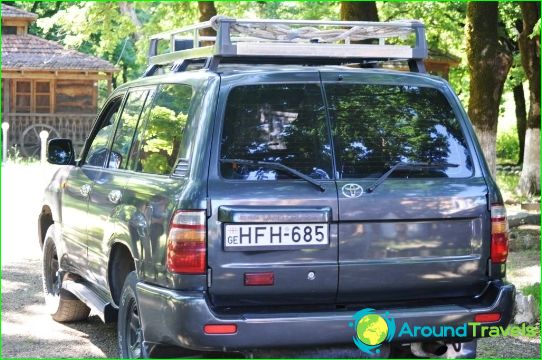 To rent a car in Georgia, you need to familiarize yourself with the conditions for renting a car in this country.
Car rental in Georgia will require you to:
international driving license;
age from 21 years;
driving experience from 2 years.
When you rent a car in Georgia, you need to leave a deposit of about 350 GEL (approximately 7,000 rubles) for a passenger car, and 500 GEL (which is equal to 10,500 rubles) for an SUV. Gasoline in Georgia costs about 2.5 GEL (this is only 52 rubles).
Traffic rules in Georgia have almost no differences from ours, Russian ones. Traffic in the country is right-hand. It should be remembered that the car must have a first aid kit, a fire extinguisher and a triangle - an emergency stop sign.
There are speed limits in Georgia.
on the highway - 110 km / h;
in the village - 60 km / h;
outside the village - 90 km / h.
Sights of Georgia
The country's unforgettable cultural and architectural sights are truly striking in their austere and charming beauty. And the views from the mountains are wonderful here. Many memorable places can be visited in Tbilisi, the capital of the country. The old town is famous for the ancient Narikala fortress. There are the sanctuaries of Anchiskhati and Metekhi here. And that's not all the interesting objects. For example, in the suburbs of the capital, you can visit the Betaina Monastery. It was built in the 11th century. Ancient icons and frescoes are kept here.
Those who love antiquity should go to Mtskheta. The history of this city begins at the beginning of the first millennium AD. It was here that Christianity, back in the IV century, was proclaimed the state religion of the country..
The port city of Batumi will allow you to enjoy amazing seascapes. You will be greeted by the most beautiful fountains. Moreover, there is a famous moving sculpture. «Love». Visiting this attraction, you can take a photo with a unique eight-meter monument. In the evening, it is worth visiting the musical fountain located on the waterfront. It has one feature - a holographic installation that projects a three-dimensional image, the so-called «water dance».
Many interesting monuments have survived in this ancient country: among them the Davido-Gareja monastery complex. No less interesting is the city of love Sighnaghi or the Kakhetian cathedral Alaverdi. Be sure to visit the Svan towers in Svaneti.
To go around all the sights of Georgia, it is difficult to do with one trip. I want to come back here again and again. Car rental will help you with this..
Photos