Tours to Amsterdam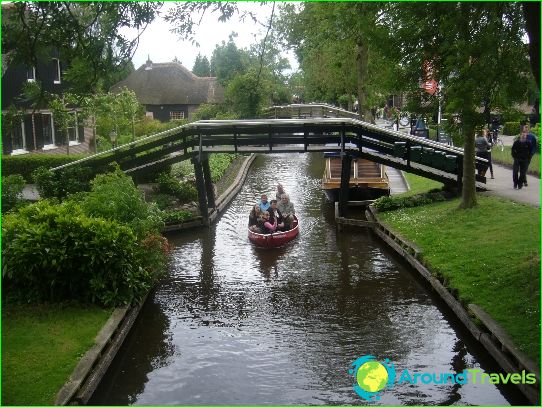 Tulips and windmills, wooden shoes and insanely delicious herring, a red light street and a spider web of hundreds of canals - this is how the average traveler imagines tours to Amsterdam. In the Dutch capital, there are many other interesting places and attractions, and there are countless adventures on the tourist head in the city on the Amstel River..
History with geography
The capital of the Kingdom of the Netherlands is located at the confluence of the Ei and Amstel rivers into the North Sea. The city literally stands on the water, and therefore during the heyday of the kingdom in the 17th century, it grew to one of the most important ports in the world. Amsterdam is located two meters below sea level. It was the dam built here in the XIII century, which protected the area from floods, which allowed the emergence of Amsterdam.
Three St. Andrew's crosses on the coat of arms of the city symbolize the firmness, valor and mercy of its inhabitants, who for many centuries have recaptured the territory from the water and grow beautiful flowers and friendly children on it.
Briefly about the important

The temperate Amsterdam climate is greatly influenced by the sea. North-western gale wind is a very frequent phenomenon, and therefore, during autumn or winter tours to Amsterdam, it is important to stock up on warm, non-blown clothing. Thermometers drop to +3 in winter, and in summer they show +22 as an average temperature. July and August are the rainiest months, and the least rainfall is in April..
Nearly five million travelers flock to Amsterdam every year. For their needs, hundreds of hotels of various levels have been opened in the capital of the Netherlands, almost half of which have 4 and 5 stars on the facade. However, hotels of lesser stars are quite comfortable here and are not as expensive as status ones. If a shared bathroom does not seem to the traveler an unacceptable living condition, then he can choose a budget hostel..
The main transport in the capital of the Netherlands is bicycles. There are at least half a million of them here. Choosing this way of getting around the city on a tour to Amsterdam is a smart decision. It is not always possible to drive a rented car along narrow streets and bridges over the canals, and the cost of parking it here is very inhumane..
Schiphol Airport is located in Amsterdam, a 20-minute train ride from the main station. Its uniqueness lies in the fact that the runways are located on the site of a lake that was drained back in 1916. Another example of the firmness, valor and hard work of local residents.
Photos