Transport in Sri Lanka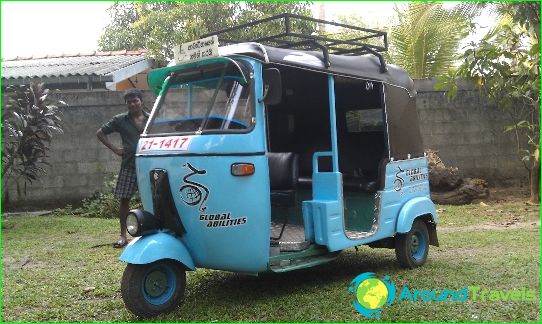 Transport in Sri Lanka is represented by both usual (buses, trains) and non-standard means of transportation (tuk-tuk).
The main modes of transport in Sri Lanka
Buses: transport services on the island are provided by the state (in terms of comfort and price, buses are divided into the following levels: Normal Bus, Semi-Luxury Bus, Luxury Bus) and private companies. Despite the fact that the buses do not run on schedule, during the daytime they operate quite often (tickets can be purchased from the conductor or driver). Important: when entering the bus, you cannot occupy the first seats - they are intended for monks.
Railway communication: it is laid along 3 branches - Northern, Coastal and Mountain lines. If, while traveling in Sri Lanka, you want to enjoy panoramic views, you should take the so-called observation car (it is attached to the tail of the train). Intercity, private (their main purpose is to organize railway tours around the country) and express trains run around the island. Train tickets must be purchased at ticket offices at railway stations, and tickets for tourist trains can be booked on the official website of their operators.
Air links: to get to all corners of the island, travelers are invited to use the services "air taxi", which are operated by local carriers Cinnamon Air and Sri Lankan Airlines. It is worth noting that they organize both regular and private flights on airplanes for 4-8 people..
Taxi
You can catch a taxi on the street or order it by phone. Some taxis are metered and some have a fixed fare. If the cars are not equipped with a meter, it is advisable to agree on the price in advance before the trip. If you wish, you can move around on tuk-tuks - three-wheeled scooters (it is convenient to travel on them over short distances).
Car rent
To conclude a rental agreement, you can contact the offices of local or international car rental companies - there you will be asked to pay in cash. As for an international driver's license, it is not enough just to present them - on the basis of this document, an Endorsement by the Automobile Association must be issued. It is worth considering that Sri Lanka has left-hand traffic, and the condition of some roads cannot be called satisfactory..
You need to be extremely careful while driving, since local drivers practically do not comply with traffic rules, and cows and even elephants often come out onto the roads. To avoid fines and other troubles, it is advisable to rent a car with a driver.
Sri Lanka has a well-developed motorway system, so it is best to get around by car in many parts of the island..
Photos