Saint Georges - capital of Grenada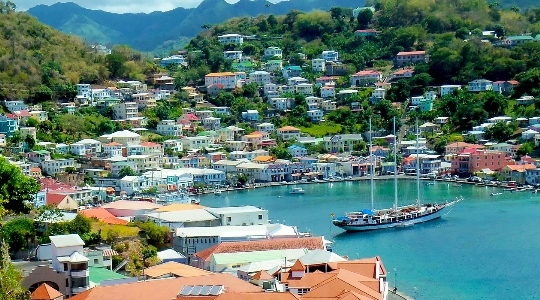 St. Georges, the very sweet and cozy capital of Grenada, has settled on the green slope of an extinct volcano and on the shores of a happy horseshoe-shaped harbor. Despite the terrible hurricanes that regularly sweep through the territory and cause great damage, the city is reviving and again attracts tourists with a romantic atmosphere, stripes of gorgeous beaches, and fabulous vegetation of the tropics..
Delicious vacation
St. George's is home to many lovely family run restaurants serving local delicacies that are also highly unusual. Each of the restaurants in the capital of Grenada has its own specialty, many of them offer tables with beautiful seascapes.
Saint George's landmarks
The main treasures of the country are kept in the funds of the National Museum of Grenada, which is located in a building built in 1704. The history of the house itself is interesting, the first inhabitants were the hotel guests, who lived in very decent rooms. Then the hotel was retrained into a prison, new «tenants» of their own free will they could no longer leave the rooms assigned to them. Now there is a museum, its valuable exhibits are under reliable protection..
Visitors get to know the past of this island and the life of its aborigines. Many of the museum's exhibits tell about the history of whaling, which is considered to be quite popular in these places. An unexpected museum item is a bathtub that belonged to Josephine Bonaparte, who was born on the neighboring island of Martinique..
Architectural masterpieces of the city
A walk in St. George's is also fraught with many pleasant discoveries. A peculiar landmark of the city is the Catholic cathedral, its construction was completed in 1818. Interestingly, the interior interiors have a very bright color scheme..
Another amazing moment - the chime of the Church of England built in 1825 is identical to the chime of Westminster Abbey, such a kind of roll call across the seas and oceans.
In the vicinity of the city there is a piece of paradise - the famous gardens of St. George's, Bay Gardens. On the one hand, there are perfect flower gardens, on the other, wilderness areas, rainforests, meadows and ponds are preserved.
Photos