Do you love cats as much as we love them? No? Means, «you just don't know how to cook them». Om-Nom-nom. If you love cats or just want to visit a not-so-typical cafe, then be sure to go to the cat-cafe, the main feature of which is not food, but their fluffy inhabitants. And they are not eaten there, if that.
The content of the article
Cafe Catmosphere
The Catmosphere café is the cleanest and most cared for cats. But there is no feeling of coziness, as a place with high traffic.
Impressions
At Catmosphere Café in Chiang Mai, over a cup of cappuccino and delicious cheesecake or grabbing a refreshing fruit shake, you will have fun and carefree time in the company of our younger brothers purring.
At the entrance to the cafe, you will be asked to take off your shoes and put on fabric shoe covers, as well as wash your hands and apply a disinfectant gel on them. I think that the owners of the cafe are great in this regard, they take maximum care of the health of their cats. After all, cats also get sick, and on the arms / legs you can bring a lot of things, from which the health of cats can be threatened.
The cafe itself is small, but at the same time this place is quite popular. Therefore, it may turn out that you will have to wait a little, since there will be no vacant places. Inside there are only 6 low tables with soft ottomans on the floor. There is an air conditioner - this is a big plus, they are not installed in all Thai cafes. In general, I liked it, quite light, pleasant atmosphere, everything is great, if only there are fewer people.
The menu is not rich, but you can order refreshing drinks. There is also hot cappuccino (and other coffee) and really delicious cheesecakes with fresh berries. There are several appetizers in the form of burgers with cheese, etc., so you won't stay hungry here.
The employees speak English quite well. We took a couple of cheesecakes, a pineapple shake and 2 hot cappuccinos. The check came out for 720 baht. And for 1.5 hours we watched the half-asleep sluggish cats living their calm feline life. They practically do not pay attention to visitors, occasionally someone can come up to sit on their knees and trample you with their paws, a kind of cat massage.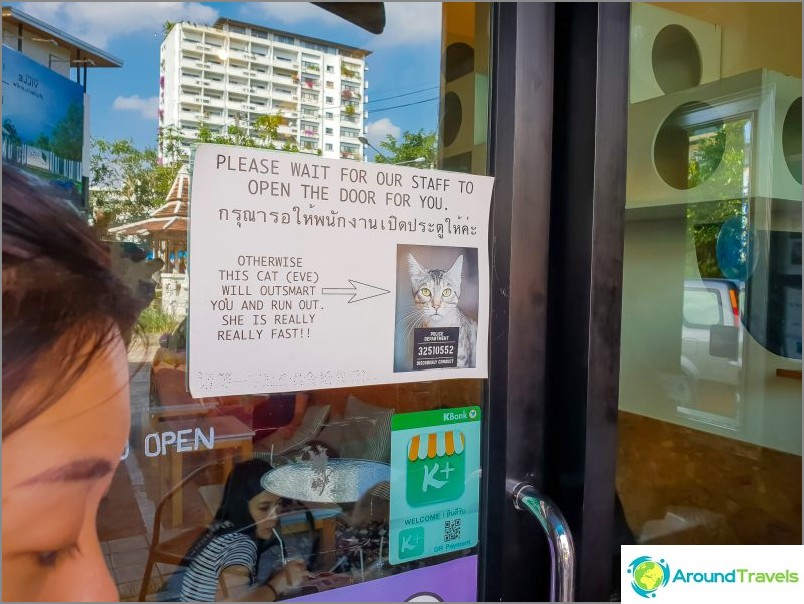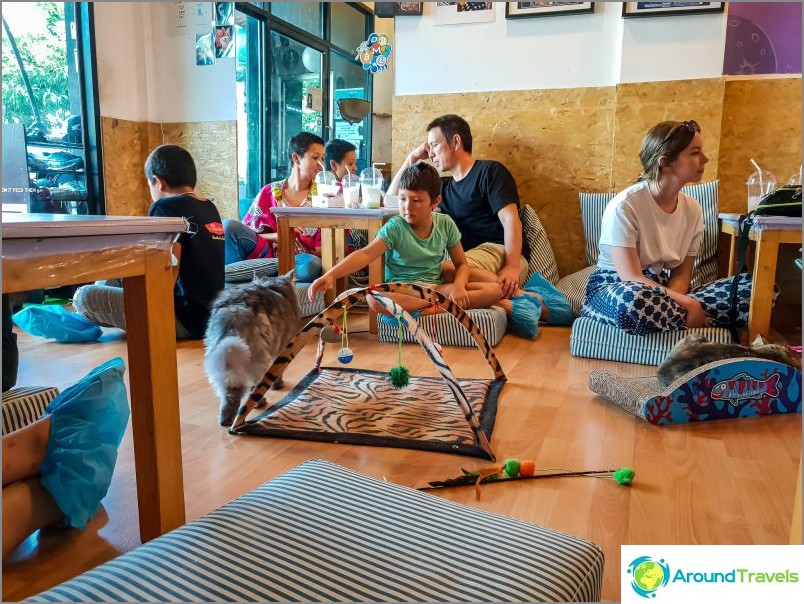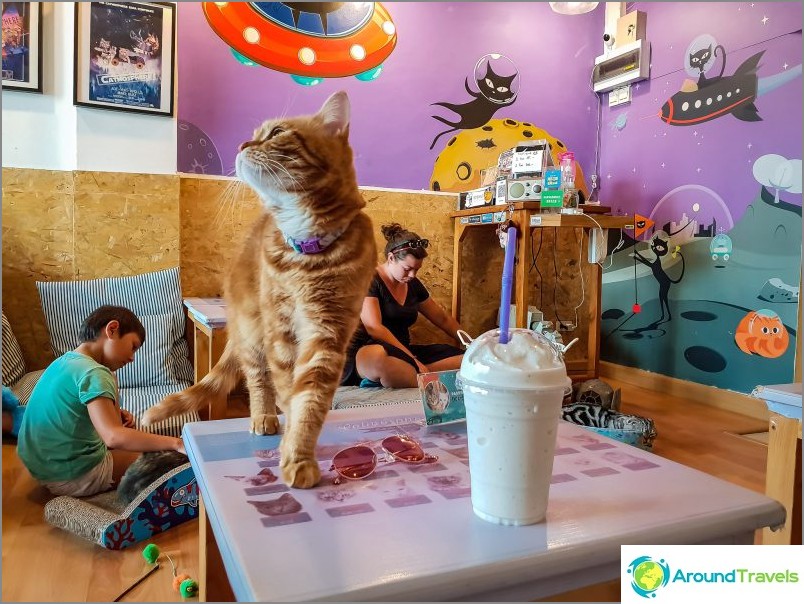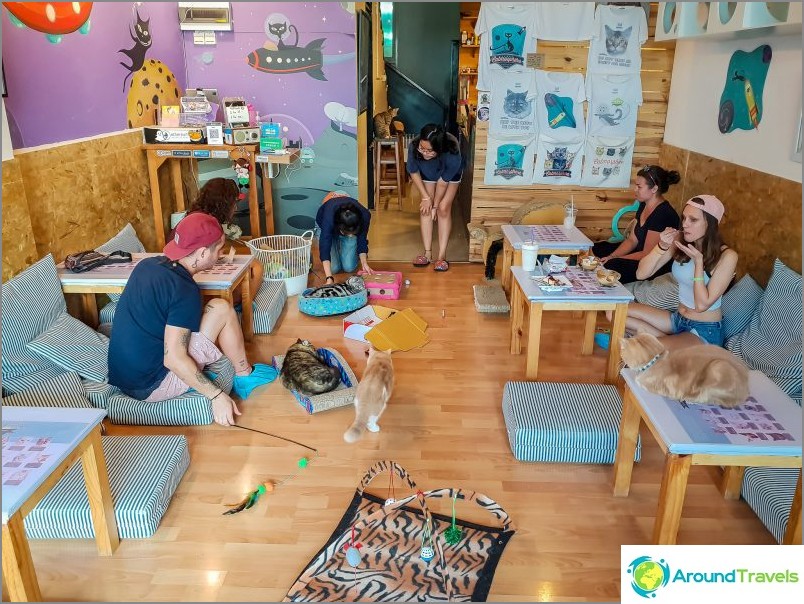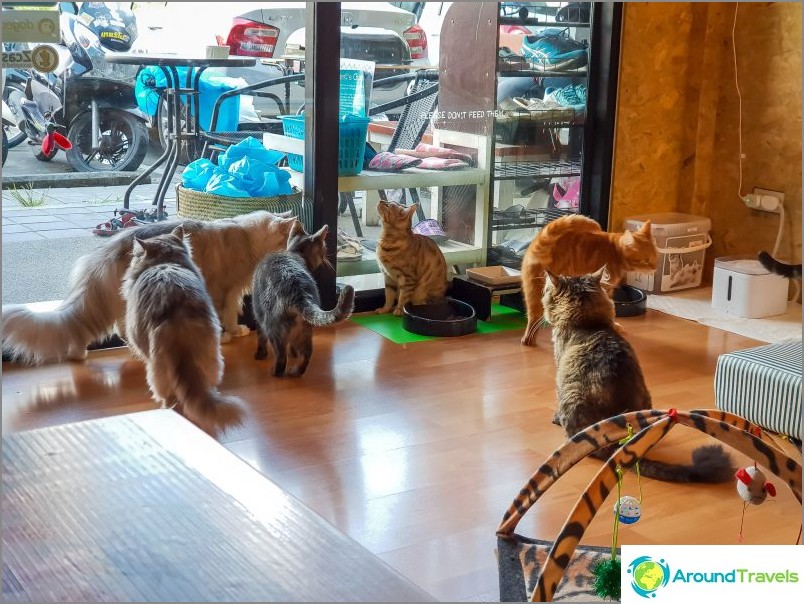 Surrounded by furry creatures, you can relax and recharge with purring energy. They say that animal therapy is very useful, that cats heal and generally remove fatigue..
The cats here are thoroughbred, very beautiful, but there are also ordinary mongrels who were rescued and sheltered. All cats are kept clean, and the animals themselves are neat and well-groomed. There are 24 of them in total (at the time of the visit), and they leave in turn, so you will not see all 24 at once.
Information to visit
The cafe is open every day from 10:00 to 20:00.
Since cats sleep 18 hours a day and this usually occurs during the daytime, I recommend visiting the cafe in the morning or in the evening, when cats have the most active period..
The cafe has several rules for visiting:
1. It is necessary to order at least one item from the menu, or, if you do not want to order anything, you will need to pay 100 baht per hour of stay.
2. Cats should not be dragged, chased, squeezed. If a cat is sleeping, then its sleep must be respected..
3. You can not even feed the food that is poured into the bowls..
4. Children under 5 years old are not allowed to visit the cafe. This is for the safety of both cats and children. Children may not understand and do not follow the rules established in the cafe, and cats may not like the too persistent attention of children and they may scratch.
5. Cats can be photographed, but the flash must not be used, as this may frighten them or simply dislike them. The cafe takes great care of both the physical well-being and condition of cats, as well as their mental and moral health..
6. Visiting the cafe is prohibited with your pets - again, so as not to endanger cats.
7. The time limit for visiting is about 2 hours, but this is enough.
Prices are not low, but no one bothers to take just a drink. The prices on the menu must be supplemented with VAT 7%.
I liked the place as a whole, and I can recommend it for visiting as a variety. I hardly want to come here every day.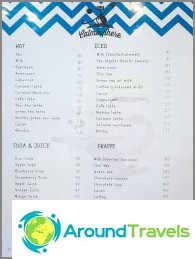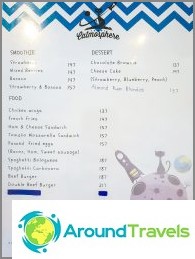 On the map
Catmosphere Cafe is located on Huay Kaew Street next to Chiang Mai University. There is an Apple cafe nearby, it is a little closer to the road, and a cat cafe in the same building is next to it..
Catmosphere Cat Cafe
Catmosphere Cat Cafe
Best of 3 cat cafes I've been to. Condo, civilly, no food, only drinks and desserts.
More about the cafe.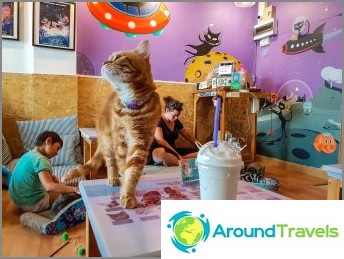 Best of 3 cat cafes I've been to. Conde, civilly, no food, only drinks and desserts. More about the cafe.
Cafe Cats station
The cafe is nice, and if thaistyle doesn't scare you, then you can go. Although a cat-cafe, it can still be called a stretch.
Impressions
The cafe is very different Catmosphere. Located in a quiet Thai side street. The place and appearance of the cafe itself cannot be called tourist attractive. However, don't jump to conclusions. I decided to stop by, because without trying, you won't understand.
The cafe is open, in fact it looks like a wooden canopy. Inside, everything is simple, but relatively cute. The prices are pleasing. Ordered cappuccino and blueberry cheesecake (like home made). The menu has smoothies, a couple of desserts, salads, sandwiches.
There are cats in the cafe, all in collars, they run freely around the cafe and run out into the street. Despite the fact that the cafe is thaistyle, and the cats are ordinary mongrels, I liked the atmosphere.
Unlike the first cafe, the cats here are playful and cheerful. They run and play. You can catch some figs. As it is quiet, calm and comfortable, home-like. The people are not crowded (there was no one at all), no one stands above the soul. You can sit quietly, drink coffee. Although, the second time would not go. There are coffee shops that are much more civilized and interesting, albeit without cats..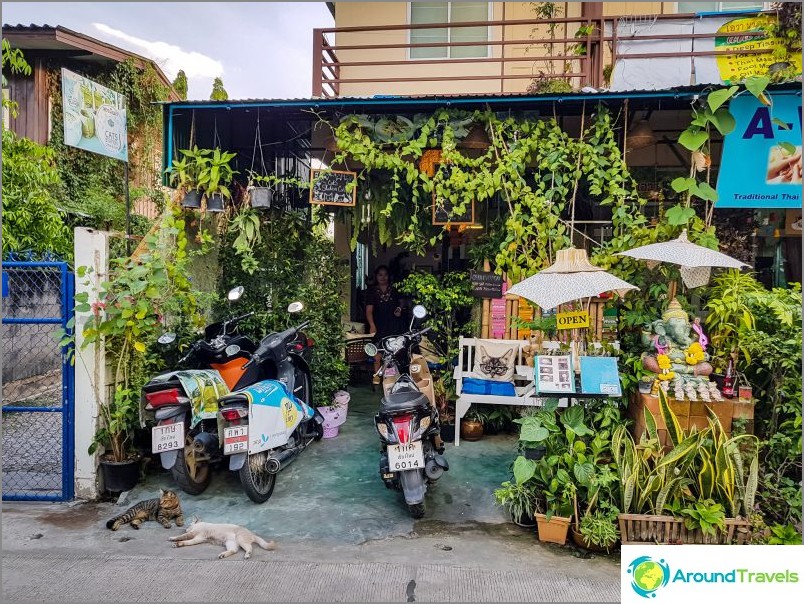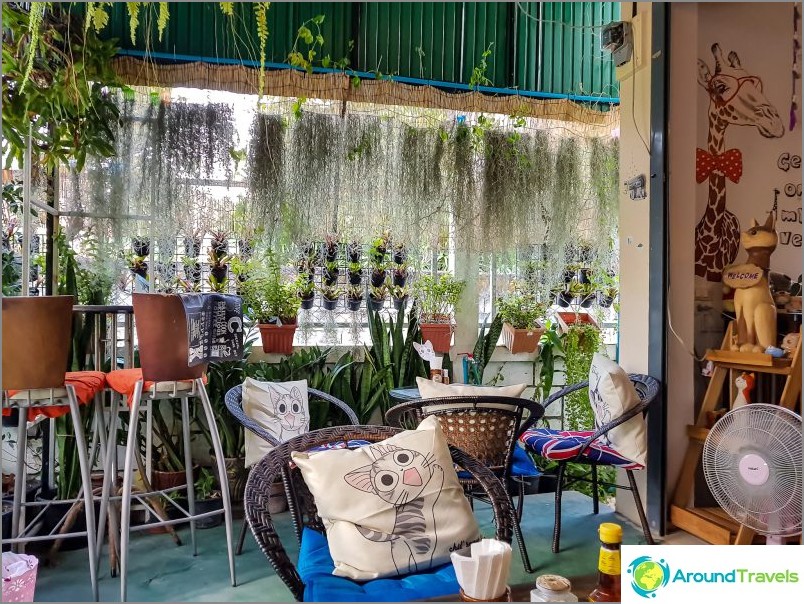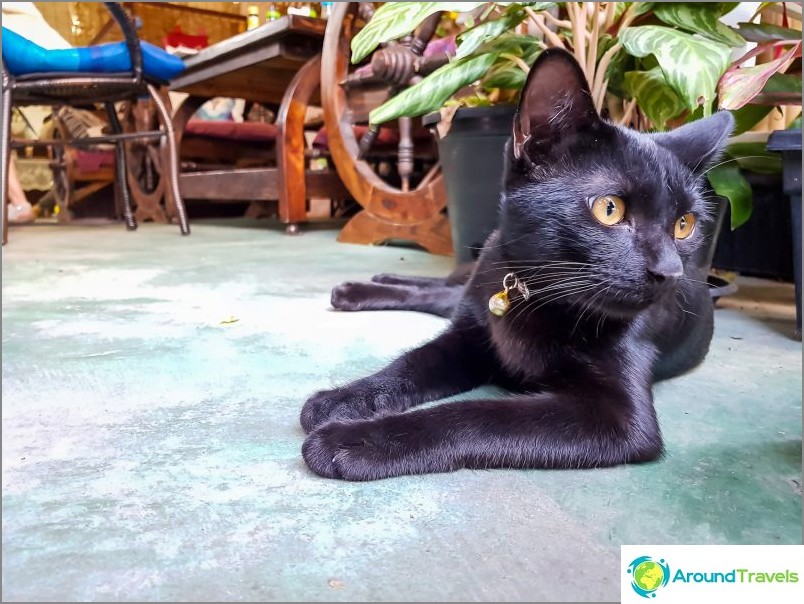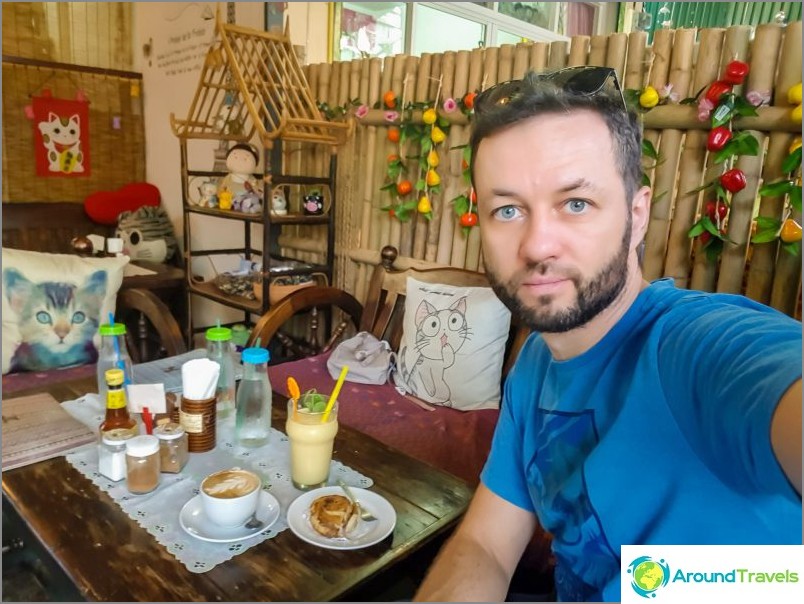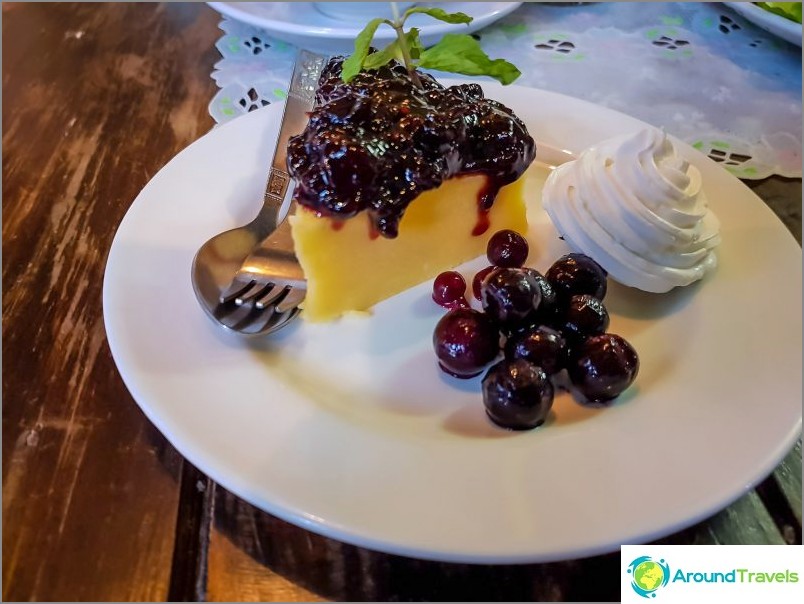 Information to visit
Working hours - from 7:00 to 18:00
You can see the prices below in the pictures.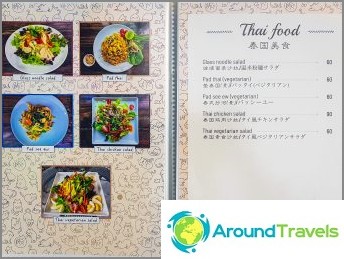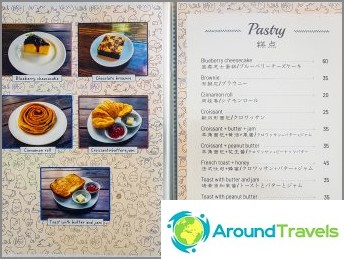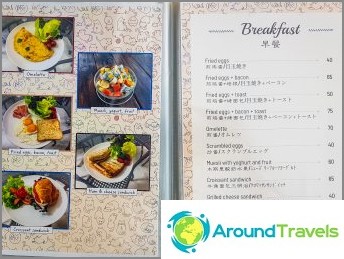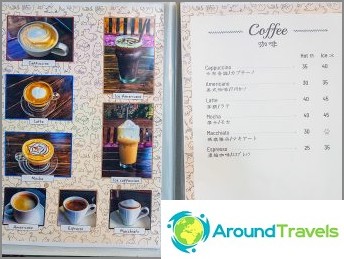 On the map
Located inside a square in the Old City, near the west side.
Cats Station Cafe
Cats Station Cafe
In fact, a Thai cafe-coffee house, not just a cat-cafe. Very little. Darling. But no rules of conduct, just a few cats.
More about the cafe.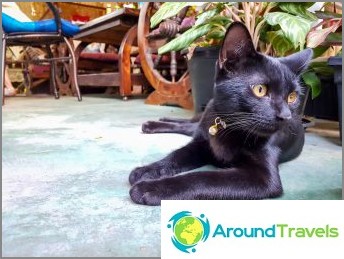 In fact, a Thai cafe-coffee house, not just a cat-cafe. Very little. Darling. But no rules of conduct, just a few cats. More about the cafe.
Cat Brothers Cafe
This cafe left a mixed and rather unpleasant feeling..
Impressions
The cafe is located on a very busy street, one of the sides of the square. It is beautifully decorated in a European style and the prices are appropriate. On the ground floor there is something like a small cafe where you can just sit and order something, but there are no cats here. All cats on the second floor.
You make an order, they give you sticks, which are tickets to enter the second floor. It is necessary to take off your shoes and disinfect your hands with gel. The order will be brought by the waiter.
There are a lot of cats. Everyone mostly sleeps on shelves and in houses. The cats are thoroughbred, fat and very fluffy. You sit down at a low table on an ottoman and seem to enjoy the place and the atmosphere, but no. Although the cats are beautiful, they are sleepy, and in the corner there is a Thai overseer with a stone face and strictly monitors what or who, I don't know (I didn't make any remarks to anyone).
Air conditioning is good, but still cold. Thais love to freeze forever. Sit closer to the window, no air jets get there. But on the other hand, there are some cat jets - you will be haunted by the perceptible smell of urine or cat marks.
Ordered ice cream and cocktail. The ice cream is very nicely presented and quite tasty. In general, it is not bad there, but the overseer spoils the whole atmosphere. The feeling that a step to the right, a step to the left is a firing squad. Joke as a joke, but the cafe has strict rules for violation of which you pay a fine of 2,000 baht, after which you are kicked out in disgrace.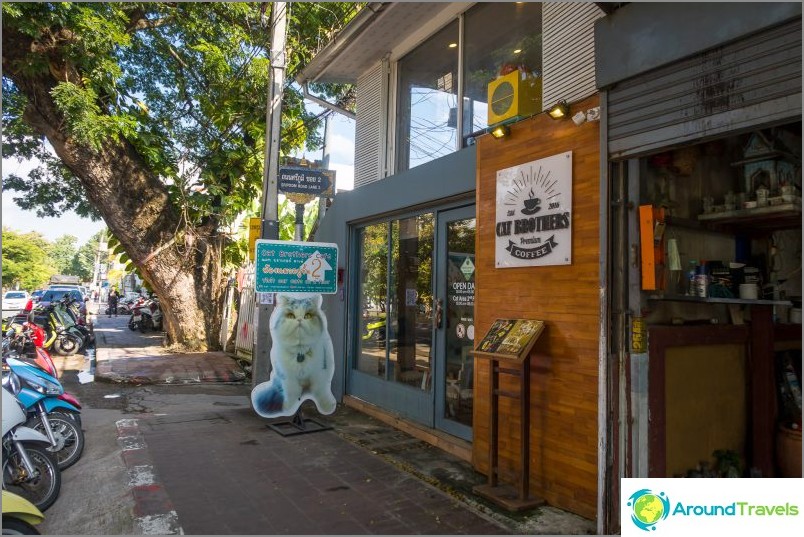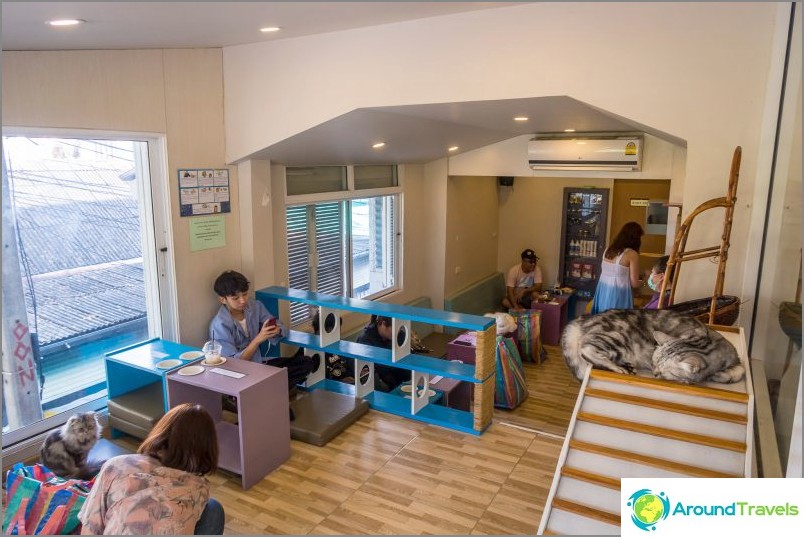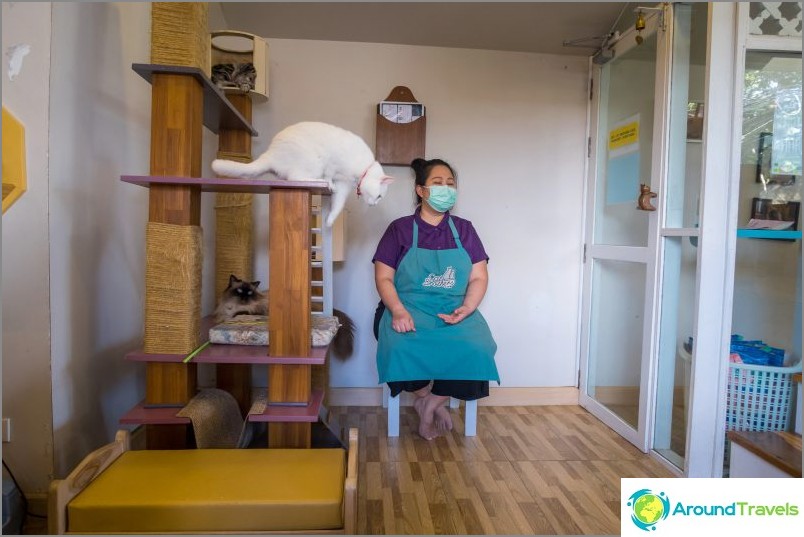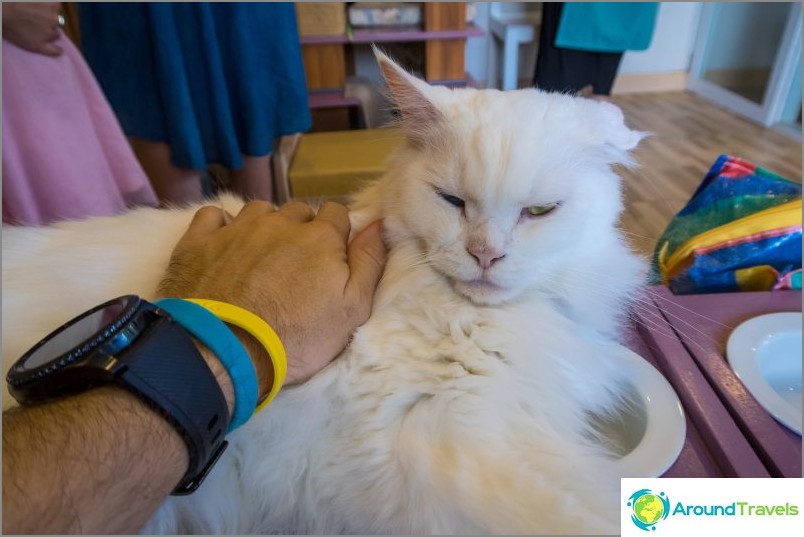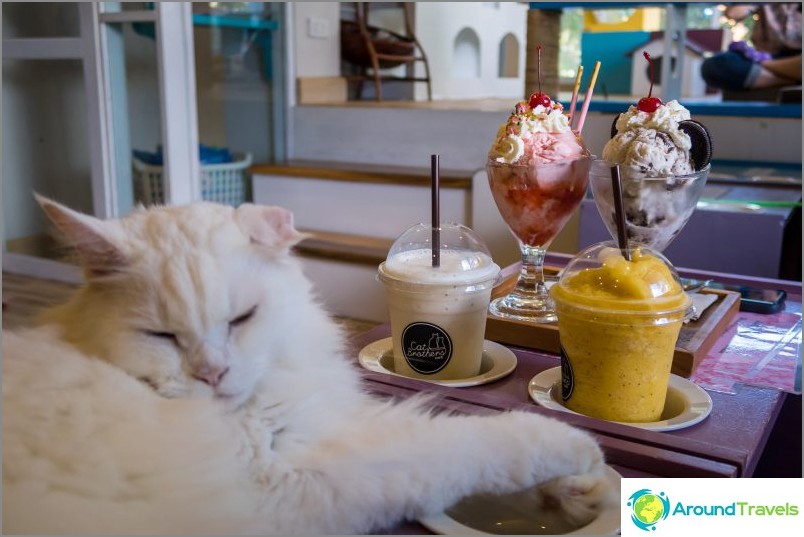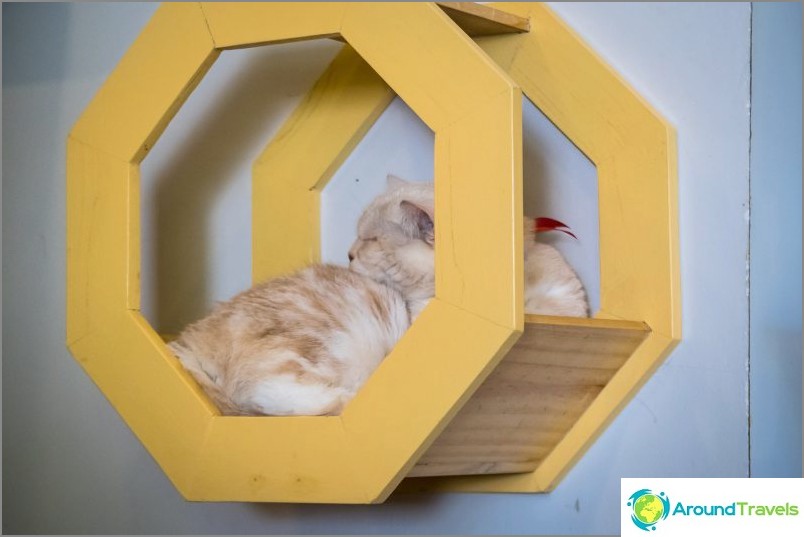 Information to visit
Working hours - from 10:00 to 20:00.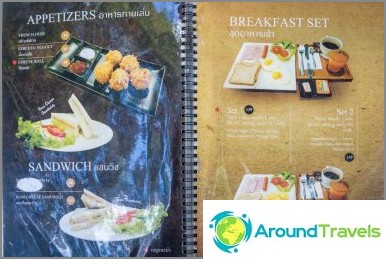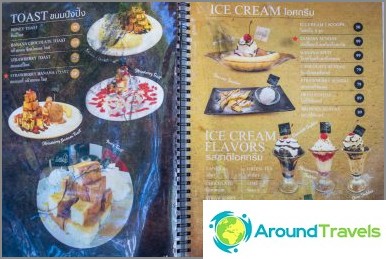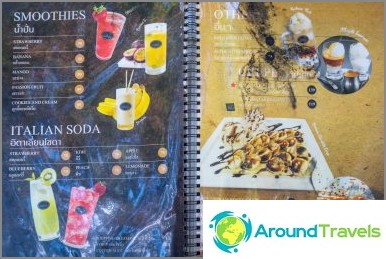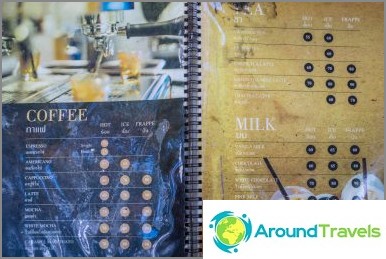 On the map
Cat Brothers Cafe
Cat Brothers Cafe
Another cat cafe. In general, everything is fine, but the stone-faced warder spoils the impression very much.
More about cat cafe.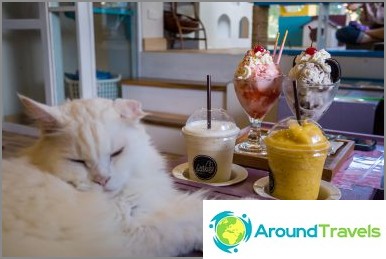 Another cat cafe. In general, everything is fine, but the stone-faced warder spoils the impression..