Gallery «three-dimensional» paintings or 3D Art in Paradise is one of the most popular attractions in the center of Pattaya. What is the meaning of entertainment? In several spacious air-conditioned rooms, the walls and ceiling are painted with pictures that create the illusion of a three-dimensional space. The 3D effect is often visible only in the photo, so the point of entertainment is to come up with the most fun way to fit into the picture and take a photo like that. If you are a fan of selfies and funny photos, this is the place for you. Just be sure to check the battery level and the amount of free memory in the camera! In the gallery, both ends very quickly.
The content of the article
3D gallery in Pattaya
The 3D Gallery is the very first of its kind in Thailand. Although it is now a fairly popular form of entertainment, just like «upside-down houses», and they can be found in any country around the world.
The museum occupies several vast halls with more than a hundred paintings painted on the walls and ceiling. Each room in the gallery has its own theme: tricks and tricks with perspective (when the illusion is created that one person is small and the other is giant), the underwater world, animals, classical art, dinosaurs, the ancient ruins of Ayutthaya, Egypt, etc. IN «3D paintings» you can enter not only yourself, but also your friends. It will be even more interesting this way. You can be a part of a famous painting, be a diver, kick a rhinoceros, walk on a board over an abyss, or walk with dinosaurs. At least in the photo.
The idea sounds pretty simple, but everyone in the gallery, from children to pensioners, gets involved and gets a lot of pleasure and positive from the process. It is really a very fun activity - taking pictures in funny poses against the background of various funny situations. And suitable for any age and nationality.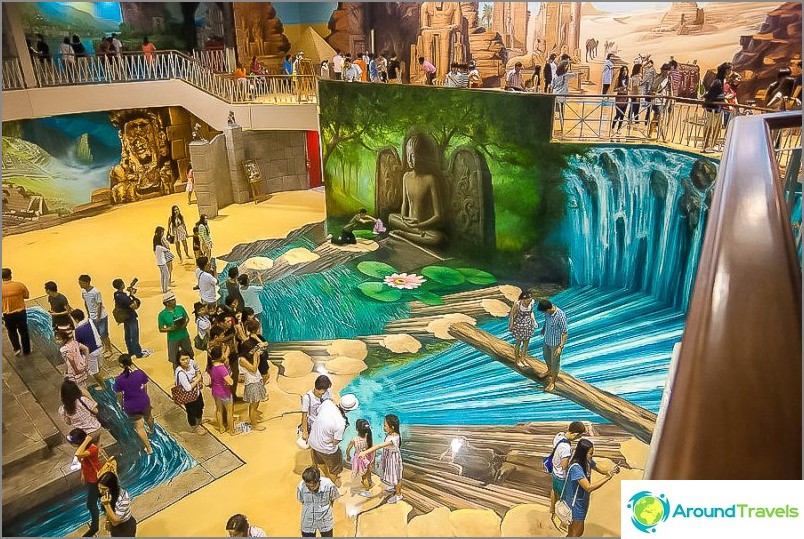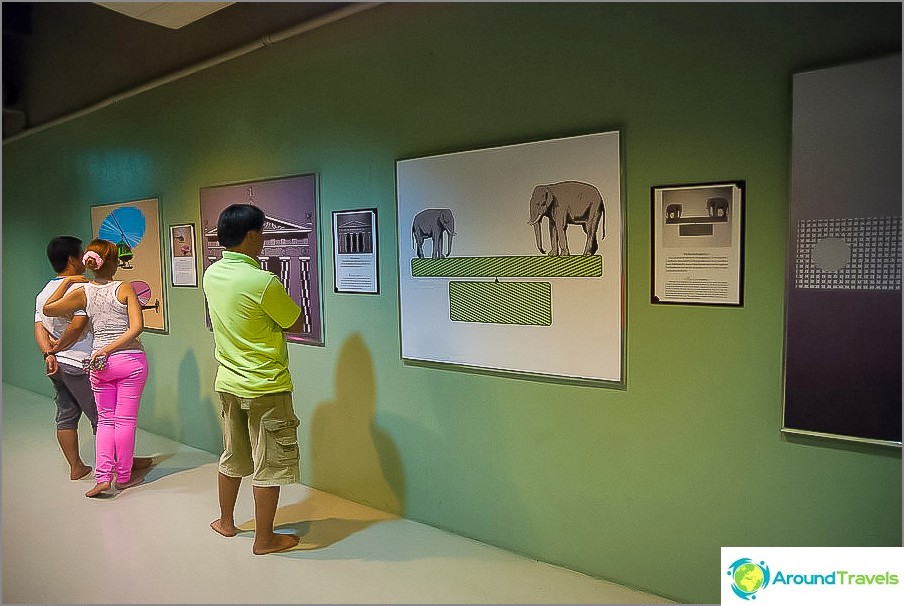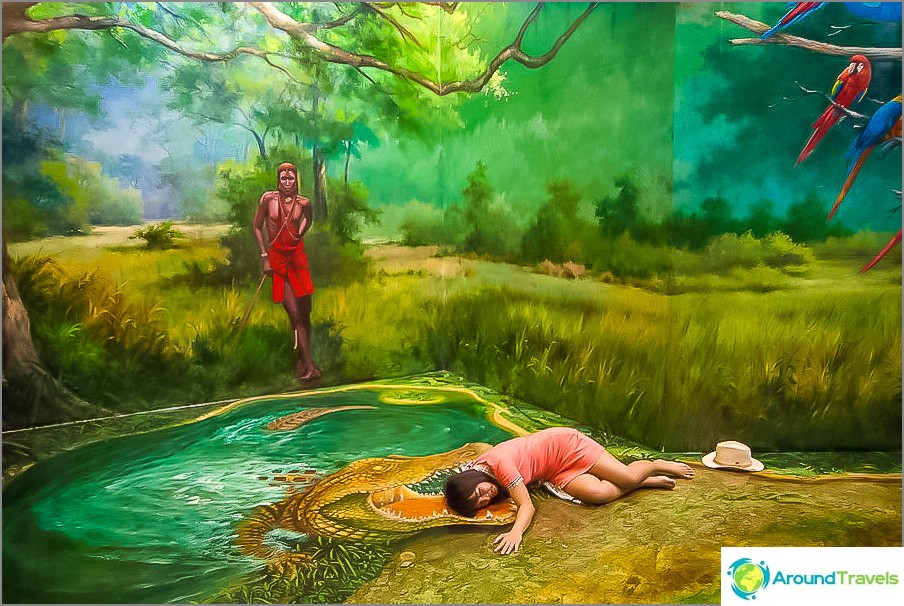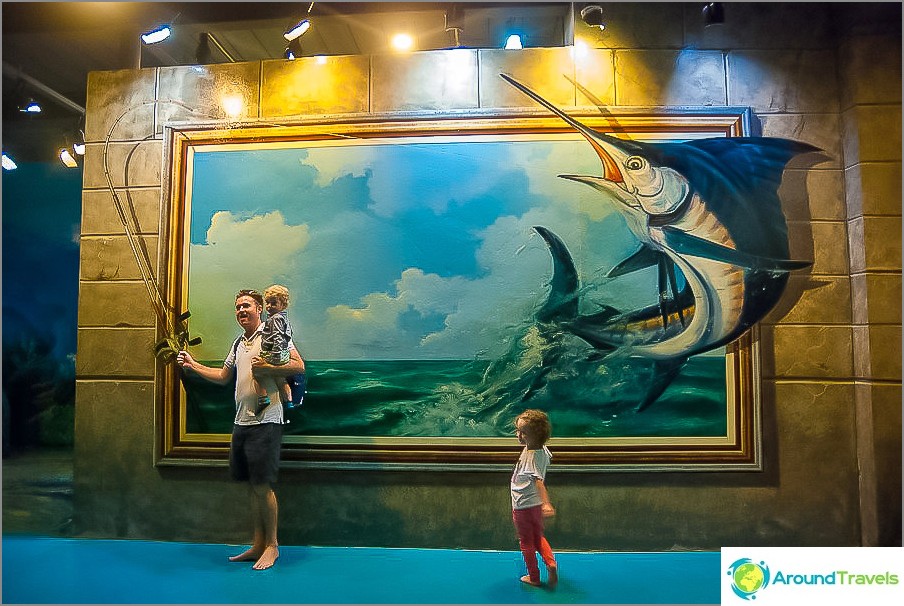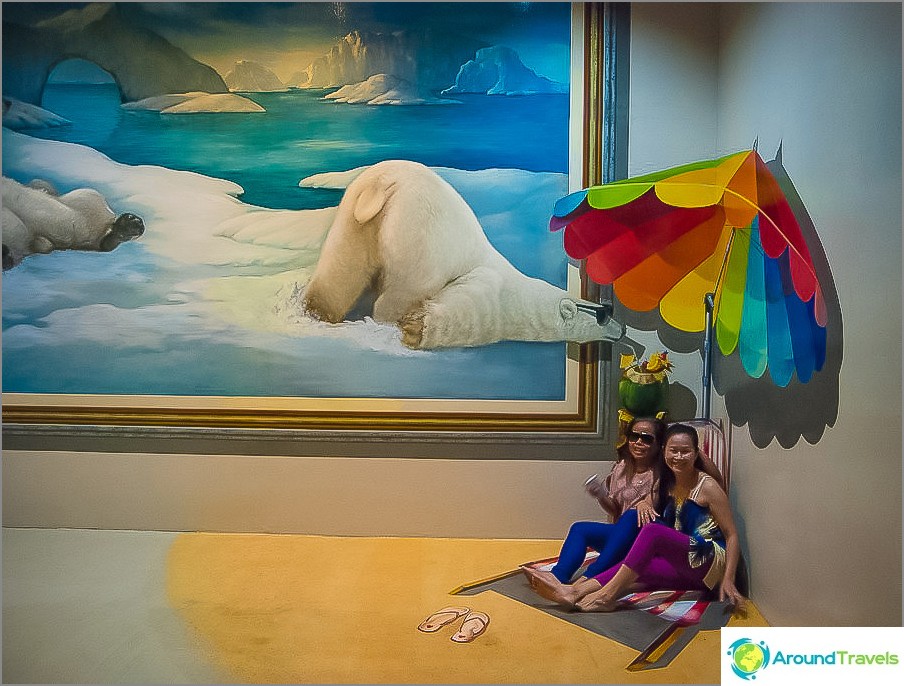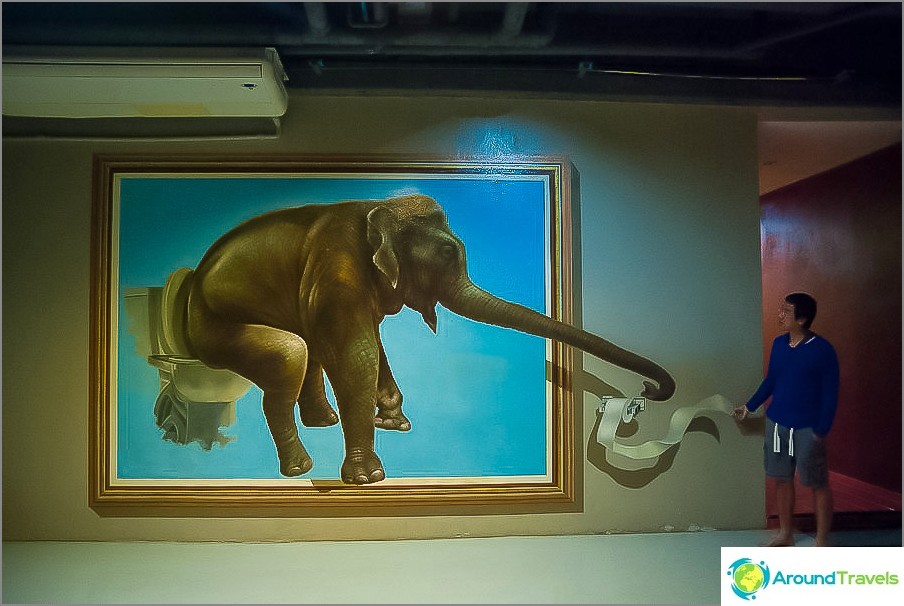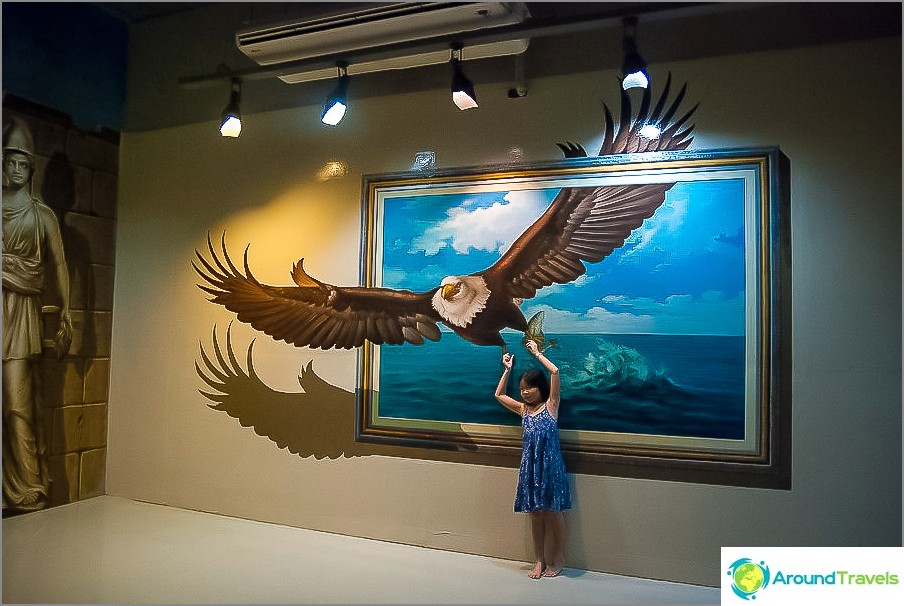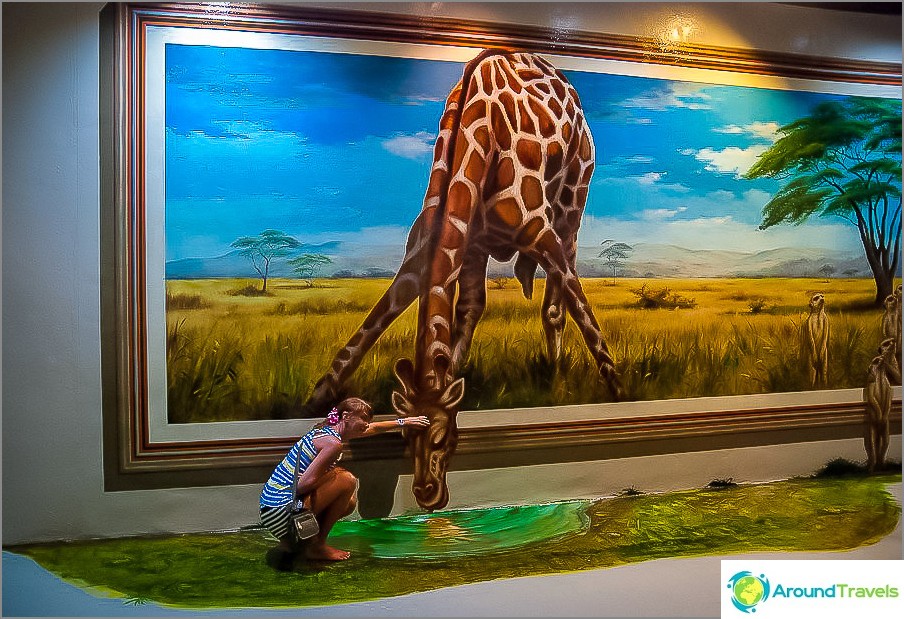 If you are a little fed up with beaches, nightlife and want to have a little fun, hiding from the scorching daytime sun or a sudden downpour, then this gallery is one of the most suitable options. The premises are air conditioned, not stuffy. And when there are no crowds of tourists, it is very comfortable. Here you can easily spend three hours, or even more, going from hall to hall and taking pictures. The main thing is not to coincide with the groups of tourists. Therefore, it is better to look here on your own, so as not to be limited in time and calmly consider everything, and not stand in line to the funniest picture to take a photo.
The gallery opened a few years ago, but its «exposition» updated and replenished all the time. New paintings and attractions appear, so even those who have been here once will not be bored. Show a little imagination and then you will get very realistic and unusual photos. There are many backgrounds, there is plenty to choose from, for every taste. In many paintings, footprints indicate the best place to get up. But you can also experiment. At the very end there is a small hall with small figures of people and funny scenes sculpted from polymer clay.
The peculiarity of the gallery is that at the entrance you need to hand over your shoes and all containers with liquids. This is necessary because the pictures are painted not only on the walls, but also on the floor, their shoes will quickly scratch and erase them. Above the images are covered with a layer of shiny varnish, if liquid gets on it, the floor becomes very slippery. Therefore, any food and drink inside is prohibited. But at the exit for the sufferers there is a small cafe.
But it's better to come to the gallery not on an empty stomach, otherwise there may not be enough enthusiasm for all the halls. And they are more and more interesting! So in the very first ones it is better not to linger, they are just simpler, but to go further, there is the most exciting.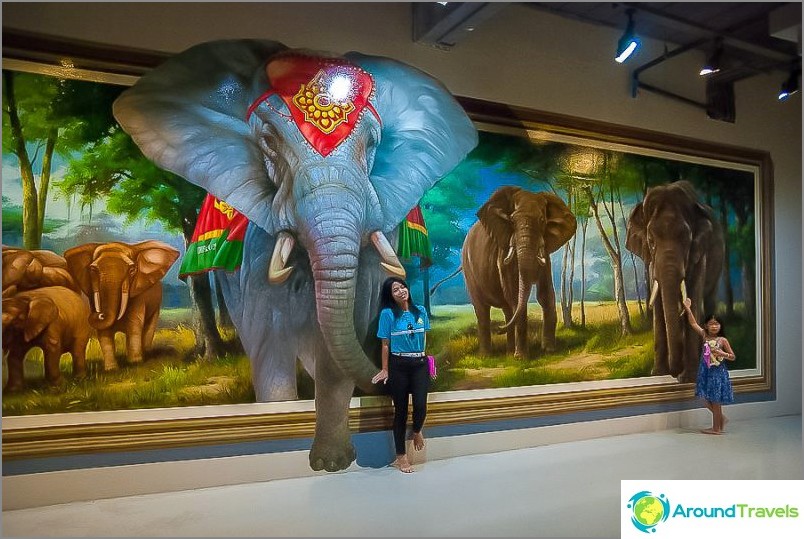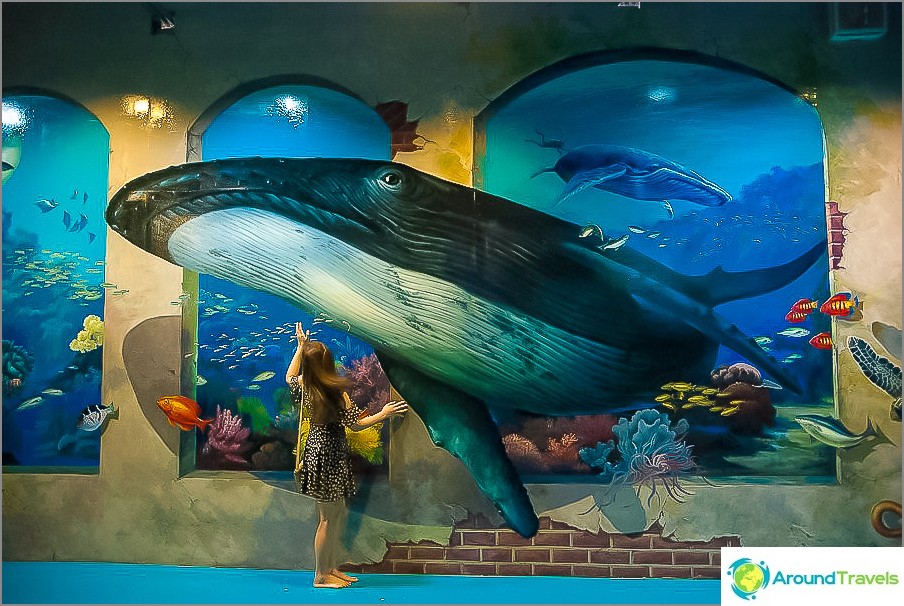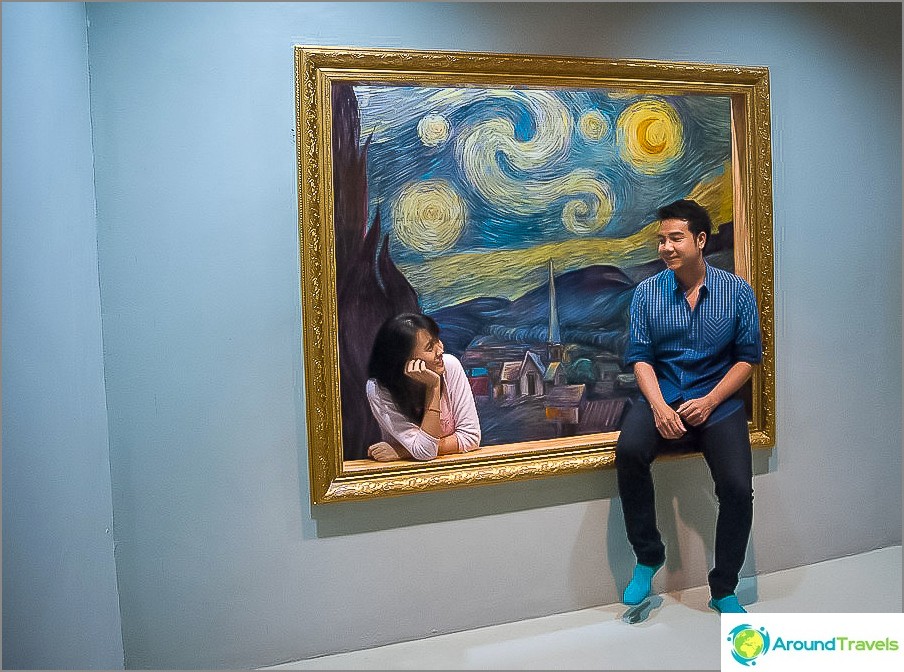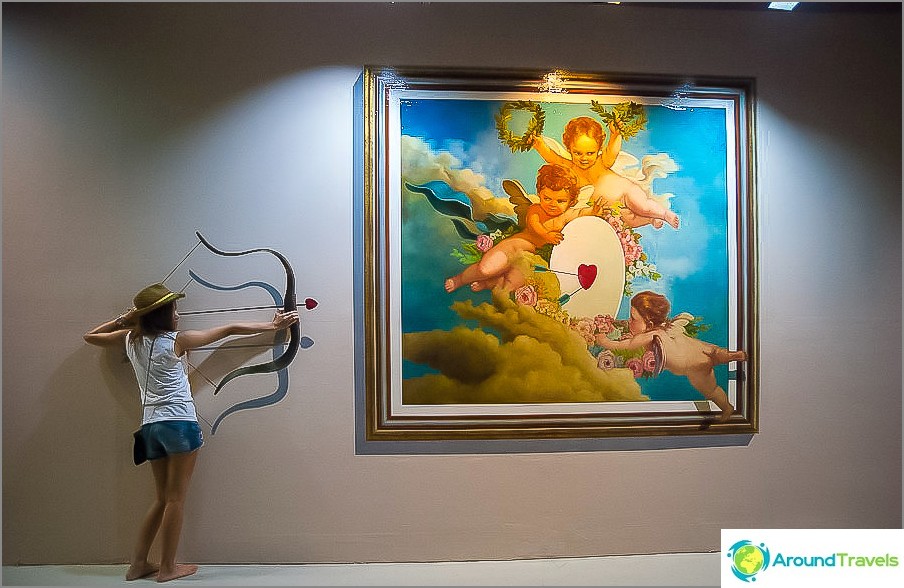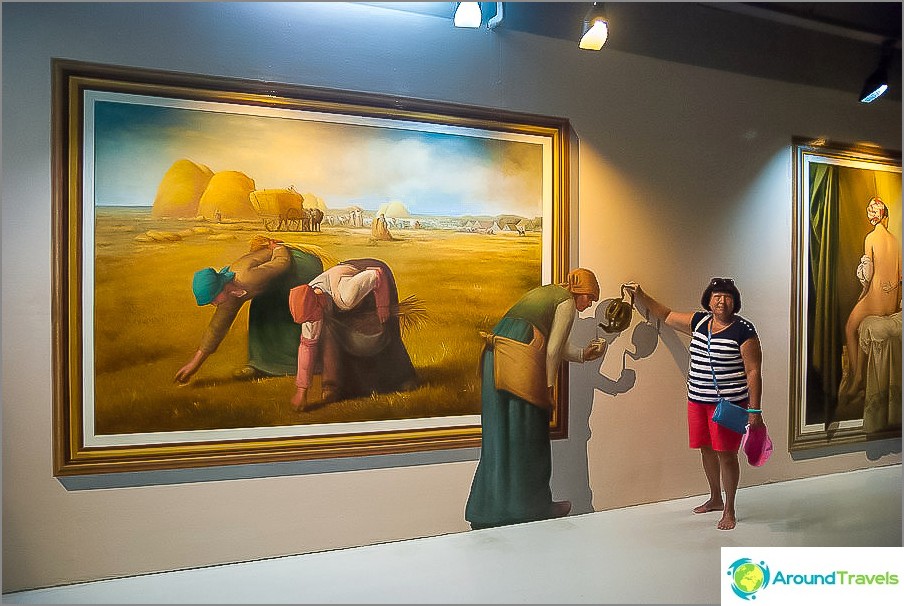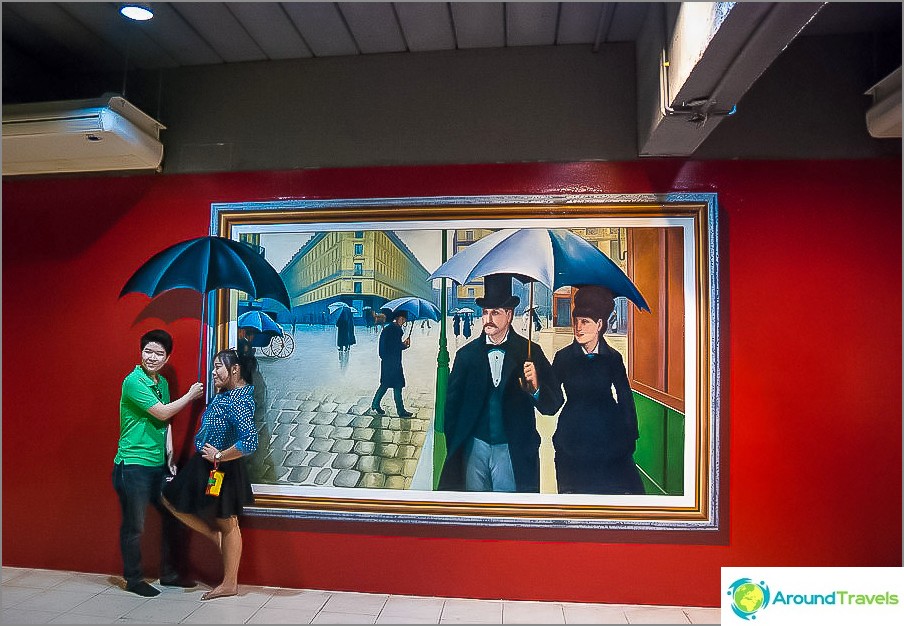 And don't forget that someone has to photograph you. So go to the gallery with at least two people, otherwise you will have to ask someone to photograph you all the time. With friends it will be more fun and the photos will be more successful. Especially if you fantasize a little, inscribing yourself in the background..
It is advisable to take a better camera with you, because the lighting in some places is not enough for bright high-quality photos on the phone..
Information to visit
Working hours from 09.00 to 21.00.
Ticket price: 400 baht.
Life hack! We buy tickets cheaper - for 300 baht. To do this, you need to go to the Klook website and buy an online ticket with a discount there. A voucher will be sent to the email, it will need to be shown at the cash register on the phone screen.
Ticket to the 3D gallery for 300 baht>
In travel agencies, you can buy a ticket with a round-trip transfer from the hotel for 500-700 baht. To take or not to take is up to you. If you do not have a rented vehicle (bike or car), then such an excursion may come out more profitable, since a taxi is expensive. Or use public tuk-tuks, they are cheap, and buy tickets according to my life hack.
Tour price>
If you don't want to walk barefoot through the halls, take socks.
Leave at least an hour for visiting. And if you get involved in the process, then you can calmly stick for 3 hours..
Download the Art in Paradise mobile application, it will be useful to you in the museum, the pictures will be «come to life».
How to get there
Located in the center, close to the Dolphin Circle and North Street. In the area of ​​Second Beach Road in the center. Between Tiffany Shaw and Central Marina Mall, in a side street. On the same side as Central Marina.
Exact address: 78/34 Pattaya Sai 2 Rd
On the map
3D Museum Art in Paradise
3D Museum Art in Paradise
An interesting place where you can take pictures with three-dimensional pictures, for selfie lovers.
More details.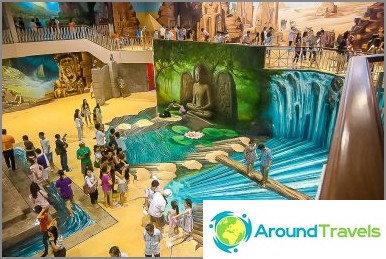 An interesting place where you can take pictures with volumetric pictures for selfie lovers..