I wanted to write about renting a car on Koh Samui for a long time, I just didn't get it. Even in the first month of living there, I grappled with one man who claimed that it was impossible to rent a normal car on the island for 12,000 baht per month and that I was lying about it on my blog. And after this conversation, I went and rented for just 12,000 baht, as I needed. After talking with him a little, I understood where his claims came from, it turned out in the end that we have different concepts of what a normal car is 🙂 But I'll tell you about this below.
Also, in this post I will describe my personal experience of searching and renting and will give the contacts of a small office (at the time of contacting only two cars), where I took a car for myself. For general information (insurance, deposits, documents, roads, etc.) read the article - car rental in thailand.
The content of the article
What I rented on Koh Samui
Let me remind you that if you are looking for a car for rent and want to book it in advance and via the Internet, then the easiest way to do this is through Economybookings. Then on the spot, upon arrival, you will already at the airport receive your car from a well-known company, and not from a small rental point..
First car
Our first car was a Chevrolet Lacetti, which we rented in half with friends. It came out at 6000 baht / month per family. Not bad, isn't it? The inconvenience lies only in the fact that you need to live nearby and negotiate who needs it and when. But, if you are not supposed to use the car every day, then there will be no problems. So, if you have friends with whom you can shoot in half, then I recommend this method of saving..
Lacetti was old, 9-year-old, with automatic transmission, with high mileage and without insurance ... Despite these nuances, everything suited me, for such and such a price. But this, as it were, is not advice. On the contrary, I advise you to search with insurance, you never know what. We rented it from home owners, a special case, but it also happens.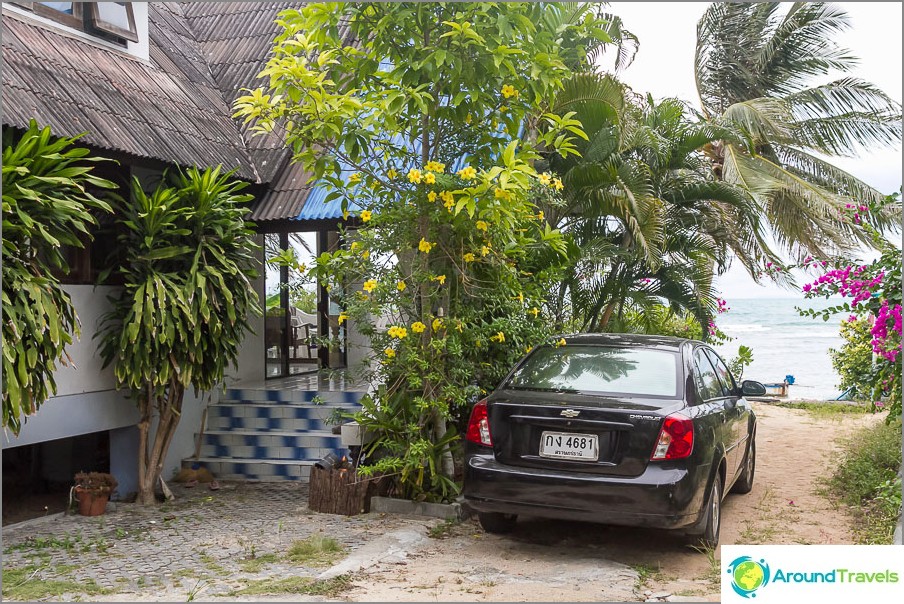 Second car
I rented the second car alone and in a small rental office. It was a Honda Jazz for 12,000 baht / month. Frankly, this rental point was not found by me myself, but I was prompted. Nevertheless, I did not have any discounts, that is, it was not by pull, but simply from the street. And they themselves asked me for how much I would take it, I answered 12 thousand, they agreed.
Black Jazz, 6-year-old, 80k mileage, with insurance with a liability limit of 10,000 baht (deductible). Despite the year and the mileage, I was completely satisfied with her, I ran very well, and my condition was excellent..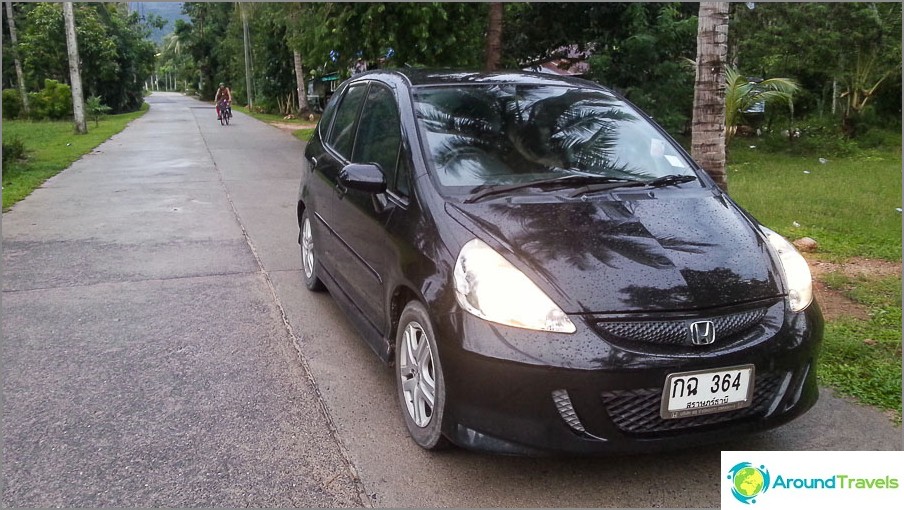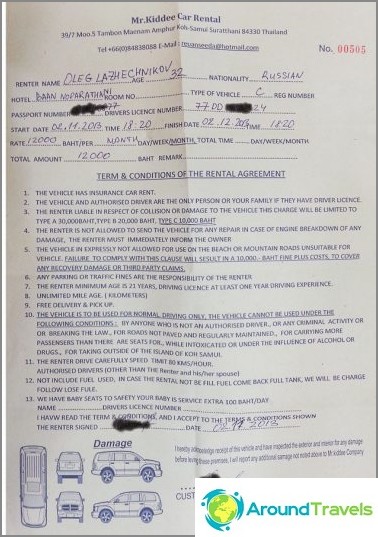 It was handed over to me with a copy of my passport and without any cash deposit. Around the middle of the month, they called and said that the car needed to be taken for a scheduled inspection in Suratkhani, and, they say, excuse me, you will have to drive a Toyota Vios. This new girl is white, with a range of only 17 thousand km. I wasn't too happy because the Vios are bigger and harder to park, but the car is good too. They replaced it for me without any additional payments (so it costs 16,000 baht / month) and with apologies for disturbing. I gave both cars, each time expecting a trick, however, there were no complaints about me, they quickly looked around, looked inside and that's it. But I didn't scratch, didn't drive and didn't damage anything, I was careful. Maybe this is the whole point?
Contacts of a verified rental point
Many asked for contacts. Hostess phone: 0897234610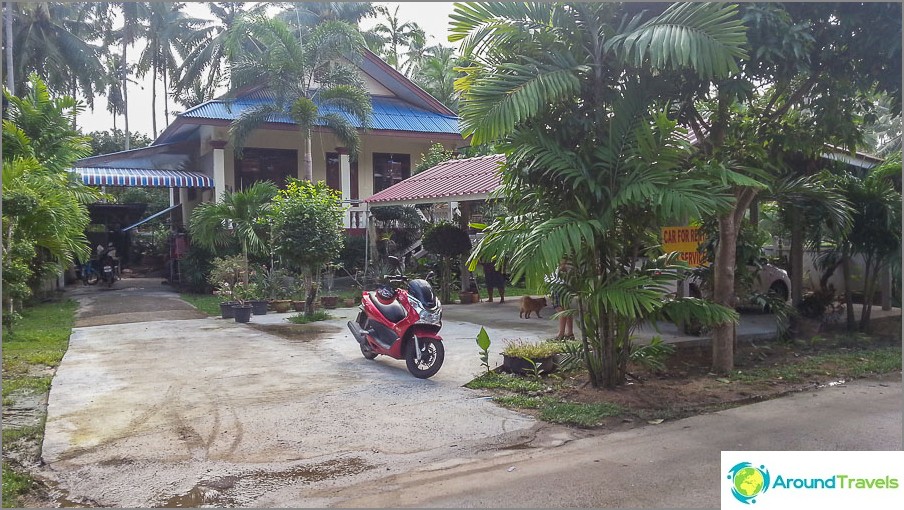 About car rental on Koh Samui
Most people prefer to ride a bike, and I was one of them before Yegor was born. I already wrote a comparison, what to choose a car or a bike. The car is much more convenient for solving household matters (transporting a child, purchasing a large number of products and things in a supermarket), although it is on the island that the distances are short and you can easily get by with a bike (all about scooter rental).
Rental points
There are a lot of rental points in all resort cities, ranging from individuals with one car to large chain companies. Samui is no exception. You can shoot directly from Thais, or you can use intermediaries like Samuides and others like them. On the topic of where and how best to do this, there are many discussions on the net. I personally prefer to do everything without intermediaries and with Thais directly in order to avoid overpayment, and there is more trust. And another important point - I was ready to waste time looking for.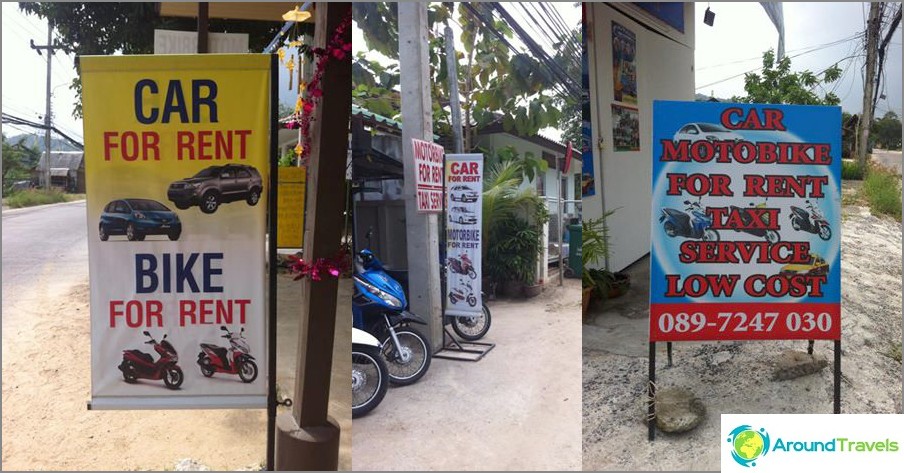 If I rent a car for a day, then, as a rule, I rent it at the airport through Economybookings so that I can sit down and drive right after my arrival. Although it also happened that later I went to the airport to pick her up. In general, I mean that it is possible and necessary to take a car from large network distributors in order to minimize the risks and time spent on searches. Everything will be all right with the insurance and the lease agreement, the inspection sheet will be there, I have never seen any dead cars on their side. And the price from network, if taken through brokers, is the same as local, if not lower (we are talking about daily rent by itself).
Rent a car on Koh Samui with a discount>
But if you need a car every month and want to save money, then it is cheaper, of course, only in small offices. But I will write about this even below, about all the pros and cons.
Rent per month
Most of the controversy arises over prices. For example, some would argue that «normal» the car costs about 20 thousand baht / month, not less. «Normal», as it turns out later, this is a new one, with full insurance, with an engine of 1.5 or more, not a runabout. But it's a no brainer that if a person wants to save money, then he is ready to drive a small car. I am annoyed by people with a philistine attitude, they say, if the car is simple, then you immediately goof, and, they say, it is better to walk on foot than to drive the economy version. So, if you want to find a cheaper car, then immediately forget about show-off. I hope everyone understands that in Thailand for 10-12 thousand baht / month they do not rent a Porsche.
I don't know all the rental prices on Koh Samui, but I specially avoided what was rented out near our house and in a couple of other places nearby:
- Toyota Vios and Honda City 20,000 baht / month. The condition is outwardly normal. There is no insurance for the car, only a third party (OSAGO). About insurance and franchises.
- Toyota Vios 24,000 baht / month seemingly new, Suzuki Caribbean 15,000 baht / month. Insurance with a deductible of 10,000 baht.
- Toyota Avenza 15,000 baht / month, outwardly normal, but old by years. I don't know about insurance.
- Toyota Hilux 13500 baht / month, almost new, on the handle. Toyota Vios 15000 baht / month, new.
- Toyota Vios 16000 baht / month, Honda Jazz 12000 baht / month Insurance with a deductible of 10,000 baht. This is where I took.
I also asked around other people who live on Koh Samui and have more experience in renting than me. Renting a car for 10-15 thousand baht / month is quite realistic. The whole question is whether there is time to search. Just keep in mind that 10-15 thousand is not the average rental price on Koh Samui, but rather the lower threshold.
By the way, for those who come to live on Koh Samui, not only transport, but also housing can be relevant. I have personally drawn up directory of houses on Koh Samui and detailed review best hotels in Koh Samui. And you can search for a suitable hotel using RoomGuru.
Rental price per day
The average rental price is about 1200 baht per day. A small car can be found for 800-1000 baht, a pickup for 1000-1200 baht, a sedan for 1000-1400 baht, a minivan or jeep for 1500-2000 baht. Somewhere like this, give or take.
How to rent a cheaper car
First of all, you need to look for options, and not take the first one that comes across. This can take 1-2 days in peace. He who does not seek will not find. If you are not ready to look for or there is no time, then you pay more.
It is worth going not only to those rental points that are located on the main street and have a large and noticeable signboard, but also those on secondary streets and lanes. They are less promoted, sometimes it's easier to negotiate.
Talk and ask, not forgetting to smile. Ask your friends, acquaintances, the landlord, in the cafe where you go. Language it can lead to many places.
It was noticed that a person who came not from the street, but from someone else, can qualify for discounts. Moreover, if you have no one to come from, then sometimes it's enough just to get used to it - you rented a car for rent a couple of times and without excesses, then you can already ask for a discount for the next rental.
The nuances of renting in small companies
About large distributors and their rental experience, I wrote in the article car rental in Bangkok. There you will find all the links to them, and instructions on how to book a car. Let be «Bangkok» do not bother you, such companies have offices in all popular resorts.
I call small companies those that do not offer reservations via the Internet with payment by card and are not networked, that is, their office is only in the place where you go, in this case on Koh Samui. By the way, initially it is better to focus on the prices of network companies, because if you do not find a car cheaper from local distributors, then it is better to rent it from well-known networkers, it is safer. I will list the pros and cons.
pros
+ Come, settle in and look for something right next to your rented home.
+ You can find an office that will rent without a deposit and without international rights.
+ As a rule, the rental price is lower than that of large network distributors when it comes to monthly rent.
+ All payments will be made in cash, not by credit card. Although I do not like cash payments, this can be attributed to a plus, since a deposit frozen on the card (usually about 20,000 baht) can be returned to you within a month, while cash will be returned immediately.
Minuses
- There is less confidence in small distributors, since everyone knows about the network ones and there are a lot of reviews on them on the Internet. Still, it is safer to deal not with an individual, but with an international company and its branch. Therefore, I only take daily rent from network distributors.
- In small rental offices there may not be a normal contract or a machine inspection sheet, you will have to invent something on your own.
- There may be ambiguity with the insurance, or it may simply not be there. While the large ones have all the conditions written on the website..