A toy or a necessary device? Not so long ago I bought myself a smart (smart) watch Samsung Gear S3. To be honest, I hesitated to take a watch from Apple or this one, but since I'm still on Samsung'If I'm not sitting and still using the S Health fitness app, which is now built into the Samsung (and I'm used to it), I decided to start with the Gear S3. After walking with them for 4 months, I made my own conclusions whether the goat needs a button accordion or not. So this is not a watch review, do not even wait, namely the experience of using, in fact, even without being tied to the watch model.
The content of the article
First impressions
Any new gadget gives you excitement at first, especially if you haven't had one before. But here the excitement passed quickly enough and was replaced by a question - did I really need it? No, I watched the reviews, read the information, but still personal experience is personal experience.
Let's leave the question of whether, in principle, a person needs a watch. I need a point. It is convenient for me to watch the time on my hand, and not to take out the phone every time. Before that, I had Casio Protrek series, completely stupid, that is, not smart. Also a good model, but more for hikers than for city dwellers. They are charged from the built-in solar battery, show the air temperature (must be removed from the hand), there is an altimeter, alarm clock, hour poles, stopwatch, dial illumination, electronic compass. But most importantly, they are not killable and have WR100 water resistance, you can safely swim in them.
This is not the case with smartwatches. Specifically, my Samsung Gear S3 have IP68 water resistance, this is the maximum degree. IP67 is splash-proof, and with IP68 you can submerge the gadget in water. As far as I know, the IP classification was invented for gadgets, and the WR classification should be used for watches: WR20, WR50, WR100, etc. Apparently a smart watch is more of a gadget than a watch. In short, you can swim in Samsung, yes, but the forums not only advise against doing it in salt water, but even go to the shower, you can get a non-warranty case. I have been preferring the WR100 for 10 years, this is a watch in which you can even dive, not to mention the fact that you can painlessly swim in salt water.
Further. Since the Gear S3 is a gadget, you shake every time you hit the door jamb. When I went to Protrek, I completely forgot about them. After 2 years, Protreks began to look shabby, but they still work without problems. On the other hand, the Gear S3 is not positioned as a watch for extreme conditions, but rather a city and comfortable travel..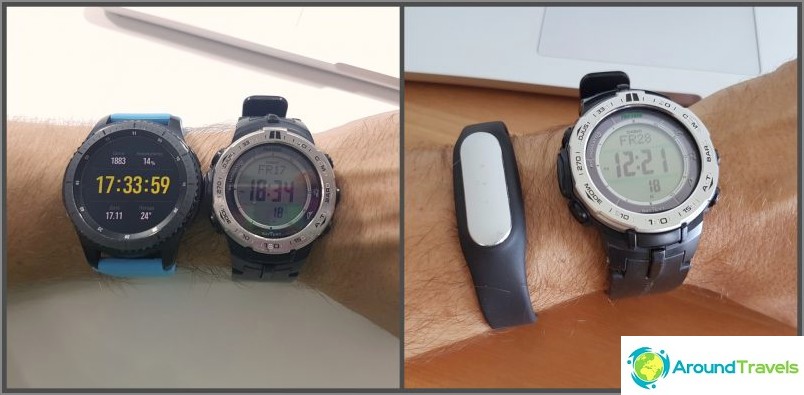 What Samsung Gear S3 Can Do
Now, after 4 months, I can say that I like smartwatches in general. It's comfortable. But it is far from a must have. However, about the conclusions at the end of the post. In the meantime, about what I use and what the watch can do.
You can view the full text of an email in Gmail and reply to it. But for some reason not always, sometimes he throws it into the phone. Yandex-Mail only has access to the message, the answer is no.
It is also possible to view the full text of SMS, but you can only reply with prepared messages (Yes, No, I'm driving, etc.), which can be pre-changed in the settings or add something new. Or you can go through the menu to SMS and send SMS with any text. True, typing on the keyboard on the clock, that's still a quest, it's small. Separately, I note, since in fact it turned out to be very convenient - to receive and watch SMS from an online bank with a confirmation code when the phone is charging in another room.
They show a notification from whom the message came to Telegram or Whatsapp, they give you to see the entire text and even respond, not only with prepared messages, but also by typing on the keyboard, as well as recording a voice message. But they do not give, to view several messages if they were sent to you in a row, only the last.
Shows the number of hours of sleep with phases if they are on the arm during sleep. But you need to understand that they are not small and can interfere with your hand. I'm already used to it, my previous Protreks were no less.
They display the completed norm of steps for the day and periodic notifications that you stayed too long, or, conversely, you began to move quickly. In the latter case, the walking, running, or dynamic exercise mode is activated. True, when you actively wash with a washcloth in the shower, this is also defined as a dynamic exercise. All this turns off if not needed.
They know how to vibrate and make a sound when making calls and messages. It helps when the phone is in your pocket and you can't hear it. Being even in another room, or with the sound on the phone turned off (when the child is asleep), you will not miss the call. Mi Band 2 from Xiaomi also coped with this function (vibration), the only function it has worthwhile, in my opinion.
Displays all data while running: heart rate, distance, speed, time, etc. 3 selected values ​​can be displayed on the dial at the same time.
They know how to store and play music in wireless headphones. Memory capacity 4 GB.
In fact, there are other functions, but somehow nothing else was useful to me. There are, for example, built-in cards ... But this is a tin with such a screen. Or you can talk for hours, I didn't even try. And, hehe, a cool function is to find the phone from the watch. Within the Bluetooth radius, you can turn on the search and the phone will ring. For the forgetful it is useful.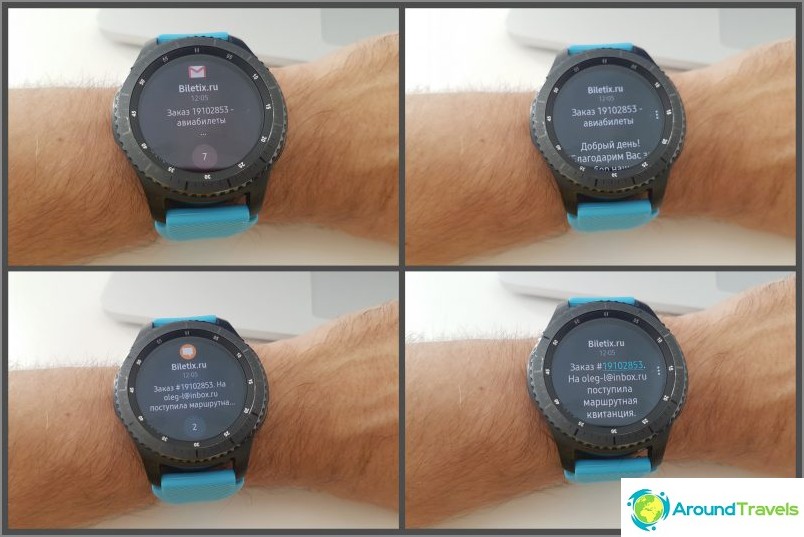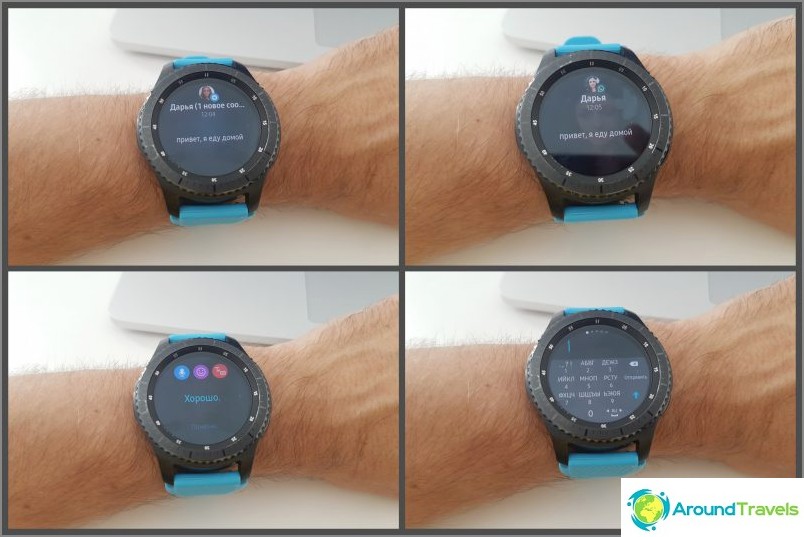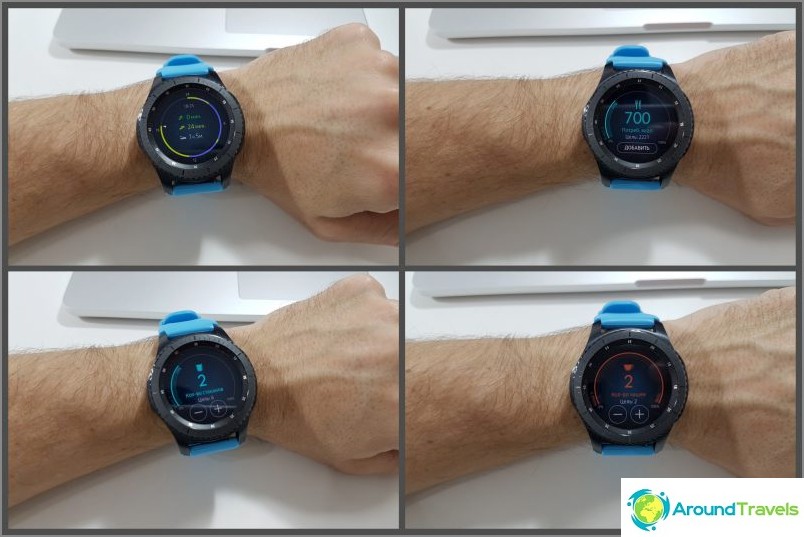 Second impressions
As I said, the watch is IP68 waterproof. I haven't swam in salt water yet, but I constantly take my dishes and take a shower. While the flight is normal. Most likely the horror stories about the shower on the forums were exaggerated. By the way, nothing fogs up anywhere.
I also stopped shaking that I would break. Many times already touched something, but so far not a scratch. Although I will not hide the fact that I try not to do this once again and watch my playful hands.
You need to charge it about once every 2 days and this is a pain. At first I had to come to terms with the fact that I charge the smartphone every 1-2 days, and now this watch. At least 5 days would be ... Hey Samsung, this is the 21st century! How long can you make such batteries? Casio Protrek never needs to be charged at all, even the battery should be changed, since it is charging from the sun. The Xiomi Mi Band worked for 20 days. But in fairness, Apple Watch also works for a short time..
At first I thought it was a whim, but it turned out to be a cool trick - changing the dials. And the point is not that I want to change them constantly, picking them up for a hat or scarf (here you have to smile, and understand and forgive many women), but that you can initially choose a dial that suits you, both free and paid. Usually, if you buy an analog clock, you won't change anything in it, you will have to be content for many years with the information on the screen that is provided by the manufacturer. In Gear S3, you can display a lot on the screen: date, time, number of steps, outdoor temperature, heart rate, and so on. I use one of the built-in free watch faces.
In winter, they are useless, since you cannot get the twists from under the sleeves. However, this applies to any wristwatch, but these at least vibrate when a message arrives. But then all the functionality is not used, an ordinary bracelet for 20 bucks will cope with vibration.
The watch has a built-in GPS, so it is quite normal to calculate the running speed, record the track and all other parameters, and in the running mode there is a constant heart rate measurement, which, according to my observations, is quite normal for yourself if you are not a professional runner. I couldn't compare with the chest strap, I don't have it.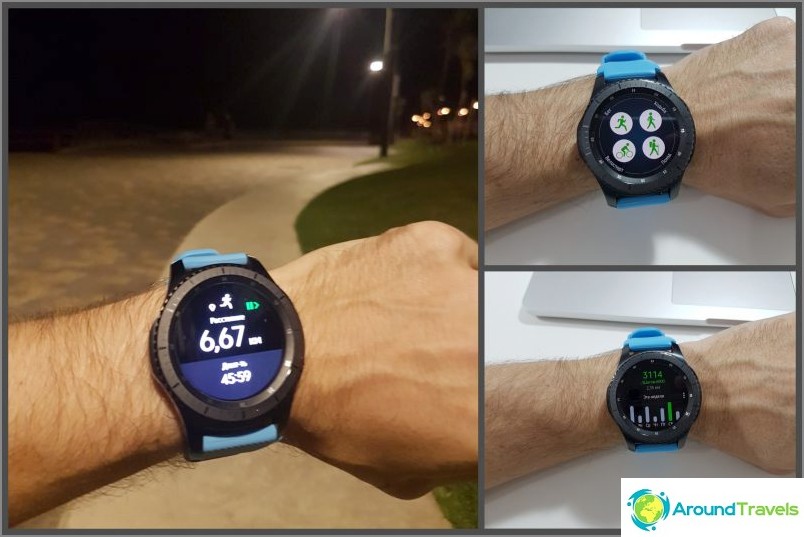 conclusions
Smart watches are an interesting toy, but nothing more. This gadget does not have such weighty functionality that a watch has become a must-have for everyone, as a cell phone once became. Most of all, the vibration (I turned off the sound) came in handy during a call, which prevents the call from being missed. Also, surprisingly, I often use viewing the name of the caller (to pick up the phone or not), as well as the name of the person who wrote the message in the messenger with a quick look at the contents, how urgently it is necessary to answer. Yes, I know, it's not that hard to get a phone, but with a watch it's much more convenient for me. Especially if you are driving a car, on a bicycle / bike, and it is inconvenient to get your phone.
One of the things that I don't use yet, but that can come in handy, is storing music on the watch and listening to it through wireless headphones. This is convenient, for example, while running, when you don't want to take a bulky phone with you, now 5-6 inch ones are in vogue. I also thought so to run, but for now I take my phone with me so that they can call me.
Does a traveler need smartwatches??
No.
Well, or are needed as well as a city dweller. If you are constantly online, you have several instant messengers with a lot of correspondence, your phone is often in another room, or your hands are constantly busy driving, then it makes sense. Of course, if you also have an extra 20k rubles.
But when watches with SIM cards appear, or operators start working with eSIMs, then I will vote for such a watch for travel without hesitation. I don't know about you, but I constantly have a problem where to put the second or third SIM card. I now have 4 of them: Moscow Megafon, Israeli SIM card, DrimSim travel and also Thai. That is why I would be very happy to shove one of them into the clock..
By the way, for this reason, I can't try the iPhone in any way, buying over and over again the dual-SIM flagship from Samsung. Perhaps it is convenient for someone to carry a second phone with them, but I tried it, I didn't like it, the watch would be more convenient. Dual SIM phone + watch = 3 SIM cards in constant use.
Gear S3 or Apple Watch come with eSIM, but this version is not sold in Russia, and if it was sold, then the operators still do not support it.
P.S. Questions? And what do you think about smartwatches?