In connection with questions about the AirBnb service, I decided to write a user manual. Mine experience with Airbnb I have already described, it is positive and I am personally happy with everything. I booked accommodation without reviews of the owners, and from unverified people, while there were no problems. But nevertheless, not everyone is lucky, be vigilant. The link above can also read about the negative experience of other people..
As far as I understand, not everyone understands what the service is, why all these difficulties with verification are needed, how Airbnb differs from hotel booking. Let's figure it out together.
The content of the article
How to register with AirBnb
Sign up here and get $ 32 off Airbnb on apartments worldwide. Valid for the first booking, the booking must be from $ 70. Do it now before the bonuses are canceled! You can use the service later. I've already been banned by Airbnb once for just giving out bonuses. The most convenient way to register is through your social network account (Facebook / Google). The bonus can be used throughout the year.

Get $ 32 Discount>

After registering and logging in, you need to verify your account (online and offline verification), which means that you need to verify that you are a real person. If you registered through a social network, then you will have fewer verification steps. Just follow the instructions of the service. You will need:

- Fill in the profile.
- Upload a photo with your face.
- Indicate an existing social network account if you registered and did not log in through it. And if there is no account, then you will need to record a mini-video (on a webcam or smartphone).
- Send a scan of your passport, which will be verified against your video / photo.

After all confirmations, you can use the service. Yes, you can not complete all the steps (by confirming only the phone and mail), but if any problems arise, it may be more difficult for you to get your money back. Also, bookings of unconfirmed users can be rejected for AirBnb alone for guided reasons, mistaking them for questionable transactions..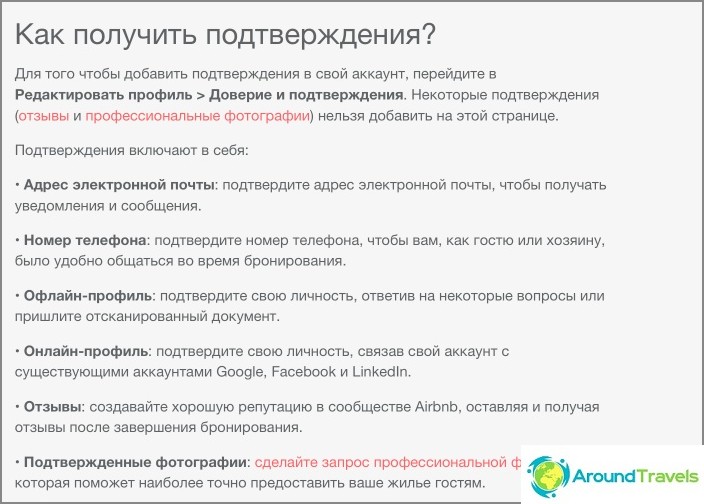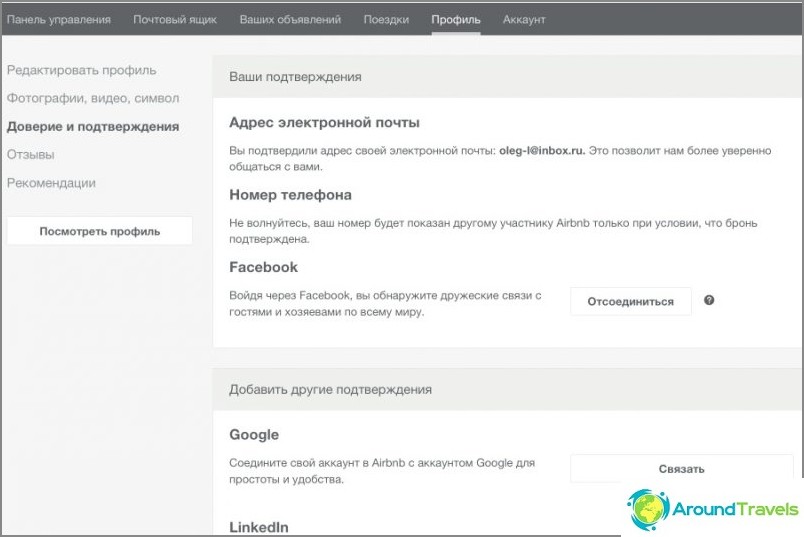 Remember the rule 1 account = 1 person, otherwise a ban. Also, you cannot register accounts for other people from your own computer, they can be blocked, since this is also checked. Therefore, if necessary, make accounts for relatives, through a proxy and another browser..
Why verify your profile
The fact is that AirBnb works with individuals in private, that is, they do not have any agreements with the owners of apartments that are legally binding, these are not hotels. Thus, if the owner throws you in any way, then you will not be able to influence this in any way, you will only have to rely on the technical support of AirBnb, which, although famous for its responsiveness, does not always meet halfway, especially if your account is unverified.
Thus, AirBnb acts as an intermediary transferring your money to the landlord, which can be both a plus and a minus for you. Plus - an intermediary can somehow help you, negative - doing everything through an intermediary, you do not see what the owner is.
Verification is a kind of guarantee that you and the owner of the apartment are real people. Therefore, it is better to rent a house from hosts with verified accounts, and it is advisable for you to confirm your profile, it is not so difficult.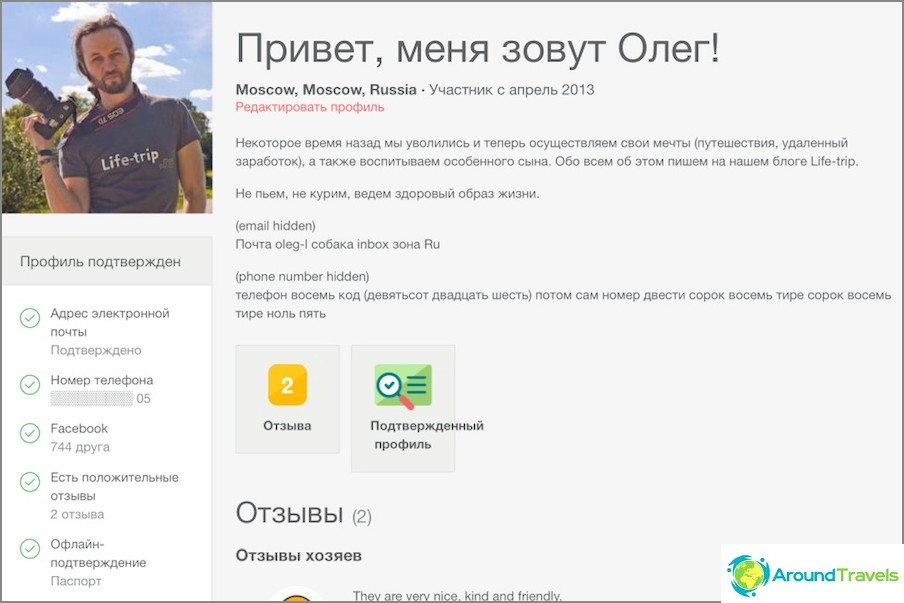 How to book on Airbnb
Booking process and nuances
We are looking for accommodation in the right city and for the required dates. Be sure to indicate the number of people, because different housing is tailored for a different number of beds, and sometimes more people do not increase the price. You can also select additional filters for your search. Just in case, I'll leave a link here, to my selection of unusual housing, really interesting options, they can be in themselves, like a tourist attraction.
Looking through the search results, we go to the pages of housing descriptions and read the information and services provided. Is there internet, is it possible with children, is it allowed to smoke, is it suitable for people with disabilities.
We check if the account of the owner of the property you have chosen is verified. If so, that's good. If not, then your cooperation with him is more risky, because you may stumble upon a scammer. I personally am not particularly worried about this, I would rather trust the reviews more, but this is not advice.
Do not forget to read the reviews about the owner, and if they are not there, then it might be worth looking for another apartment. Alternatively, in the absence of reviews, ask the owner more in private messages. In general, it is better to have at least one thing, or reviews, or a verified account.
After checking whether the account is verified or not, reading reviews, we write off the owner via private messages in the service to ask additional questions. This is very important, because already at this stage you need to understand whether everything suits you. Remember, it is useless to find out contact information in correspondence, the system will not miss.
Be sure to read the specific accommodation cancellation policy. There is «Flexible», when the full amount is returned minus the Airbnb commission, and there are Moderate, Strict, Super strict, etc. In the latter cases, the refund is partial or nothing is returned at all.
After making a decision and agreeing with the owner of the readiness to receive you, we send a booking request. At this stage, you will need to specify your bank card details or your PayPal.
After confirming your request, a withdrawal will be made from the card and you will get access to the contact details of the home owner. A letter will drop in your mail «Booking confirmed», where the owner's phone number and address will be. If something is not clear, write private messages to the owner through the service. The money will go to the owner's account one day after you move into the property..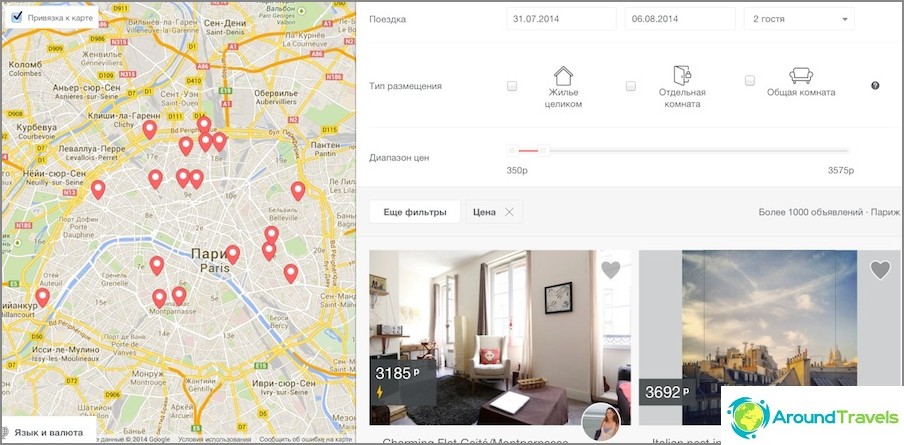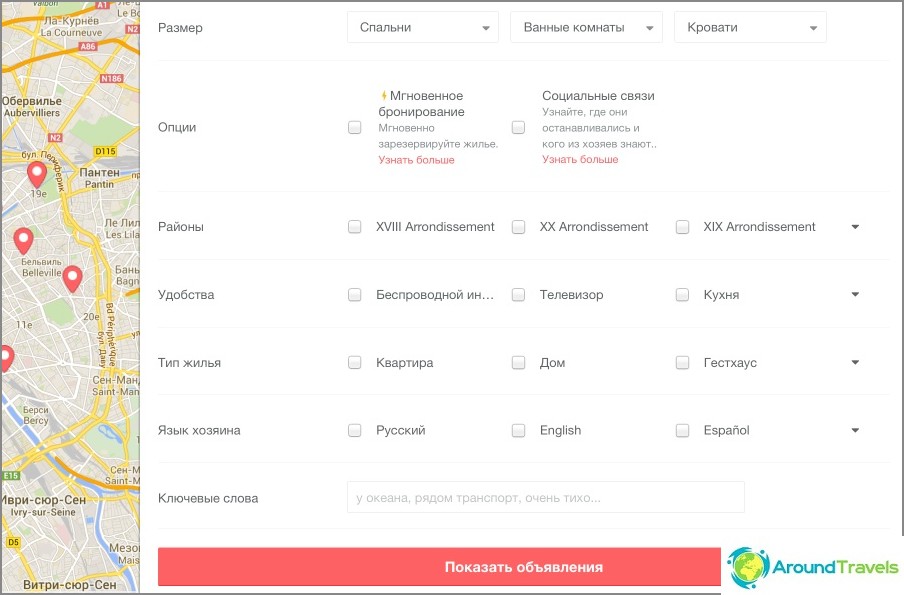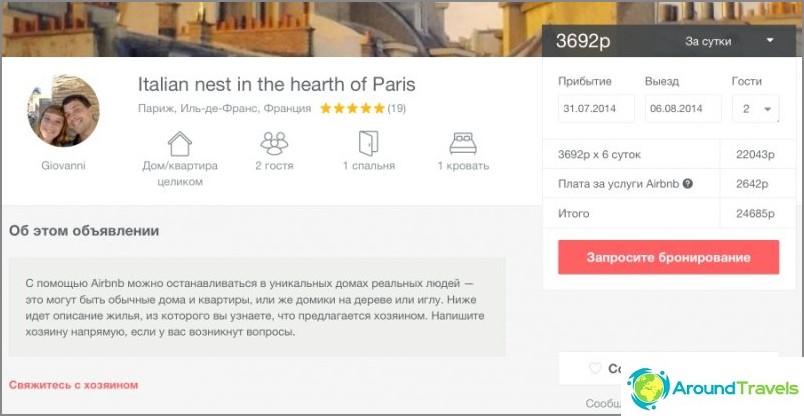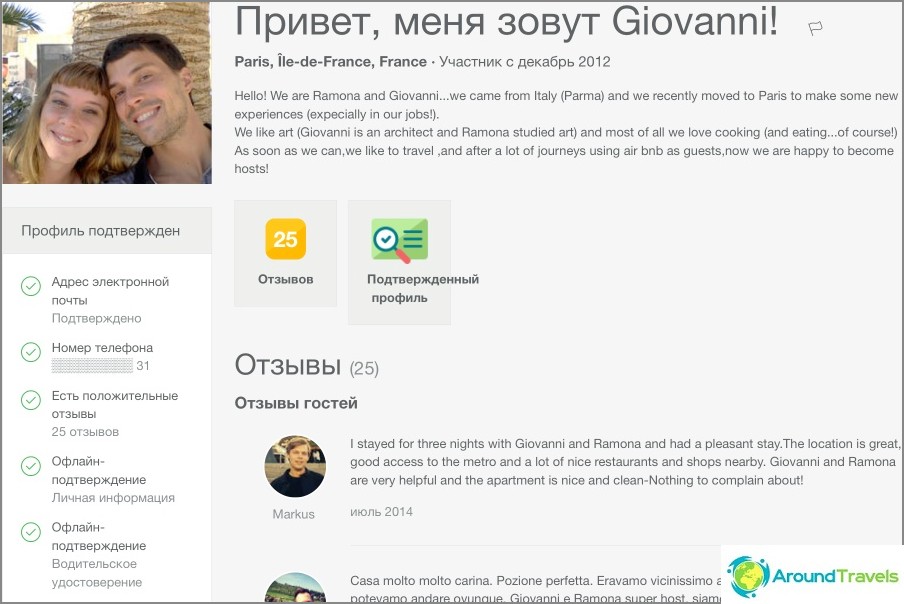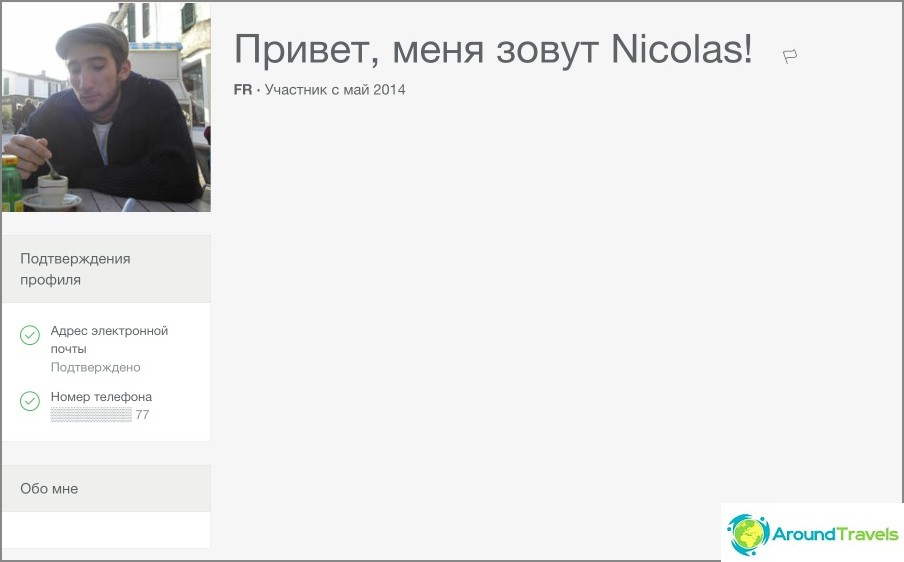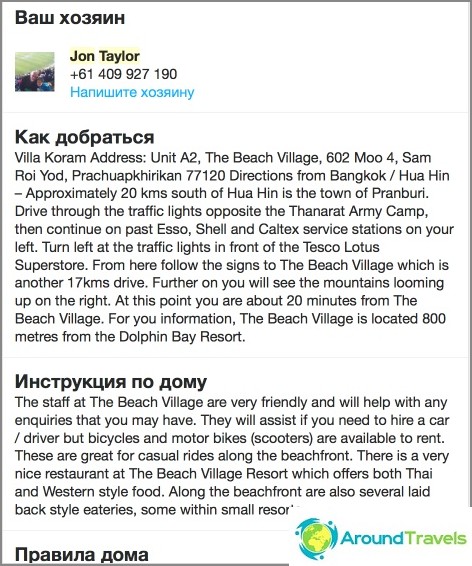 As you can see, everything is similar to booking a hotel through a regular booking system (how to use Booking), you just need to pay more attention to assessing the reliability of the owner, below I'll tell you why.
For long-term rentals (week, month), there may be a discount (indicated directly on the housing page), but not all owners offer it. Alternatively, first stop by for a couple of days, see if everything suits you, and already negotiate directly with the owner about a long term. True, it must be borne in mind that if housing is popular, then it may be occupied on the days you need..
By the way, some embassies accept reservations from Airbnb for a visa, for example, I provided such a reservation for visas to Poland.
Airbnb fees and housing costs
Since Airbnb also needs to eat something, they take a commission. Thus, the total cost of housing will consist of the owner's price + service commission. There may also be a cleaning fee set by the landlord. Usually it is about $ 10-30 regardless of the length of your stay..
Most often, housing is designed for a certain number of people and the cost is assigned the same for the entire house or apartment, and no matter how many you are. However, there is another approach, when you have to pay for each additional guest after a certain amount. For example, there is one price for three people in an apartment, but if there are four or five of you, then you have to pay more. Naturally, the maximum number of people is also indicated on the housing page..
There is also such a thing as a deposit for the safety of property. Some of the owners use it, some do not. However, you will not be charged at the time of booking. Only after your departure, the owner can send you a request to pay for damage to something in the apartment through the service. If you refuse, your account will be banned. But you can also dispute. And keep in mind that the deposit should not be taken on the spot in cash, this is prohibited by the rules of the service (there should be no cash payments at all), and you can even complain about the owner if he tries to ask for money outside the service. Or you don't have to complain, the decision is yours..
Why are these complications needed?
In fact, there are no difficulties, it is worth doing it once and everything will be clear. But there is a risk with AirBnb. But it is in the case of hotels too. I myself personally got into such a situation that the hotel, well, did not correspond at all to what was in the photographs, and also once it was that instead of two beds, there was only one (two of us were traveling, we just needed separate beds), although I ordered clearly with two. And the hotels refused to resolve these issues, and there was no talk of a refund either. So any Booking is no better.
As I wrote in your review of the service, if you don't need savings, don't need an apartment with a kitchen, large spaces, several sleeping places and other goodies for reasonable money, and it's also very difficult for you to send a scan of your passport and a photo, then maybe you shouldn't use Airbnb.