For the first time in my life, I sat astride an elephant. I rode on it for several hundred meters, and then I also had some fun with him in the river. This was probably one of the most memorable experiences of the entire trip to Pai..
Walking one day through the streets of Chiang Mai, I saw an advertising poster inviting me to a fascinating one- or two-day trip on elephants, with these whoppers bathing in the river. The photos on the poster were quite attractive, people and elephants, as it seemed to me, were so cheerful and cheerful that I also wanted to experience this experience - having fun with the elephants. Only now this very joy was somehow completely sad.
The content of the article
Elephant ride
The cheapest offer that I saw in Chiang Mai in 1 day is 2500 baht per person (provided that there are two riding on the elephant) or 3500 / person (if the elephant is only at your disposal). And although the program includes a lot more, it still doesn't cost that much money. Therefore, I already gave up on this idea. Expensive, and besides, it stinks, probably ...
And here I am in Pai, and in the very first tourist corner I see completely different prices for practically the same pleasure! And even though there were no spare bathing clothes offered here, as in Chiang Mai, and the pleasure itself did not last a whole day, but only an hour or two, I decided to try.
But I did not order a trip at once in this mini-travel agency, I decided to travel again, to see. And so, having rented a bike, I drove to the suburb of Pai (to the south), and after a while on the way I began to come across various elephant camps (Elephant camp).
I chose the cheapest katalny, fortunately, I still did not understand the difference. I was surprised that there are two such services opposite each other, in one hour it costs 600 baht / person (if there are two on an elephant), and in the other - 300 baht / person (under the same conditions). Moreover, in the first place it was necessary to find a mate, and in the second they were ready to take me alone, just more expensive.
Arriving there the next morning, I found an elephant on a leash standing nearby. She chewed boredly on dry leaves and rattled off a chain. And it seemed nothing special, but she looked kind of too tired. And involuntarily, the question arose of itself, whether she really wants to go to this river, and does she really need all this?.
A little beginning to suffer from remorse, I hoisted myself on this warm, large, and, by the way, absolutely not stinking animal, and hit the road. First impressions - elephants have such thick, rough skin, and their heads are so hairy and prickly! And it's so easy to fall off if you get carried away with taking photos too much..
In front was a colorful driver with a large hook on a stick, he poked his legs and a hook in the ears of the elephant and constantly made some strange sounds. In principle, even cats are not called here «Kitty Kitty», but «Meow meow» or even a clink.
The elephant walked slowly, sometimes even stopping. Most of the way we moved on asphalt, which is not so interesting, even though the driver later gave me a place on the neck of our large transport.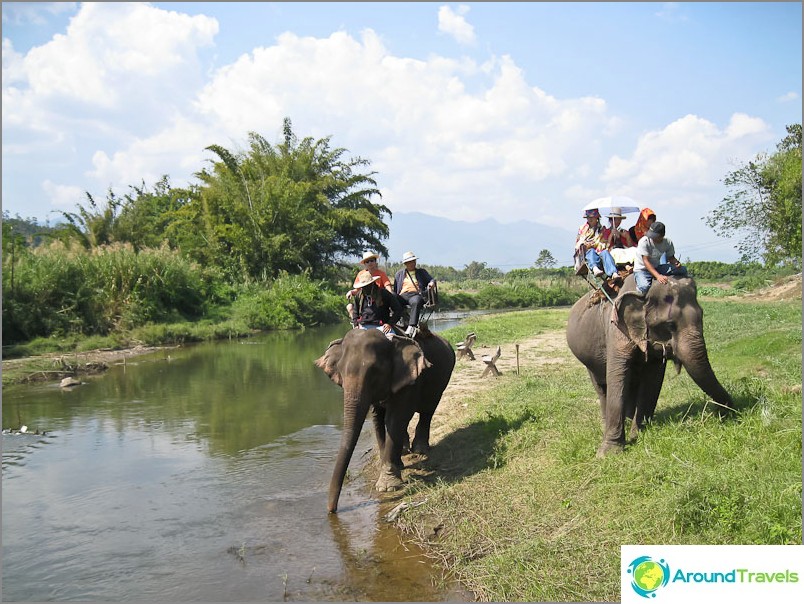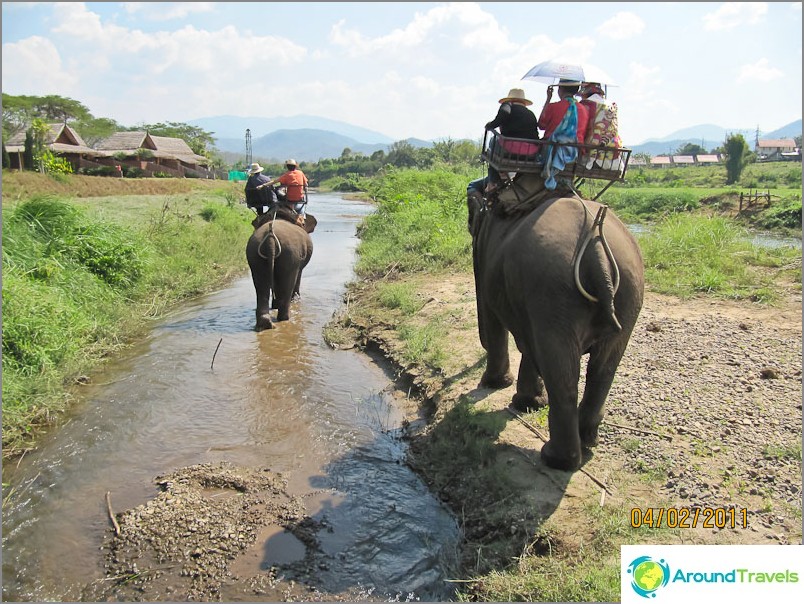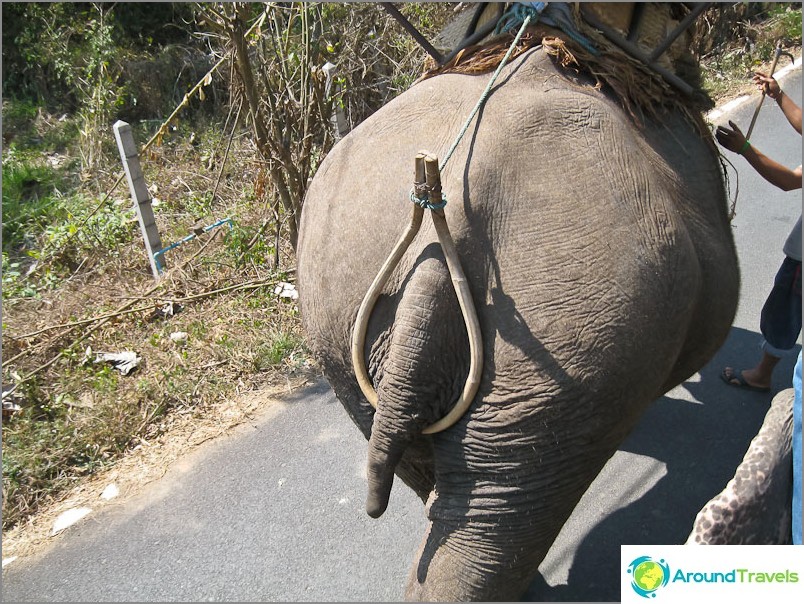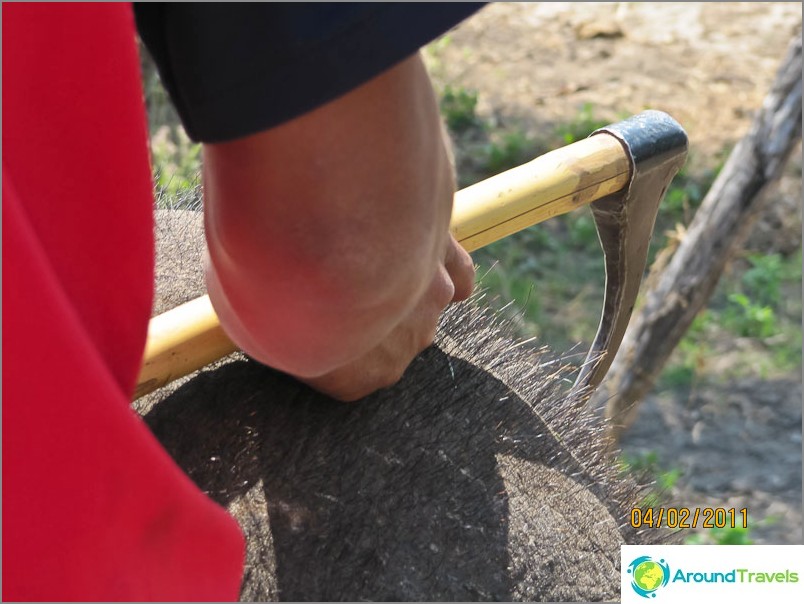 When approaching the river, thoughts began to creep into my head that elephants were not such harmless animals, and if he didn't like something at all, he wouldn't stand on ceremony. And feeling that the elephant did not feel a particularly strong desire to go somewhere and splash in the water, and the shouts and prodding of the driver intensified and became more frequent, I already wondered if I needed it.
Probably, if I relaxed and naively believed that the elephant also likes to swim, pour water over me from the trunk, plunge abruptly or throw me into the river, I would be more fun. But I saw that all these actions are performed after the persistent commands of the driver, poking his animal with a hook.
And after 10 minutes of such somersaults, I told the driver that I liked everything, but enough already. My enthusiasm for bathing cooled down completely when I saw how the second elephant who came later than us, pee safely in the water before swimming and dumped a decent heap there..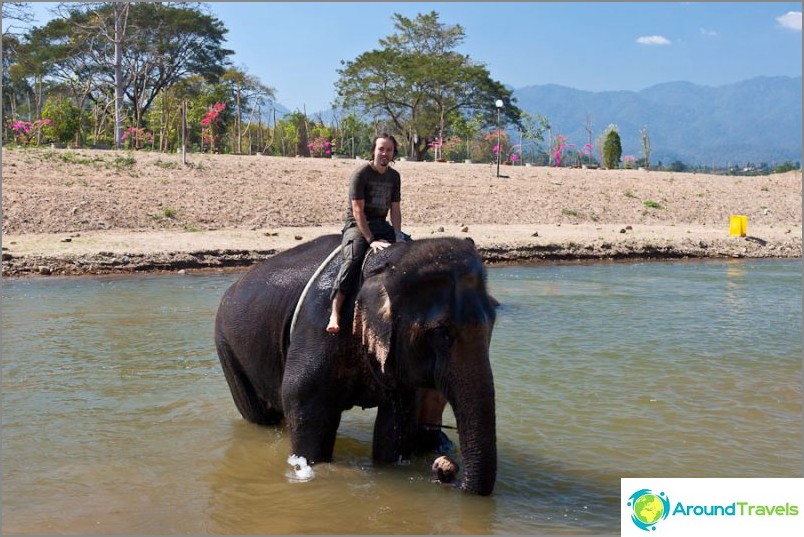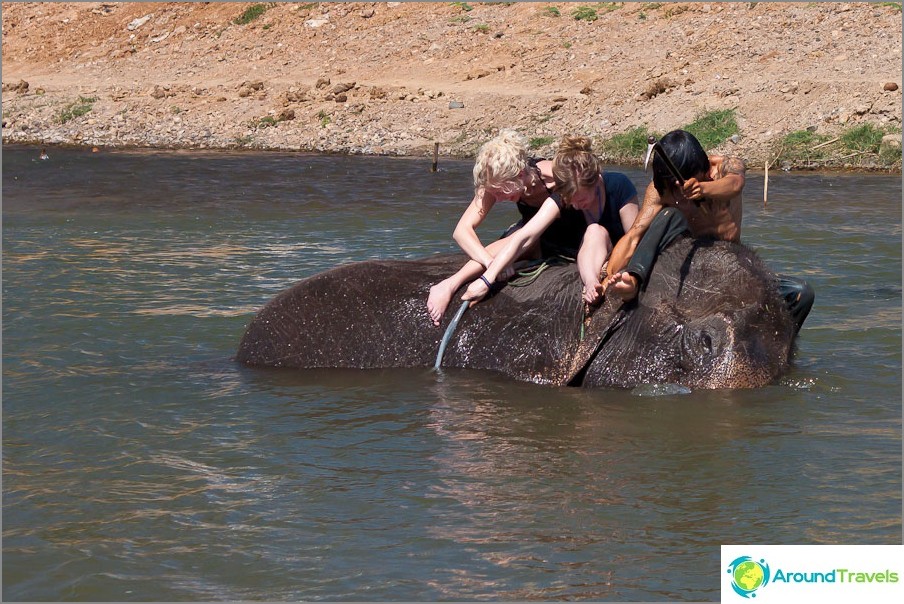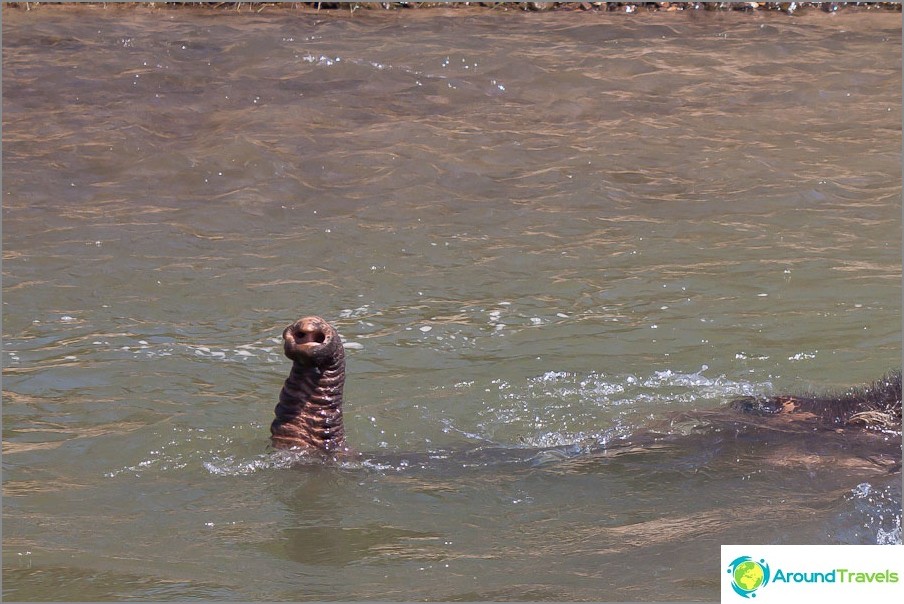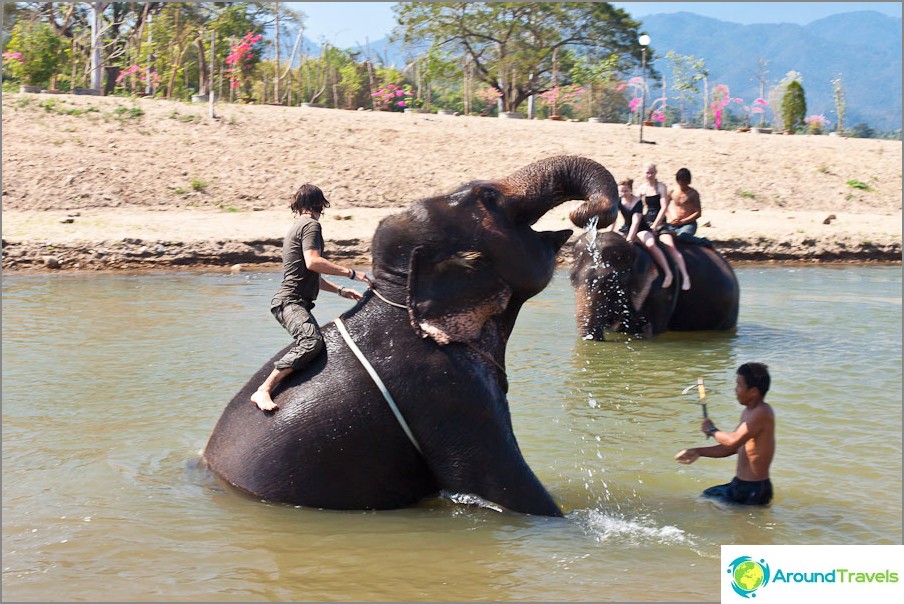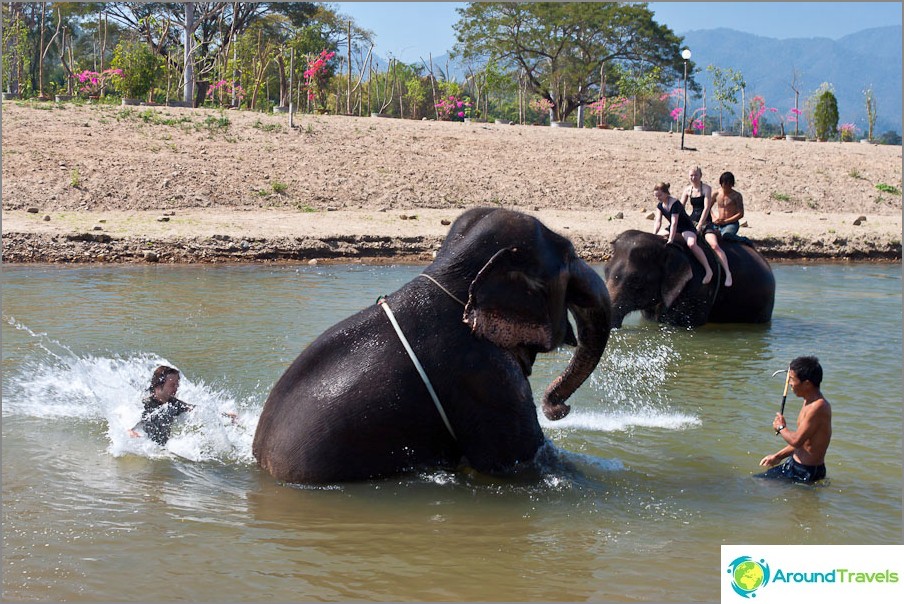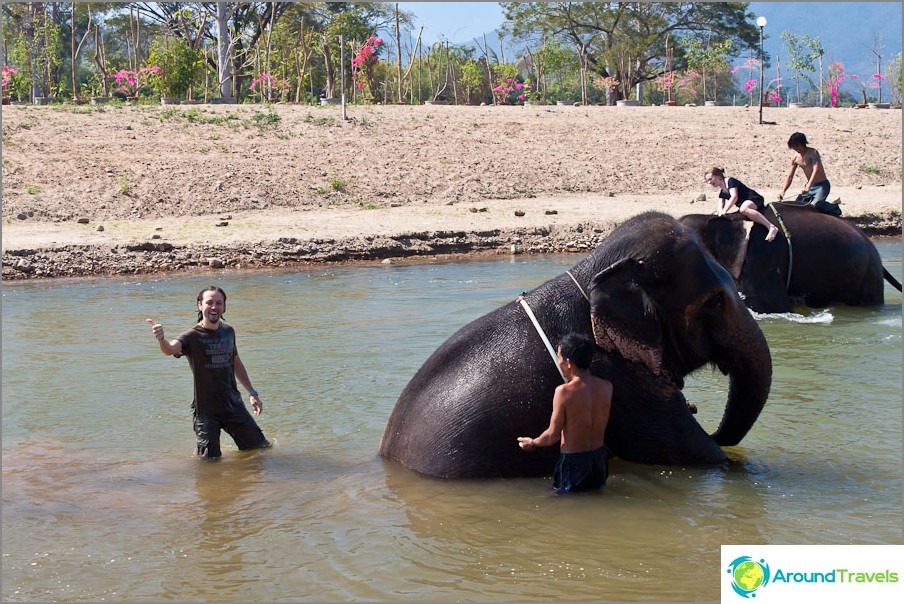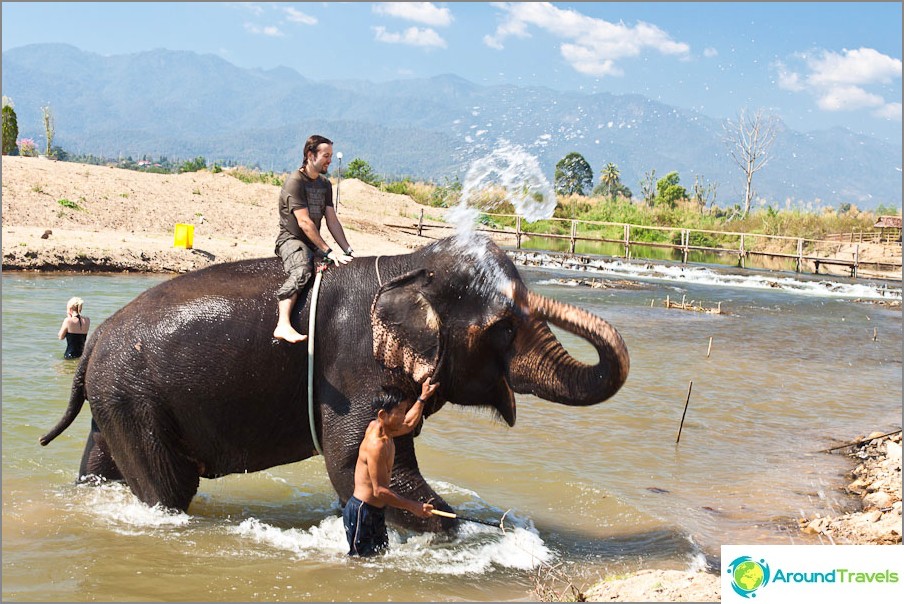 Having brought the elephant to the stall, I fed her with reeds and went to wash off the river water in special concrete fonts. You get in there with your clothes on, and you'll sort of run around.
The bathing experience was mixed. On the one hand, a new experience, because you don't swim with an elephant every day. On the other hand, the specific exploitation of animals, violence. In general, now I look at all these pokatushki in a completely different way. This is how an elephant will ride a hundred tourists without rest and food and die. Not sure if it's worth it. It is better to look for elephant farms where they are well treated, fortunately, there are such too..
Helpful information
- One hour of skiing and swimming in the river in different elephant camps can cost from 300 to 1200 per person (if two are riding on the elephant);
- If the trip is cheap, then you will swim in your own clothes, so it is better to take a spare one with you to change clothes.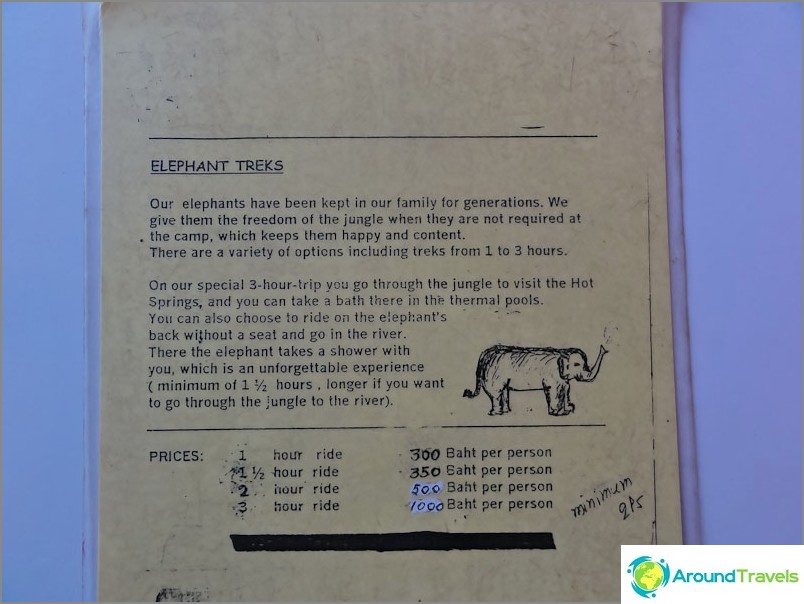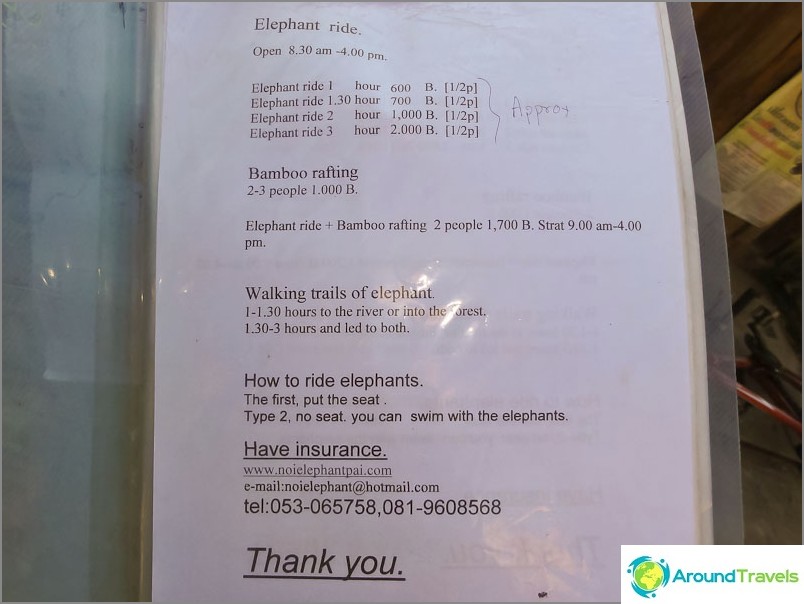 On the map
Neighborhood Pai
Neighborhood Pai:
P.S. All information about Pai is collected here Pai - guesthouses, what to see, how to get there, the hotel can be booked on RoomGuru.